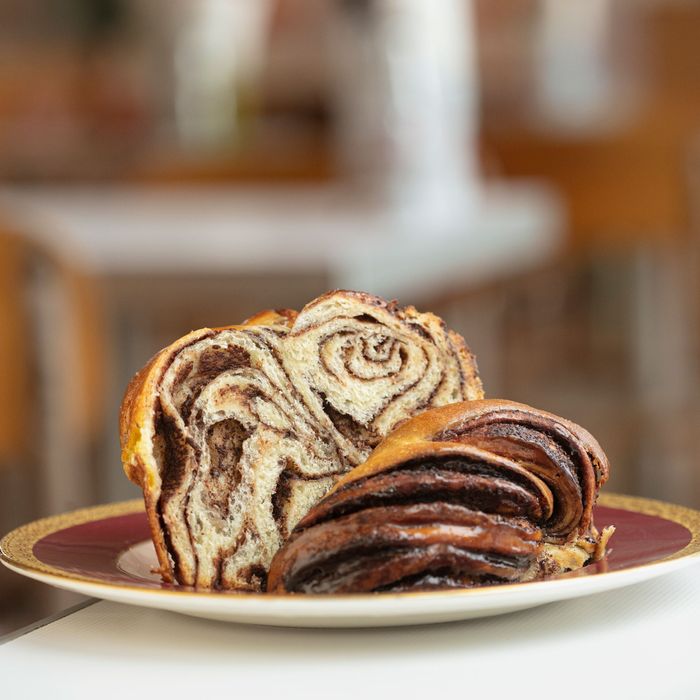 Gertie's weekend-only babka muffin with honey butter.
Photo: Melissa Hom
Brooklyn's all-day café explosion has brought an unexpected perk: All sorts of new pastry cases brimming with modern, thoughtful baked goods. There's the expanded pastry case at MeMe's Diner, a function of the restaurant's push into daytime service, the Taiwanese-inspired delights at Win Son Bakery, the eye-popping Italian-American offerings from Ciao, Gloria, and two more spots. Here are five of the most exciting new options in town.
The laminated pollo bao at Win Son Bakery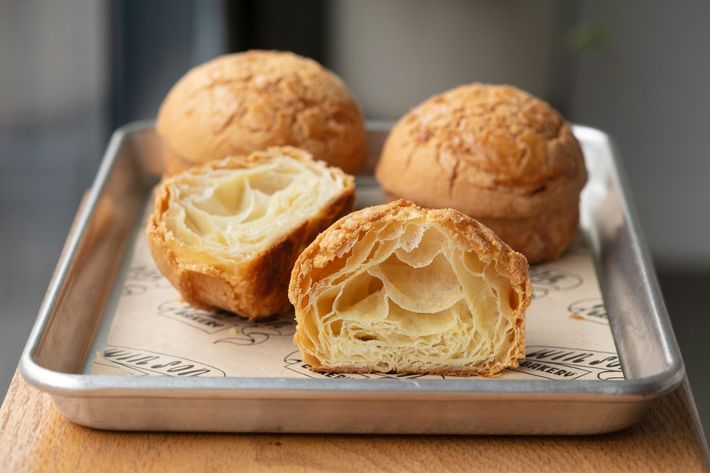 The story of the laminated pollo bao, a flaky domed pastry at Win Son Bakery in Williamsburg, begins with head baker Danielle Spencer having no idea how to make it. The group took a trip to Taiwan for culinary research purposes and stopped by Angel Bake in Tainan City to grab a few sources of inspiration. "I had ten minutes when we were driving in Tainan, Taiwan, to pop into this bakery, buy a bunch of things, and then pop back out," says Spencer. "I didn't have a chance to even try or open up this bao until nine hours later." She also didn't have a chance to ask how it was made.
I was like, 'This is the most amazing, coolest thing I've ever seen."
Without any instructions on how the bao was made, Spencer deduced that what she'd essentially eaten was a spin on a kouign-amann, the French-born pastry that involves folding layers of flaky puff pastry over one another, baking the whole thing in a circular mold, and then brushing it with syrup.
The laminated pollo bao is similar — airy, flaky, sweet — but Spencer bakes it "upside down" to form the dome traditionally associated with pollo bao and then places a thin cookie on top that spreads and cracks during the baking process in a way that's not so dissimilar from a concha.
"I feel like you can't just open up a coffee shop or a bakery and just be like, 'Well, we sell bread and we sell pastries,'" Spence says. "It's like 'Well, are they good?' You can't be cheap about things. It just shows."
The limoncello-pistachio bar at Ciao, Gloria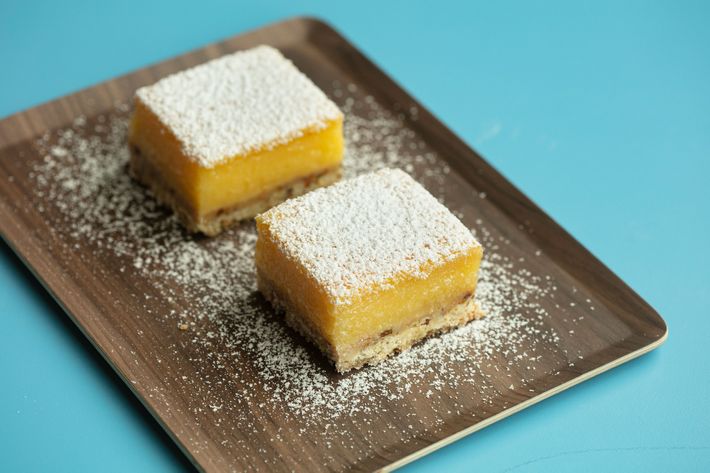 If you haven't visited Ciao, Gloria in Prospect Heights, then you're missing out on what is likely one of the most eye-catching pastry cases in the city: a dozen or so seasonal pastries, including cranberry almond torte, coffee cake, and in the afternoon, the limoncello-pistachio bar.
This is not a traditional lemon bar made with juice out of a bottle and greasy shortbread. First, it's two full inches tall and, second,  it doubles down on the lemon: "We kind of thought about limoncello as an additive, as an enhancer to lemon and something that's so Southern Italy and also a liquor that Americans are familiar with so it wouldn't be too strange," says head baker Ginger Fisher Baldwin. "We worked with this idea of adding it to the curd and then kind of playing off that Italian flavor profile and we thought, "Oh, how great would it be to add pistachio?" So beneath the inch-and-a-half of curd is another half-inch of shortbread featuring chunks of pistachio. The result is a creamy yet sharp lemon bar that's also salty, and nutty. It demands to be shared.
"These are elements that read Italian, read American," says owner Renato Poliafito. "And I think it's the perfect example of what we are."
The babka muffin at Gertie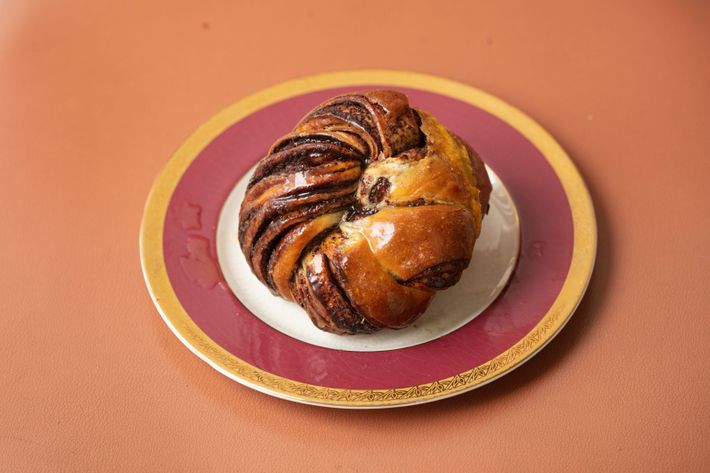 Babka is, arguably, the single most comforting pastry known to man. And yet, Gertie's Nick Sanchez found a way to improve it further. He started by turning it into a muffin, for easier transport, and then smothering it in butter that's mixed with wildflower honey from upstate. "I'm from Texas and honey butter is a big thing back home," Sanchez says. "Something to sweeten it up a little, give it a nice little shine."
Don't sleep on the babka itself, either: Sanchez and executive chef Will Edwards spent a while troubleshooting the shape of the muffin to make sure that the alternating rows of melted chocolate and soft pastry were on full display while also making sure each muffin rose to the fullest extent possible. Finally, the bake is finished with a fine crumble made with cinnamon, butter, and brown sugar for a bit of added texture. The only caveat: The babka muffin is only available on weekends. The reason, Sanchez explains, "Gotta keep it special."
The black-and-white cookie at Russ & Daughters Brooklyn Navy Yard
When Russ & Daughters opened in the Brooklyn Navy Yard earlier this year, the 105-year-old family-owned business brought with it one of the last great Jewish bakeries in New York City. There's the rugelach, and babka, and hamantaschen, of course. But the real gift to Brooklyn's pastry scene is the black-and-white cookies, which can only be obtained fresh out of the oven in Brooklyn, a real gift as the bakery's fellow century-old shops go out of business across the city.
What sets the black-and-whites at Russ & Daughters apart isn't just the fluffy texture drop cake base (with lemon zest, almond extract, and vanilla bean), but the much-appreciated use of buttermilk, which any baker worth their salt will tell you is a game changer. It adds moisture, lightness, and most importantly tanginess, which is why the black-and-white from this spot isn't as cloying as the mass-produced ones at your neighborhood bodega. But if they're producing hundreds a day, isn't that mass production? Not quite: Every single cookie is hand-glazed.
The breakfast egg and cheese muffin at MeMe's Diner
In addition to giving the world a worthy successor to City Bakery's now-gone pretzel croissant, MeMe's Diner pastry expert Bill Clark has also recently unveiled a breakfast egg and cheese muffin as part of its new daytime menu. In doing so, what Clark essentially delivers is the perfect breakfast to-go: "I just wanted something that felt like a full breakfast that you could grab and head to the train," he says. "That wasn't a quiche."
The muffin involves creating a cheddar cheese and chive muffin batter base that spiked with hot sauce and buttermilk (always a hero in the kitchen) and pouring the batter into a muffin tin about halfway in. A four-minute soft-boiled egg is popped into each cup and then topped with more batter, albeit out of a piping bag so they don't get overfilled. The baking process sets the batter, but doesn't cook the egg too much further so that the formerly runny yolks are now more on the rich, jammy side. Voilà, breakfast for the busiest Brooklynites.