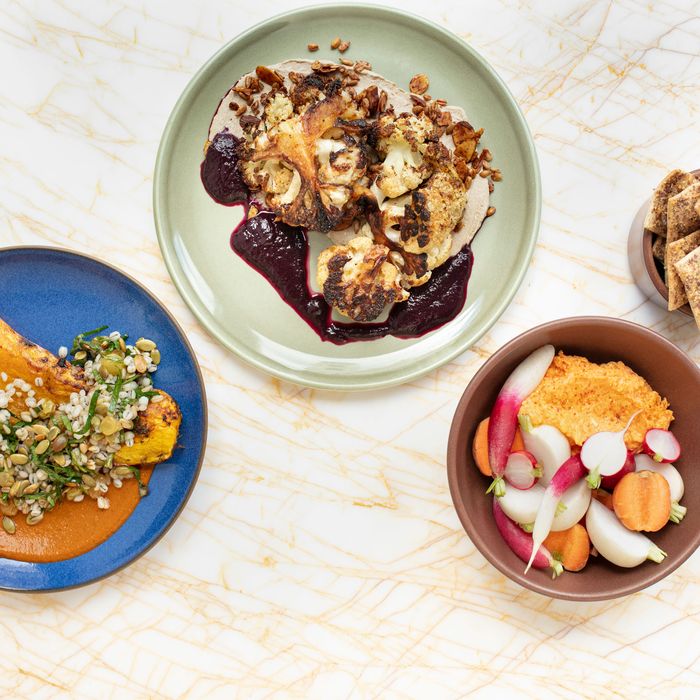 A spread.
Photo: Melissa Hom
If you work in a Manhattan office, you're more likely than not familiar with the salads and bowls served at Dig (née Dig Inn), the fast-casual chain with its own upstate farm. In the salad wars, it rises above the rest, and counts among its fans New York restaurant critic Adam Platt. After eight years and over 30 locations, founder Adam Eskin & Co. decided they wanted to try something different: a good old-fashioned neighborhood restaurant — just like they used to make them — with one of the city's most talented chefs, Suzanne Cupps, in the kitchen. Called 232 Bleecker, it's opening December 16.
To smooth the transition from fast casual to a neighborhood spot, Eskin brought on Katie Bell, who worked with Cupps at Untitled and brought her in. (Former Food & Wine editor-in-chief Dana Cowin is also involved and has been with Dig for the last two years.) The chef made her name over the last four years at Danny Meyer's Untitled, where she was the chef de cuisine under Michael Anthony, first, and then executive chef. She previously worked at Meyer and Anthony's Gramercy Tavern, and before that the now-closed West Village restaurant Anissa. At Untitled, she served dishes like her fried-fish lettuce wraps, a taco without a tortilla, and jerk carrots. Her food is vegetable heavy and delicately flavored rather than bombastic, and her mentor and former Anissa chef Anita Lo described it to Grub this summer as a "quiet, Zen style of cooking."
At 232 Bleecker, Cupps has been given full license to do her thing with plenty of vegetables from Dig's farm. She doesn't want the restaurant to be a total repeat of what she'd cooked at the Whitney. Here, she's doing that by serving fresh pastas made in-house (three, to be exact), handling desserts, and by making things simpler. "We want to put fewer ingredients on the plate but make it more interesting in the process," she says.
The kitchen is the centerpiece of the 55-seat restaurant — literally — and the six-foot Grill Works hearth is the anchor of the kitchen. But don't expect your typical Wood-Fired Restaurant Menu. There's no steak on the menu or whole fish, but a half-grilled chicken (not a menu staple) and a porchetta with sunchokes and pickled fennel. "It's not a restaurant that's going to be about big, heavy grilled meats," she says. "It's a lot of nuanced cooking, it's a lot of vegetables on there. The idea that the grilled flavor would work its way through the menu."
The chef points to the ember baked beans, served with grilled tatsui and anchovy, and the ragù made with maitake mushrooms that get basted on the grill. (That ragù goes with a ricotta cavatelli that's, Cupps says, "really about the mushroom ragù.") The beans belong to a section of lighter vegetable dishes, while the pasta is more of a main, where you'll find the few fish and meat dishes. There are also a handful of snacks.
Other dishes get roasted in the Hestan oven, like the Moses Sleeper lasagna, which she describes as "kind of an ode to Jasper Hill," the Vermont cheese-maker. It's made with Alpha Tolman, Cabot cheddar, and the namesake Moses Sleeper, which gets draped over the lasagna. "So it's got just a little bit of a funk and gooeyness on the top," she says. The final key ingredient is a cauliflower sauce, a purée that subs in for a traditional béchamel.
Throughout the menu, Cupps takes an agnostic approach to cuisine, pulling flavors and recipes from the American South, Mexico, Thailand, Italy, the Middle East, and beyond. "I don't want to delve into fusion cooking, that's just not my style," she says, and she's also not trying to re-create traditional dishes. For her pimento cheese, Cupps (who mostly grew up in South Carolina) uses whipped ricotta in lieu of mayo or cream cheese and Cherry Bomb pickled peppers and smoked jalapeños. The hummus is made with roasted koginut squash, and the pumpkin-seed mole is served with Georgia banana squash.
All of the desserts are also from Cupps, who has lot of experience eating sweets: For a while, she's told Grub, she ate one of Untitled's chocolate chip cookies a day. She's tried to incorporate vegetables into all aspects of the menu including the desserts, though she cautions these aren't "savory" desserts, so the Japanese cheesecake comes with poached koginut squash along with orange marmalade. Other sweets include a vegan chocolate mousse with salted hazelnuts, an apple galette with goat's-milk caramel, a Vermont cheese plate with cranberry-hibiscus jam, and an oatmeal crème pie with whipped mascarpone.
Along with Cupps, Esken and his team brought on Theo Lieberman, who worked at Eleven Madison Park and Milk & Honey, to handle beverages. The drinks list is heavy on wine, supplemented by beers from the likes of Grimm and Athletic (a non-alcoholic brewer) and cocktails made with aperitifs, sherry, and other low ABV ingredients. Think a vermouth-soda with grapefruit and lime juice and Peychaud bitters, or a Bamboo with sherry, white vermouth, salt, and Angostura and orange bitters.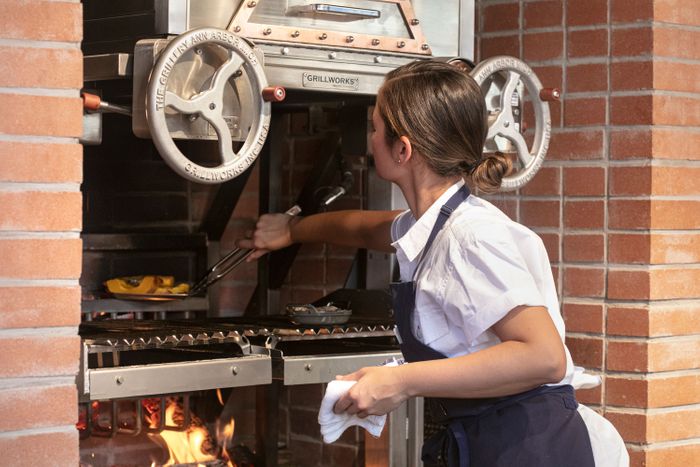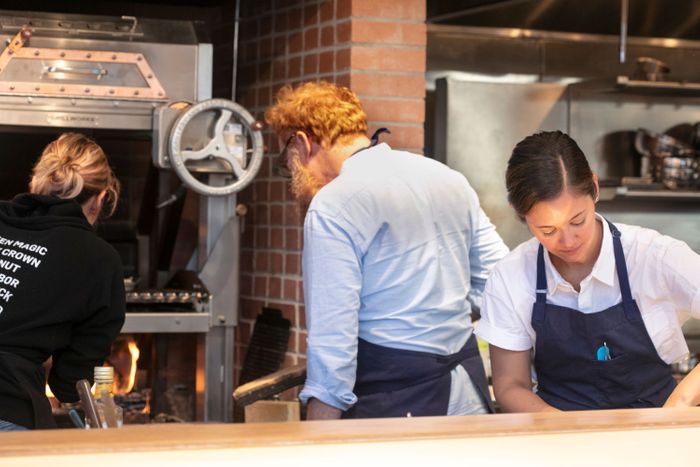 232 Bleecker, 232 Bleecker, nr. Carmine St.; 646-905-5800