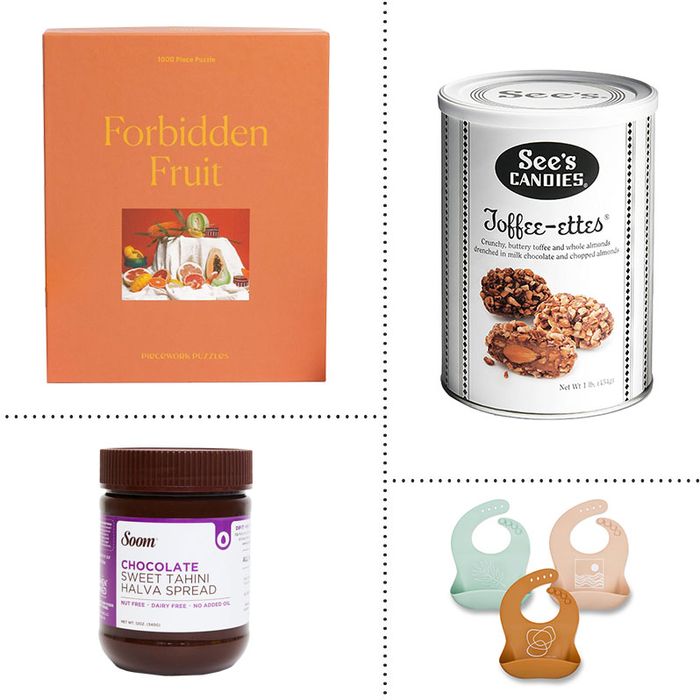 Photo: Courtesy the vendors
With the holiday season now in full swing, we at Grub have got gifts — those we want to give and those we want to get — running through our minds and thought that perhaps our dear readers would like to know what we're thinking of. There are cookbooks, a coffee subscription, chili crisp, milk frothers, music for your next dinner party, and all manner of delicious and unforgettable items on our wishlists. Here, the perfect gifts, according to Team Grub Street.
I love this idea: Trade sends me coffee from a small-batch roaster. I tell them how I like it, and then they continue to adjust the new coffees they send based on my feedback. It feels like something that will only get better over time, like when a Spotify station is finally dialed in exactly the way you like it. — Alan Sytsma, Grub Street editor
My husband grills on the regular and the Looflighter is the cleanest, fastest, safest, fail-proof way to get the charcoal started. It's basically a heavy duty hair-dryer wand — it heats and blows hot air to ignite the charcoal. Lighter fluid has a lot of nasties, this is the cleanest option. – Melissa Hom, staff photographer
If you are, like me, someone who likes bittersweet liqueur not only after dinner, but before (really, any time) you'll find a lot to like in this amaro. A collaboration between Cardinal Spirits and New York's La Boîte it puts the spice-monger Lior Lev Sercaz's skills to good use. It's made with a 17-spice blend, and less bitter and more warm and citrus-y with plenty of star anise and green cardamom — the sort of thing my older brother would like to drink during his annual viewing of The Matrix. — Chris Crowley, staff writer
I think I love apple cider vinegar more than some actual people in my life, especially considering how all the best pie recipes call for it in the crust and it's the best way to get rid of gnats during the summer months. (Google it!) I'm usually all about the good stuff from Braggs, but I think the women behind Pineapple Collaborative might have created a real contender in the form of their ACV made with four different apple varieties by a small producer in California. This stuff looks straight-up drinkable. — Nikita Richardson, staff writer
Faithful readers will know that I'm also a longtime See's Candies man and this year's choice (last year's and the year before that being the forbidden peanut brittle) is a tin of chocolate and crushed walnut covered "Toffee-ettes." Like most of See's products they're bite-size, highly addictive, and it's impossible to eat just one. — Adam Platt, restaurant editor
Photo: Courtesy the vendor
Speaking of pie, I recently gave myself the goal of baking pies from a handful of cookbooks, but I returned time and again to Nicole Rucker's cookbook Dappled, which is all about fruit-centric baking. The recipes in and of themselves are imaginative like raspberry halva brownies and peach melba sundaes, but what brought me back time and again was the pie crust, which features a surprising, but game-changing ingredient resulting in the best pie crust I've ever tasted in my life. — N.R.
My family is Irish-American, but my Queens-born dad was raised on red sauce, and lasagna was one of his signature dishes when I was growing up. He didn't really deviate from that classic, but I'd like to think he would have if he had someone like author (and friend of Grub) Anna Hezel's book to guide him. — C.C.
Photo: Courtesy the vendor
It's a fact that every New York City restaurant playlist currently contains at least three Fleetwood Mac songs. They should also add a few songs from this record, which feels like a forgotten gem from 1976, but actually came out in September. Anyway, I want a vinyl edition that I can at least play it when people come to my place for dinner. — A.S.
Photo: Courtesy the vendor
This is something I've given to a friend as a birthday gift before, and it's the thing that I should default to when in need of a small gift because: What kind of person wouldn't spoon this out of the jar in a day flat? Try to resist, because it's great over ice cream, and pretty much any other way you can use it. — C.C.
The Aerolatte is the greatest low-tech frother/mini whipped cream whisk and I always need a new one because the kids are abusing mine. It's a bath time favorite because it whips up suds in a jiffy, even if it's bent out of shape. It's also hot cocoa season and sometimes I lie to them and tell them the foam on top is the already-melted marshmallows that I (did not) put into their drinks. – M.H.
They are durable, they are inexpensive, and — most important — they are French, which means they have a sort of confident style even though they are ultimately quite humble. They're the best glasses. — A.S.
Photo: Courtesy the vendor
I've never met a puzzle I didn't like. Sudoku, crosswords, Monument Valley I and II. They light my brain right up! But I've spent the better part of six months lusting after the 1,000-piecers from status puzzle maker Piecework Puzzles. They just released two new puzzles this week, but it's this photo of fruit sliced just so that I can't stop thinking about. — N.R.
Depending on my mood, or the particular tastes of the lucky recipient, I'm pairing my new book with various alluring (and, yes, edible) gift items. I'm a big fan of the gift baskets from Katz Farm in Napa, a place famous for its artisanal olive oils and vinegars. If you're in a contemplative, reading mood, however, there's nothing better than the honeys, which come three to a box and are flavored with all sorts of alluring berries and rose blossoms. — A.P.
These are, in the simplest terms, the best grits I've ever cooked (or eaten): They're sweet, they have a texture that's loose but not runny, and they don't require two hours or whatever to cook. They are basically a perfect food, and I am always happy to have more on hand. — A.S.
I cooked a couple dishes (namely, the spoonbread and collard greens) out of Toni Tipton-Martin's new book recently, and both were excellent. It's a collection of recipes drawn from African-American history and cookbooks, a text that should sit alongside your parents' classic American cookbooks. — C.C.
My husband got me the AltiFarm for my birthday two weeks ago so I can be a true indoor, urban, year-round farmer. I'm always buying pints of sungold cherry tomatoes at the farmers market, but let's try growing them! — M.H.
In my not-so-wild fantasies, I'm the kind of person who can wear an apron on the streets of New York as well as in the kitchen or at the pottery studio. And this is the sunshine-y number I see myself wearing. — N.R.
Photo: Courtesy the vendor
We old school, hopelessly out of touch boomer dads are always messing about in our drink bars, and lately I've been obsessing over cocktail jiggers, specifically this handsome, easy-to-hold stepped gold number. — A.P.
Fancy chili crisp is, the rumors are true, a major upgrade, but for the ma la fiend in your life you won't find a better gift then this combination of Sichuan peppercorn and chili pepper. Quality Sichuan peppercorn can be hard to come by in the States, and Fly By Jing's Jenny Gao is bringing, no joke, the best of the best from Sichuan: a crop from a small village that was once offered as tribute to the emperor. When it comes to Sichuan peppercorn, the good stuff — the kind that goes off like mouth numbing Poprocks — is always worth it. — C.C.
We have a toddler and it is always nice to receive baby-related gifts that are both useful and attractive (and which also aren't toys that make lots of unexpected beeps and buzzes). Dishwasher-safe bibs in all sorts of lovely colors are just about perfect in that regard. — A.S.
Every product is independently selected by editors. Things you buy through our links may earn us a commission.