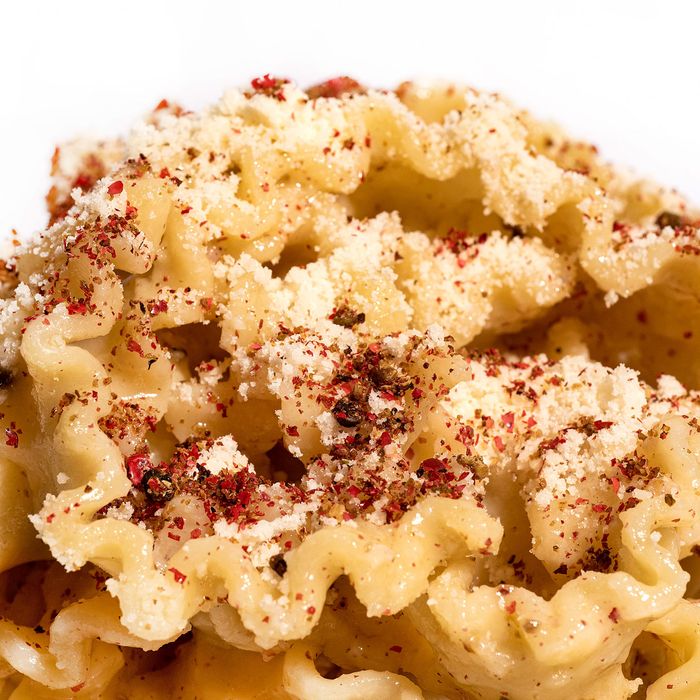 This essentially perfect pasta — Lilia's mafaldini with pink peppercorn and Parmigiano — debuted in 2016.
Photo: Liz Clayman
This article was featured in One Great Story, New York's reading recommendation newsletter. Sign up here to get it nightly.
On a recent, gray afternoon, I stood on a Carroll Gardens sidewalk and mentally debated the merits of the pizza slice I'd just ordered. The lightly tanned crust was pleasantly sour, and surprisingly sturdy, easy to fold yet resistant to unwelcome droopage. The sauce was tangy, fruity, and thick, clinging impressively to the crust. A shake of grated cheese offered the necessary saltiness, and it went well with the bottle of Pellegrino I'd ordered to drink.
None of this was a surprise, exactly, because I already knew that this particular pizza shop's owners, Frank Castronovo and Frank Falcinelli, had enlisted the help of pizza savants Chris Bianco and Chad Robertson, and that these four gentlemen had gone full-bore J. Kenji López-Alt with their recipe development. They'd drilled down to the very essence of pizzaness, and emerged with pies that taste of triumph.
What did surprise me, the more I thought about it, was that all of this energy and expertise was available in the form of something that cost $3.75. What surprises me more, even now, is that this particular slice joint is not an anomaly. Instead, it is one of a half-dozen or so new pizza places, where the otherwise-annoying tenets of food fetishization — somber explorations into the meaning of What We Eat, endless prattling about ingredient pedigree — are transformed into establishments that are simultaneously welcoming, affordable, and recognizably cared-about.
Though we are now surrounded by foodie-ism in all its forms — Netflix shows and David Chang podcasts and, yes, slice joints that tout the number of days that their dough ferments — it all somehow feels less irksome, too. The temptation is to call this the decade that foodies won, but in thinking about it more, it strikes me that nobody won any kind of culture war. Instead, food people just chilled out and realized it's possible to care about quality ingredients, and the work it takes to cook and serve them well, without also being a pedantic asshole.
This was not, it's worth noting, a foregone conclusion. The decade began with Gourmet magazine closing in the fall of 2009, and the KFC Double Down — that bacon-and-cheese-stuffed fever dream where two pieces of greasy fried chicken infamously replace the bread — ushering in the spring of 2010. (The Popeyes chicken sandwich is tame by comparison.)
In looking back at the past ten years of eating in New York City, I was most struck by how fully this snippet from a January 2010 review of the Breslin, which was then very new and very popular, encapsulates the pork-centric, bourbon-fueled restaurant landscape of the time:
At night, out in the bar, people dance in place, drink amber cocktails, listen to music that bounces smartly between rock and hip-hop. They wait endlessly for tables to clear. Their faces — mustachioed, unlined or dusted with glitter, behind geek glasses or Edie-style eyeliner — are filled with anticipation. At the tables in back, as they stare down shins and stomachs, sticky bits and syllabubs, they look a little scared.




Nowhere in New York right now is the fetish for pork fat and dairy flavor more on display. April Bloomfield, the chef and an owner, is exhausting gallbladders nightly.
It was, in other words, the end of what my colleague Adam Platt has lovingly dubbed the kitchen-slave revolution: a debauched celebration of kitchen culture's hedonism. But there was also baggage, and the last ten years have felt like a period of both optimization and necessary correction.
I am thinking, first, of the ways in which we began to hold bad men accountable for their behavior in and out of kitchens, while also demanding that restaurants become safer places to work in broader, more forward-looking ways. I am thinking of the way we killed tips and then, for any number of reasons, un-killled tips. I am thinking of the way we happily celebrated rice rolls, New Jersey meatballs, kakigori, veggie burgers, Aperol Spritzes, and sizzling sisig in equal measure.
I am also thinking of the chef Missy Robbins, who went from running two high-end Italian restaurants in tourist-heavy Manhattan neighborhoods at the dawn of the decade to running two far more accessible, democratic, and popular restaurants in Brooklyn. (Cementing her reputation as one of the most celebrated, important chefs in America in the process.) In 2016, Robbins opened the relatively casual Lilia in a Williamsburg garage, and in 2018, she opened Misi, where the menu is dedicated to single-vegetable apps, deceptively simple pastas, and, for dessert, glass cups of gelato. (If you ask, and they have it, they'll also cook you a steak.) The streamlined Misi menu is one of the world's great achievements in fat-trimming and clutter-clearing, a document that values focus and technique over any and all unnecessary embellishment. It is a model more restaurateurs would be wise to follow.
This was also a decade when small, no-frills restaurants like Ugly Baby and Adda could be considered, justifiably, among of the best new restaurants in America. But I can't present something like Grand Unified Theory of Eating in 2010s because there are plenty of obvious counterexamples: Le Coucou is a living homage to throwback French luxury. Precious, austere tasting-menu counters with a dozen impossible-to-reserve seats will never die if they continue to be as enjoyable as Atomix. A restaurant like Red Hook Tavern demonstrates that a fascination with strong cocktails and oversize animal proteins, when done right, will transcend any (somewhat meaningless) demarcations of time's passage.
But there were also dozens — hundreds? — of hypertalented individuals who rejected the traditional trappings restaurants to cook exemplary food (the rice-cake fundido, Superiority Burgers and tofu-fried tofu, chopped-cheese jibaritos) in increasingly unpretentious environments (open-air bazaars, a carwash, the lobby of a Tribeca office building).
For better or worse, the food that may go on to define this entire decade of dining is the Cronut. Dominique Ansel created his high-grade pastry mash-up in 2013 and, within a week, his Soho bakery went from local favorite to international sensation, thanks to the explosion of Cronut content that populated Facebook and Twitter feeds. Undeniable visual appeal, a $5 price point, and an idea rooted in years of high-end pastry experience: Ansel predated the Instagram-food boom, but he also established the template that countless others have tried to replicate. (Even if it meant we had to endure the odd rainbow bagel or viral milkshake.)
Mostly as I look back, I see that New York's bakeries, cafés, restaurants, and bars became better — better places to eat, and better places to work. Do things need to keep improving? Definitely. But what's clear right now is that there's no going back to the way things were.