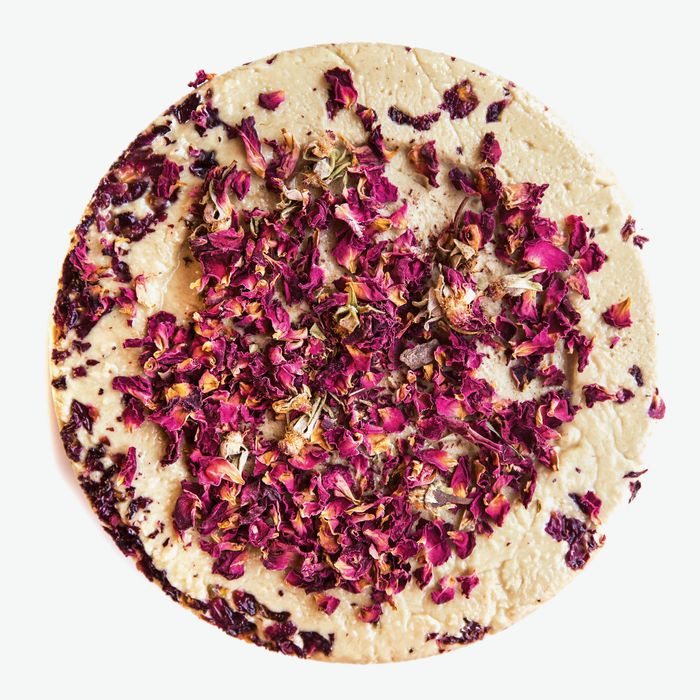 Go all in on the halva from Seed + Mill.
Photo: Courtesy of Vendor/Nitzan Rubin
So, you've been invited to someone's house for Christmas or Hanukkah, but you have no idea what to bring for the host. Why not food? Everyone likes food! And because this is New York, you can certainly get the very best food, at the very last minute, at bakeries and restaurants throughout the city. Below, a list of 10 stellar food gifts you'll be proud to gift tomorrow night.
Holiday Cookie Box
Where: Daily Provisions
How Much: $36
The holiday season is cookie season and, of course, Danny Meyer's Daily Provisions and pastry chef Christine Lisa are delivering on that front. In addition to a black-and-white-cookie-inspired pie, you can drop by today and grab a cookie box with black-and-white cookies, caramel chocolate-chunk cookies, and molasses-spice cookies. Grab a box by the end of the day.
Ice-Cream Sandwiches
Where: Morgenstern's
How Much: $7.50
If, like us, you believe that it's never too cold to eat ice cream, then you'll want to pop by either Morgenstern's location today, starting at noon, and grab a handful of their ice-cream sandwiches, which come in such flavors as banana, chocolate, coconut espresso, honey vanilla, and a handful more. And if it's too much to head there yourself, feel free to order via Caviar.
Sidehill Farm Wild-Blueberry Jam
Where: Murray's (and other stores)
How Much: $11 for a nine-ounce jar
I found and got all into these jams and fruit butters during a trip to a close childhood friend's family home in Vermont, and have given them as gifts to my mom, who really likes the apple butter, and her mom, who gave me my saber-toothed-size sweet tooth. (I've bought both at Murray's. See today's hours here.) The wild blueberry is one of the more special ones, a very New England treat that my grandmother definitely just ate out of the jar and described, in her succinct midwestern way, as "so good." —Chris Crowley
Rose-Oil Halva
Where: Seed + Mill
How Much: $140 for six pounds
This one comes straight from our sister site the Strategist. While it's much too late to order this sweetened sesame dessert online, you can pop right over to Chelsea Market today (by 3 p.m., please!) and grab what they describe as "six whole pounds of the nutty, rosy" deliciousness.
Peppermint-Patty Cupcakes
Where: Ovenly
How Much: $4
This year, the geniuses at Ovenly thought to turn the Peppermint Pattie into a decadent chocolate cake with peppermint frosting and edible glitter, but we get that an entire cake can be a bit much. Luckily, you can also drop by any of their three locations (Greenpoint, Park Slope, or Urbanspace on Vanderbilt) and grab a dozen or two.
New York Shuk Pistachio Dukkah
Where: New York Shuk
How Much: $11.95
Maybe you have some extra time, because you're giving friends or a significant other gifts after Christmas. In that case, head straight for the address bar and order this brand-new pistachio dukkah — the versatile Egyptian condiment that's a mix of herbs, nuts, and spices — from New York Shuk, makers of top-quality harissa and other North African and Middle Eastern pantry staples. I think getting this would throw me into a new sandwich-making phase, but I'd also start asking all sorts of deep questions like, "Is this dukkah good on olive oil or toasted-rice ice cream?" —Chris Crowley
Sage, Rosemary, Cranberry Challah Stuffing
Where: Bourke Street Bakery
How Much: $25
Stuffing tends to fall to the wayside on the holiday dinner table, but this tangy, herby version from the bread masters at Bourke Street Bakery certainly won't. You have until 7 p.m. tonight to pick some up.
Snowday in Brooklyn
Where: Sunday in Brooklyn
How Much: Free reservation
There's nothing quite like getting drunk in a bar decked out in its holiday best, but don't wait in line to do it. Brooklyn hot spot Sunday in Brooklyn recently extended its holiday pop-up bar, Snowday in Brooklyn, featuring seasonal cocktails Partridge in a Pear Tree, the Dreidel Will Rock, and Surfin' Santa, and you can still grab reservations for you and a couple friends. They'll appreciate your forethought.
A New York Lunch or Dinner
Where: The five boroughs
How Much: That's up to you
Okay, why bother spending money (especially a bunch of money) on some half-hearted, last-minute gift? People don't always need more stuff. But they always need to eat, and sometimes need to drink, so cancel your order for that random frying pan you saw online and redirect that money to a day at a New York restaurant or bar you really love. Lunch at Shopsin's, followed by a nap? Martinis at Long Island Bar, followed by a little shopping at the original Sahadi's inspired by your cocktail-induced generosity? Or, if you're feeling flush, maybe a Peking-duck dinner? —Chris Crowley
All the Restaurants in New York by John Donohue
Where: The Strand
How Much: $24.75
Have you been struggling to find the Perfect Gift for the restaurant-obsessed native New Yorker in your life? Look no further. I got this book for my dad, a Queens kid who grew up partly in his uncle's restaurants and loves to talk about the Jewish delis he went to as a child and ridiculous late-night adventures to the Odeon in his 20s. You'll probably get some good stories out of it, too, which will make braving the Strand today worth it. —Chris Crowley