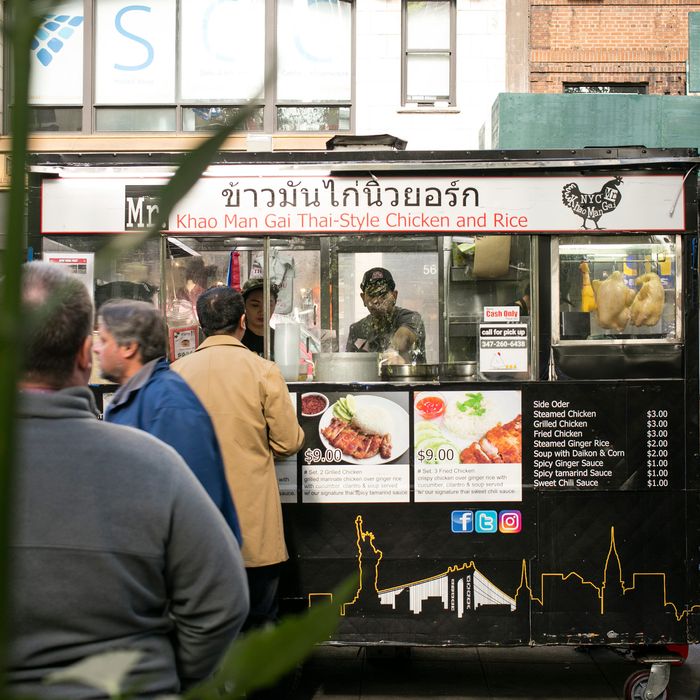 Queens street vendor Mr. Khao Man Gai.
Photo: Melissa Hom
On Sunday, there was some objectively great news out of Albany: New York City's outdated street-vendor cap could be lifted, if legislation proposed in the New York State Senate passes. The bill was introduced by State Senator Jessica Ramos, who ran her campaign in part on supporting the street vendors who make her Queens district so vibrant. Speaking with Grub last year at the Vendys — the Street Vendor Project's festival of street food that ended this year — Ramos said, "Street vending is an inherently New York City thing … I don't know why there needs to be a cap on permits."
Amen. Sign us up for this future in which people are not harassed for trying to make a living by selling. If the bill passes, it will be a major victory in a long-fought battle. The advocacy organization the Street Vendor Project has fought to increase the cap for years, and in 2016 Manhattan councilman Mark Levine introduced a bill to double permits that ultimately didn't go anywhere. A similar bill was put forth in the city council this April. Ramos's bill is an unmitigated good for vendors, New Yorkers who care about food, and the city. Here's why.
The city's population has grown by nearly 19 percent. The number of vendors has stayed the same.
A lot has changed in New York City since vendor permits were capped back in the 1980s. For one, the city's population has grown by nearly 19 percent from 1980 to 2018 — even though the city's population has fallen, slightly, since 2016. Meanwhile, there are between 4,235 permits and close to 5,000, depending on the source. The population doesn't take into account the tourists who continue coming in larger droves to the city. A record 65.2 million tourists came to New York in 2018, the ninth record year in a row. As of August, that record was predicted to be broken once again. It also doesn't take into account the many commuters and others who come into the city for business, particularly in midtown, where the official food is halal-cart chicken and rice.
The only thing the cap has been good for is a black market.
As the cap is so low and demand so high, many of the permits end up getting sold on the black market. Prices inflate as high as $25,000 from the $200 the city charges for the two-year permits. Vendors can spend years on the waiting list. One who spoke to the City says she'd been on it since 2006. These prices are out of the question for many vendors, who are trying to get into street vending because it's not as prohibitively expensive as opening a restaurant. This "economic distortion" also causes a "stifling of innovation," as the New York Times editorial board put it in 2016, much like — surprise! — the ludicrously high rents on brick-and-mortar spaces. That there are many people willing to sell food without a permit speaks in part to the reality of the demand. No one is striking gold selling tamales on Roosevelt Avenue to restaurant workers at 5 a.m., or in Bushwick, or Sunset Park. Those people are there because there is a need. Bringing these vendors out of the shadows and into the fold is an objectively good thing.
The cap reeks of xenophobia.
Most street vendors are people of color and immigrants, according to the Street Vendor Project, including undocumented immigrants who may otherwise struggle to find work and are more vulnerable to exploitation in small businesses. One of the undocumented owners of the Bronx's La Morada, which serves some of the city's best mole and is an activist hub, once sold tamales on the street. Maria Cano, better known as the Arepa Lady, started her business as an undocumented immigrant who fled Medellin during the days of Pablo Escobar. The way that vendors are often talked about by their critics in the media and organizations like BIDs is hostile and degrading. Downtown Flushing's street-food scene basically doesn't exist anymore, courtesy of a city-council bill.
Vendors have also reported harassment from police for years. Just yesterday, City Limits reported that Ecuadorian food vendors in Jackson Heights, including those from the El Guayaquileño, Pique y Pasa Pepín, and Sabor Guayuco food trucks, say they're being unfairly targeted by police. Vendors without licenses suffer the worst treatment, but Rose Morales, of Sabor Guayuco, tells City Limits they are getting fined even though the truck has had a license for three years. Would vendors be treated this way and the cap still be so low if they were predominately white? When New York decides to increase fare-evasion enforcement by 50 percent while the MTA limps along, which communities get targeted?
The vendors already exist. It won't be a free-for-all.
Inevitably, some people will be wrong in life. Which is why not everyone greeted this news positively, worrying it will create a biblical flood of dirty hot-dog water. Speaking with Streetblogs, State Senator Ramos says the point isn't to "necessarily create new vendors" but rather just to "bring into compliance existing vendors." It's about "decriminalizing" people who are already operating businesses, who will still have and get the chance to undergo the same process as legalized vendors. These vendors exist. They aren't going anywhere, and they contribute positively to the city's economy. (According to one report, in 2012 vendors contributed $293 million to the city's economy and $71.2 million in taxes.) And if you actually read the bill (it's only five pages), you'll see there's language allowing for municipalities to determine where it's safe for vendors to set up shop.
More vendors means more great food for New York.
Okay, lifting the cap won't necessarily mean more vendors. It's about, as Ramos explains, helping existing ones by legalizing them. But it will make it easier for people to become street vendors, which is an unmitigated positive for New York. Why? It gives more people an opportunity to give a small business a go with less overhead. And for the rest of us, it means more delicious food. Some of New York's most iconic foods — halal chicken and rice, as mentioned; the hot dog; and so on — are street foods. And some of the businesses that have contributed most to defining and expanding New York's food culture started or still are on the streets.
Don't forget that Russ & Daughter's, one of the city's most iconic businesses, started out as a pushcart decades ago. Look at Mothershucker today, a Bed-Stuy oyster cart started by Benjamin "Moody" Harney, who tells Edible Brooklyn he wants to make eating oysters "more of a common experience for everyone."
There's the sainted Arepa Lady, obviously, and the South Bronx's Lechonera La Piraña, where the machete-wielding chef makes crab empanadas and lechon that'll blow your mind. Patacon Pisao made its namesake Venezaluean dish into a New York thing, while the wonderful Burmese Bites, which started out at the Queens Night Market, is one of the few places to get Burmese food in this city. Or Birria-landia, which has brought excellent Tijuana-style beef birria to the streets of Queens.
There are the Salvadorean sweet sandwiches of Delmy's Olbeas, thin wafers stuffed with caramel and other fillings, in Corona. There are the many, many tamaleros, taco trucks, Ecuadorian ceviche-sellers, and others who populate Roosevelt Avenue, which at night becomes an international sidewalk buffet. Then there are the many members of the chicken-and-rice clan. That dish only dates back to the early 1990s, and over the last few decades New York has seen an influx of new immigrations. More vendors means more great food for New York, yes. It also means more people have a chance to contribute to New York's culinary cannon.