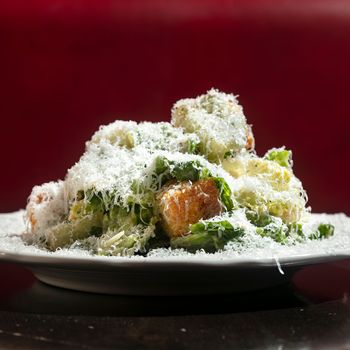 The M.Wells Caesar with smoked herring dressing and the local Parmesan cheese supply.
Photo: Melissa Hom
There is no denying the power of the Caesar salad — fresh romaine leaves smothered in creamy, salty dressing, freshly shaved Parmesan cheese and thick, crunchy croutons — and it may in fact be the only salad that qualifies as comfort food. No matter how many times you have it, you always come back for more. How nice, then, that so many restaurants in New York offer extremely excellent versions of this tried-and-true restaurant stalwart. In fact, any of the 16 options below are so well-thought-out that they may even make you love Caesar even more.
M. Wells Caesar
Where: M. Wells Steakhouse
How Much: $16
You might think it's the smoked herring dressing that sets the M. Wells Caesar apart, which is interesting and inspired enough on its own. You could even say the thyme-seasoned, butter-soaked brioche croutons are a revelation. But it's really the sheer amount of Parmesan cheese — approximately one third of a cup and then some — that makes this salad nearly as indulgent as a six-ounce filet.
ML's Caesar
Where: Porter House Bar and Grill
How Much: $18
Every steakhouse has a Caesar salad, but only a chosen few have a truly great one. For more than a decade, Michael Lomonaco has been serving this classic (apparently inspired by his dear friend Julia Child) with crisp leaves of romaine dressed in coddled egg yolk, garlic, mustard, and tangy lemon juice plus Worcestershire sauce and vinegar for a kick of umami and acid. Anchovy paste and a generous amount of olive oil completes the salad part and toasted croutons and Parm make it addictively good.
Caesar Salad
Where: Keens Steakhouse
How Much: $15
At the century-plus-old Keens, dressing veers a little sweeter, thanks to the use of brown sugar, though not so sweet that you won't scarf it down leaf by well-dressed leaf. It's also heavy on the garlic and features a touch of sweet heat thanks to pimiento, adding up to a Caesar salad that's most definitely savory, but with that little extra that's sure to raise the eyebrows.
Traditional Caesar
Where: Pietro's
How Much: $16
As our own Underground Gourmet pointed out not too long ago, Pietro's is where you go when you want a Caesar that's "well-dressed [and] unstintingly full-flavored," meaning "more garlic, more anchovy, more Parmesan." No secret ingredients here, just the same old song played to perfection.
Grilled Romaine
Where: Motel Morris
How Much: $15
The Caesar at this Chelsea spot has all the basics of a Caesar — romaine and salty Caesar dressing — but crunch almonds and bright, tomato-based romesco sauce with a nutty profile of its own makes this an off-the-beaten-path Caesar.
Caesar alla ZZ
Where: Carbone
How Much: $25
Back in 2013, the team at this Italian hot spot decided to rebuild the Caesar salad from the bottom up. Instead of fleshy romaine, they went with more delicate Little Gem lettuce in a move that heralded the arrival of the green on seemingly every menu in the city. From there it was just a matter of adding ricotta salata, a type of sheep's cheese that crumbles quite nicely in addition to Parm, semolina croutons, and garlic butter and you've got an instant classic.
Vegan Caesar
Where: Scarr's Pizza
How Much: $11
How does one veganize a Caesar salad? By asking former Lalito chef Gerardo Gonzalez to go back to the drawing board on the iconic dish. Gonzalez decided to use seaweed, black pepper, spirulina, and bready nutritional yeast to give it all the rich flavor you'd get from anchovies, egg yolk, and Parm, without using anchovies, egg yolk, and Parm. Three years later, it's still a revelation.
Grilled Caesar
Where: Modern Love
How Much: $16
At vegan comfort-food spot Modern Love, the romaine is grilled for texture and taste, tossed with a garlic-caper-based dressing, and topped with polenta croutons and "Parm" made with pepitas for salad that's still rich without any animal by-products.
Dimes Caesar
Where: Dimes
How Much: $14
This LES spot is a haven for salad lovers, so, of course, they make a damn good Caesar. Instead of romaine, the team has gone for bitter endives, stacked high and proud, mixed with braised sunchokes, boquerones (or European anchovies), and a healthy helping of marinated goat-cheese vinaigrette.
Five Lettuce 'Caesar'
Where: Upland
How Much: $19
Count 'em: five lettuces. Treviso, Castelfranco radicchio, Little Gem, kale, and tardivo combine for a mix that's sorta bitter, sorta earthy, sorta grassy, and surprisingly complex. To dress it: anchovy vinaigrette and anchovy powder plus sharp watermelon radish for more color and a little added bite.
Punta Verde Caesar
Where: Oxomoco
How Much: $16
Asking for Mexican Caesar dressing at Chopt does not, in fact, make your sad desk salad more interesting than most. Especially when you could be eating this much more inspired take from Greenpoint's Oxomoco — perhaps a wink at the Caesar salad's proud Mexican heritage — featuring romaine grilled over wood, tossed with a Dijon- and anchovy-based dressing, and finished with blistered poblano peppers, toasted corn masa, lime zest, and creamy cotija cheese.
Kale Celery Caesar
Where: Rosemary's
How Much: $13
The folks at this West Village favorite have long been on the crunch beat as evidenced by the existence of this very modern Caesar with hefty kale and every part of the celery from the light crunch stalks to the more flavorful (and oft-forgotten) roots cut matchstick style.
Black Kale Caesar Salad
Where: Frank
How Much: $18
Praise the chefs who will fully commit to the kale Caesar without hiding behind the addition of romaine to instead allow the kale to be its truest self. At this East Village Italian staple, the salad features rich, dark-green leaves dressed up like your standard Caesar. The nearly burned croutons add to the blackness of it all, and though there's enough for two people, why would you share something so good?
Baby Romaine
Where: Roberta's
How Much: $16
Think of this salad as "Caesar light," featuring young, delicate romaine that's accented with dill, mint, and Pecorino Romano. It's the type of salad you want to eat in the Italian countryside (or a former warehouse in Bushwick).
Spicy Caesar Salad
Where: Banter
How Much: $14
This Australian all-day café recently opened a second location in the West Village, bringing with it a radicchio and kale Caesar salad dressed with a not-so-standard spicy dressing. The source of that heat is the 21st century's hottest condiment, sriracha, plus a little Dijon mustard and Worcestershire to round out any rough, inedible edges.
Smoked Trout Caesar Salad
Where: Pizza Moto
How Much: $12 to $15
Like the team at M. Wells, Pizza Moto has sworn off anchovies in favor of a Caesar dressing made with smoked trout. That is poured over Little Gem lettuce and hit with a squeeze of lemons, a sprinkling of herby Pecorino cheese, and bread crumbs, so you get a little bit of crunch in every bite.