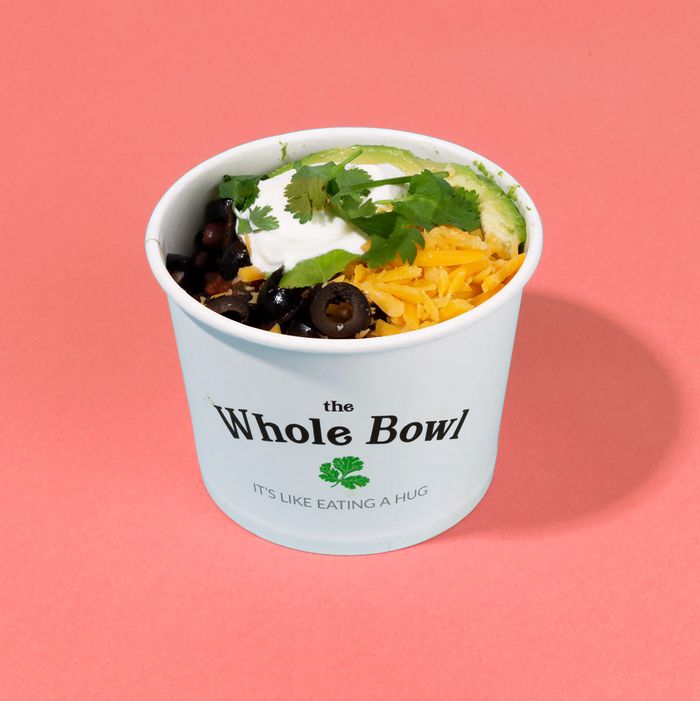 The
bowl.
Photo: Megan Paetzhold
You have to admire truth in advertising. The Portland, Oregon–based restaurant chain the Whole Bowl became locally famous for selling — you guessed it — a bowl of food. And this week, the Whole Bowl expanded to Williamsburg. At first, the news struck Grub Street as a development that was … fine? It's a bowl of healthy food, right? Is this really a big deal?
To a native Portlander, like Grub Street photo editor Megan Paetzhold, the answer is a resounding: YES. This is, you see, no mere bowl. It it something more. It is something worth a 30-minute detour. It is a Very Big Deal.
Intrigued by this enthusiasm — for a bowl — Grub Street sat down with Paetzhold to learn more.
Okay. What is this?
What is this? This is a bowl, in the simplest terms, and basically it's just rice with a bunch of delicious shit on top.
Not to be overly cynical, but so what?
It's a rice bowl with salsa, red and black beans, olives, cheese, cilantro, sour cream, avocado. They can veganize it by taking out the sour cream and cheese, which sounds like a bummer to me, but is very nice of them to offer.
It sounds kind of like a taco salad? I do like taco salad.
Kind of, yeah, but I haven't told you about the sauce. The sauce is what makes it. The sauce is fire. I've been trying to find something like this in New York for eight years, since I moved here.
What's in this magical sauce?
Technically, it's Tali sauce, named for the founder Tali Ovadia. It's like a chickpea, garlicky, lemony sauce, but there's more to it than that.
Can't you just make it at home?
There are all these recipes for dupes online, but for some reason it's impossible to make it like they make it.
What if I don't care about sauce?
I don't know what to tell you, man. What kind of life are you living? I'm not friends with people who don't like sauce. You know how when you go to a halal cart, the white sauce makes everything taste so much better?
Yes.
This is that. It's the West Coast hippie version of halal-cart white sauce. Once you try it, there's no going back.
Do other businesses make bowls?
There are a couple of places that do different takes on it. There's a place, Veggie Bowl, that does a kind of Japanese twist, and another, Native Bowl, that does all the bowls. Those are just two examples. How much do you know about the food carts in Portland?
I know that they exist
So it stems from that kind of culture. Café Yumm! is the other place that does something like this, but it serves a little bit more than just the bowls, and it opened up in the '90s. Tali opened the Whole Bowl in 2001 as a food cart, and she perfected the bowl, I would say.
So in Portland, "bowls" are like an entire genre?
It's a genre of food in the Pacific Northwest, specifically. All about farm-to-table-y, fresh food.
Everything I hear about Portland sounds like a Portlandia episode.
Okay, well, that's not wrong.
As a Portlander, do you now seek out other food bowls?
Yes, I am a very bowl-based eater.
And nothing is better than this one?
I've tried so many bowls. I thought New York City was the food capital of the world, but nothing comes close to this.
How many times have you been since it opened?
Twice. The first time, I added 30 minutes to my commute home, and it is just as good as it is in Portland. The sauce is still insane. The second time I went was when you said you were going to ask me all these questions about it, and so I could take the picture.
And you're sure you had nothing to do with its arrival here? You're not, like, a Whole Bowl silent partner?
No. It just happened. But if I were a vision-board person, I would have put a bowl on mine. Manifest.