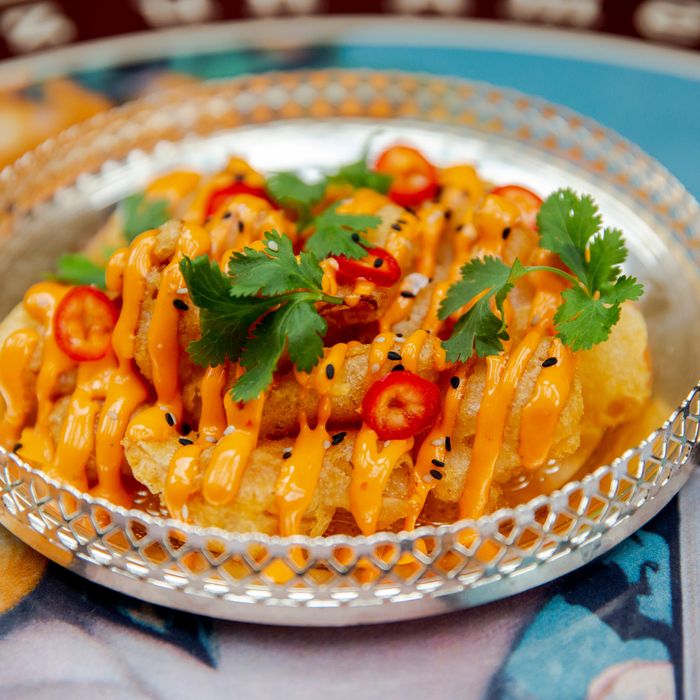 Maison Yaki's tempura onion "rings."
Photo: Mark Abramson
Every month in New York, there are a bewildering number of new dishes to eat, drinks to imbibe, and food-themed events to attend. Often, the hardest part is just figuring out what's really worth your limited time. So Grub Street kicks off each month with a curated selection of dishes, drinks, and events that should absolutely be on your agenda. Make your plans now.
1. Have bacon bread for brunch at Crown Shy.
On Saturday, Crown Shy will make its official entrance into New York's ever expanding brunch bracket. On weekends from 11:30 a.m. to 2 p.m., the Financial District restaurant will carry some dishes from its weekday lunch, menu like the short-rib sandwich, but also introduce some new ones for the weekend crowd. Renata Ameni's desserts star at dinner, so you'll want to pay attention to her sweet and savory breads: a cinnamon bun ($8) with cream cheese, maple doughnut ($6), banana bread with crème fraîche ($6), and honey-glazed bacon bread ($6) with ricotta. Get all those for the table, and one of the chef James Kent's dishes to hog — maybe the biscuit with sausage gravy ($23), or a chicken sandwich ($21). The latter is made with the same citrus-marinated chicken from dinner, on house focaccia with cilantro, fermented-chili hot sauce, jalapeño, radish, and romaine.
2. Check out the new menu from the new chef at LaLou.
The Prospect Heights wine bar LaLou has been busy since it opened over the summer, thanks in no small part to items like its really stellar fried olives. But its opening chef, Ashley Rath, left not too long ago, and now there's a new menu courtesy of her successor, Jay Wolman. He's worked at some of this city's most buzzy (and wine-soaked) restaurants, namely Hart's, King, Marlow & Sons, and Reynard under Christina Lecki. The dishes are all different, but in similar spirit: French breakfast radishes with anchovy butter ($11), mackerel ($21) with grape leaf and aioli, and steak ($30) with horseradish cream and watercress.
3. Indulge your late-ish night cravings at Maison Yaki.
Grub has good news for all you hangry night owls: You can now go to Maison Yaki for all your midnight Monte Cristo sandwich ($12) needs. The Prospect Heights restaurant from Greg Baxtrom has launched a late-night menu (Wednesdays through Saturdays, 10 p.m. to midnight) tailored to all your four-martinis-in needs: tempura onion "rings" ($8) with spicy rouille, fried chicken karaage ($12) with tonkatsu sauce, a wagyu burger ($12) with miso mayo, and grilled king trump mushrooms ($11) with shiso chimichurri.
4. Snack on schmaltz popcorn at a night of stories from the Jewish Food Society.
For its latest Schmaltzy event, the Jewish Food Society is teaming up with the 14th Street Y's Nasty Women comedy series. On November 18 (doors open at 7 p.m. and the show starts at 7:30 p.m.). Hosted by the comic Judy Gold, it's a night of stories and food from chef and stand-up comic Einat Admony, baker Umber Ahmad, writer Jordana Rothman, Gefilteria's Liz Alpern, and activist Hariette Skidelsky. To eat and drink, there'll be matzo ball soup, gefilte fish, lamb pulao, s'mores, kubaneh, wine, and a cocktail from Alpern. Tickets on the Y's website have sold out, but the Jewish Food Society has held 20 seats. If you'd like to attend, you can reach out via email to hi@jewishfoodsociety.org. Tickets are $65, and there will be schmaltz-infused popcorn.
5. Attend a barbecue fundraiser for the late chef Carl Ruiz.
The chef Carl Ruiz suddenly passed away last month at the age of 44. In his honor, the Gowanus barbecue restaurant Pig Beach will host a fundraiser on November $16 (tickets are $75 for general admission, $150 for VIP, and $250 for "ultimate" access) that will launch the #ruizingforacause Foundation. The foundation will raise money for the Alzheimer's Foundation and for scholarships to ICE. From noon to 5 p.m., Pig Beach will host an all-star lineup of chefs and pitmasters from around the country. There'll be chicken with Alabama white sauce from Big Bob Gibson's Chris Lilly, brisket tacos from Hometown's Billy Durney, empanadas from Leia Marie Gaccione, and much more.
6. Have a drink at Win Son Bakery, where they're finally serving cocktails.
Win Son Bakery has been reportedly packed during weekends, with lines of people drawn by the inventive pastries and stand-out breakfast sandwiches. Now it's sure to get busier at night: the café and restaurant has finally started serving adult beverages. The drinks menu was put together by partner Jesse Shapell, and they're serving Taiwan beer and local suds from the likes of Threes Brewing, natural wine by the glass and on draft, and cocktails (all $12) from Shapell. Baijiu will be big. "We'd love to be a place for this," partner Joshua Ku says of the spirit, which they're using in the frozen Runaway Horse made with black-cherry liqueur, a peppery syrup made from prickly ash, and lime. Other drinks include the Win Star No. 1, with bourbon and High Wire Southern Amaro, and the Captain Fantasy, with reposado tequila, lime, chili, and cilantro.
7. Or go to Madame Vo BBQ's new happy hour.
The good people at Madame Vo BBQ want you to come have your after-work drinks with them. On Mondays through Thursday from 5:30 p.m. to 7:30 p.m., the East Village restaurant will now have a special menu, which it's calling a nhau happy hour. (It's named for and inspired by the Vietnamese style of drinking and snacking.) Along with $3 beers and $6 wines, they'll serve five new dishes all for $10: grilled beef skewers with lemongrass-coconut red curry, lemongrass sea snails, fried shrimp fritters with taro, fried and marinated tofu, and salt-toasted chicken wings.
8. Head to Greenpoint for dinner from an acclaimed Vietnamese restaurant from Chicago.
Two of the country's most exciting Vietnamese restaurants are joining forces: On November 4, Chicago's James Beard nominated HaiSous will pop up at Di An Di. The restaurant's chef, Thai Dan, and his team will serve a $65 prix-fixe, serving dishes like bo nuong toi, a grilled rib eye with lemongrass, lime leaves, and Thai chili; goi bach tuoc, an octopus salad with eggplant; and che dua, a whipped rice pudding. The owners plan for the dinner to be start of a new series on Mondays — when Di An Di is otherwise closed — for which they'll bring in fellow Vietnamese chefs to do dinners.
9. See what's up at the recently reopened, made-over Aquavit.
After quietly and temporarily closing over the summer, Aquavit reopens tonight with a new menu and look. The dining room was given a pretty much total makeover, and you'll now be able to eat bigger dishes like shrimp salad ($21) and Princess cake ($12) at the bar. There are three menus during dinner (three courses for $115; five courses for $155 and $225), and Emma Bengtsson is serving Norwegian king crab with leeks and green tomatoes, crescent duck with black currants and beets, and desserts like chocolate with lingonberries and salted caramel. On November 6, the restaurant will start its lunch menus: two courses for $65, three courses for $75, and five courses for $135.
10. Pop by the 92nd Street Y for its Food Summit or an event about the newest edition of the classic Joy of Cooking.
On November 9, the 92nd Street Y will host Smitten Kitchen's Deb Perelman, Little Tong Noodle Shop's Simone Tong, Thrillist executive food editor Nicole Taylor, and others for its Food Summit. (Tickets are $45.) Panels will cover topics including the future of meat, sourcing in the world of fast-casual chains, immigrant food in America today, and more. Fans of the Joy of Cooking will want to mark their calendars for November 12, when the Y will host the editors of the newest edition of the classic cookbook, John Becker and Megan Scott, for a conversation with Food & Wine editor Kat Kinsman. (Tickets are $29.)
11. Then go to a Greenpoint store for a couple cookbook events.
To celebrate her new book Food Artisans of Japan, Nancy Singleton Hachisu will pop by Greenpoint's Archestratus Books + Foods on November 15. (The event starts at 6:30 p.m. and tickets are $10 to $38.) Along with a conversation, Q&A, and book signing, they'll serve a Japanese-Italian kombu and salmon arancini and Kintoki jelly. The next week, on October 21, the store will have Munchies's culinary director Farideh Sadeghin for a chat with The New Yorker's Helen Rosner about the new book, MUNCHIES Guide to Dinner. (The event starts at 6:30 p.m. and tickets are $15 to $33.) That night, they'll serve onion dip with potato chips, pimento-cheese arancini, and "good for everything" chocolate cake.