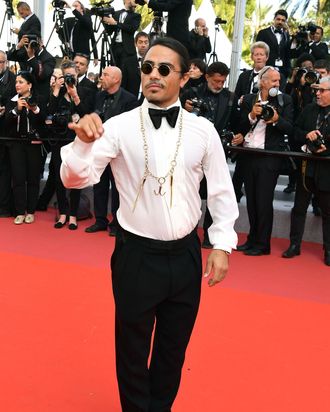 Nusret Gökçe
Photo: Matt Winkelmeyer/Getty Images
Since capturing the internet's collective imagination back in 2017 with his signature technique for sprinkling salt and sensually cutting steak, Turkish-born chef Nusret Gökçe has somehow managed to stay relevant even if the reasons for that relevancy aren't all that positive.
The Manhattan arrival of his restaurant Nusr-Et, for instance, was greeted for the most part with disdain, confusion, or both, and now, according to a report in the Daily News, it wasn't just the dining experience that was subpar at the restaurant. This week, four former servers received a $230,000 settlement from Gökçe's company over tipping practices at the Midtown restaurant.
The servers allege that they were kept in the dark about how much was collected in tips each night and instead received weekly checks in amounts of $2,000 to $2,500. Since tips legally belong to front-of-house workers, it was their right to know exactly how much they were earning, but after digging into it, the four men were promptly fired. Because it was settled, the case will never make it to court, but the ex-servers allege that Gökçe has an "authoritarian, dictatorial attitude" and "doesn't care about local laws." As part of the settlement, Gökçe has been ordered to post a notice about workers' rights in the restaurant.
That hasn't stopped the Turkish chef from growing his empire, however. Late last year, signage appeared on a storefront near Union Square announcing plans for an as-yet-unopened burger spot, and today, Bloomberg reports that Nusr-Et is seeking more financial backers in a deal that would value the company at around $1 billion. The influx of capital would be used to expand the chain's already significant footprint — with locations in Dubai, Miami, Mykonos, and Turkey — even further.