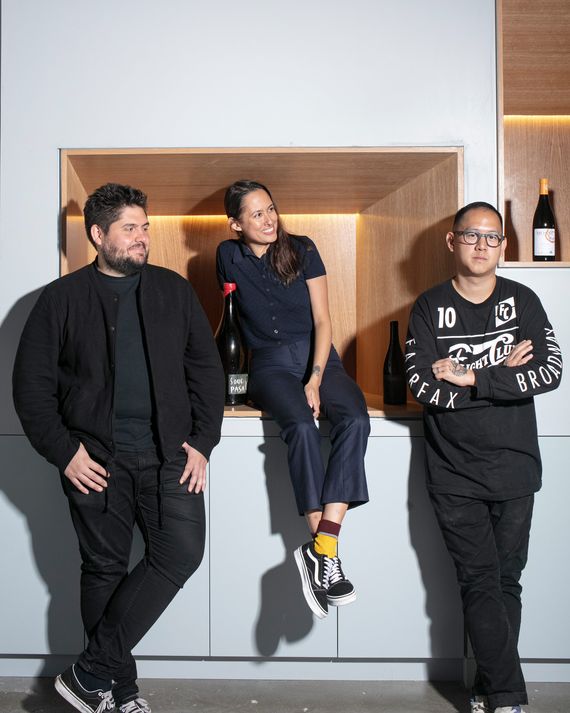 Fabián von Hauske, Daryl Nuhn, and Jeremiah Stone inside Peoples.
Photo: Melissa Hom
Anyone who has been to Sauvage in Paris or Manfreds in Copenhagen will tell you that they are perfect establishments. You can order some food — dishes that tend to be both thoughtful and simple — drink some fun, possibly unfamiliar, wine made by caring producers, and, if you'd like, grab some bottles to take home for later. This is life as it should be, yet in New York, a wine bar that can double as a wine shop doesn't — or, more accurately, can't — really exist, owing to various bureaucratic rules and licensing restrictions and blah, blah, blah, blah, blah.
New York does have plenty of lovely wine bars and little neo-bistros (Four Horsemen, June, Ten Bells), plus a number of thoughtfully curated wine shops (Wine Therapy, Chambers Street Wines, Andrew Tarlow's new Stranger Wines). But that sweet spot, where the best parts of both are merged into a single, glorious whole continues to remain … elusive.
The chefs Jeremiah Stone and Fabián von Hauske feel this. They will also help to correct it when they open Peoples, a two-sided business inside the the Market Line on the Lower East Side, on Friday. Logistically, Stone says, it works because each space is technically its own address, and thus its own business. But in practical terms, customers will experience a single, unified plan that is part wine bar, and part wine shop. "The idea," Stone says, "is to tie them together in more ways than just having it be a physical connection."
"There's a thread between the shop and the bar, so that if we're pouring wines by the glass, you can always get a bottle to take home," explains Daryl Nuhn, a New York restaurant-world vet who is the managing partner at Peoples. "It won't be like a library, where you just go in, and get 'red wine,' 'from Italy,' and walk out without talking to anyone," Nuhn says. Well, she concedes, customers can do that, if they want, but do you know that feeling of having a super-talented sommelier pick a surprising bottle that you never would have found on your own, something that is both delicious and eye-opening? That is what is what Peoples can be, too: "It's about having a playful, creative way to sell things," Nuhn says.
To start, Peoples will stock between 200 and 300 different wines, from winemakers and importers that Stone, von Hauske, and Nuhn know and trust. The wine bar will have 20 seats, a $30-ish set lunch on weekdays, and a small menu of snacks (like boned-out chicken wings stuffed with pork and mushrooms). A few people will have room to stand, and if it seems like that's the move, Peoples might lose a few more seats to make room for more standing. "We want it to feel like a bar," Stone says. The retail space, meanwhile, will be organized into 11 "showcases" for specific ideas and wines from various importers, although that doesn't mean you'll wander over to something like the Jenny & François section. Instead, Nuhn says, it's a chance to call out producers and regions that they're excited about: If, for example, "they have a really cool Corsican portfolio, we'll work with them to highlight those winemakers."
If you know the group's restaurants — Contra, Wildair, Una Pizza Napoletana — then you also know that they are vocal proponents of the natural-wine movement, and Peoples will be no different. Yet as the profile of natural wine has grown so considerably in New York — there's no getting around the fact that it is almost insufferably trendy at the moment — the team says they plan to work hard to convince people that there is more to organic farming and low-intervention production than bottles of funked-out wine made with a grape nobody's ever heard of, that looks like rotten Kool-aid and tastes like an old barn.
"For us," von Hauske says, "this is not about jumping on a bandwagon. I used to go to Ten Bells when I was 18 or 19, so this is the wine that I learned to drink. It's been an important part of the restaurants, and it's something we want to continue to do."
The trio says they feel like the more "natural wine" has gained in popularity, the more people think of it as something that it's not. "There's a misconception now that 'natural wine' is a flavor profile," Nuhn clarifies. "People say they want something that tastes super natural. It's really up to us to make sure that people understand this is a practice, and we want to show the scope of that." (Anyone who has had the pleasure of drinking wine at someplace committed to the natural-wine movement — say, Frenchette — knows that "natural wine" can taste like anything: elderflowers, apples, fresh-cut grass, and all sorts of other beautiful things.)
But, so, yes, okay, there will probably be wine that will remind you of French farmland, or fresh-picked pears, or maybe even a little bit like bell peppers and toast. There will be wine from a German producer that makes a point to use bat guano as fertilizer, and sparkling wine from Emilia Romagna, and some big tannin-y red from Campania. Even though the wine will all be farmed and made in the natural style, the wines themselves will be wide-ranging — with an aim to give everyone the kind of wine they like.
"If someone walks in and just wants a glass of sauvignon blanc," Nuhn says, "they should be able to have that."