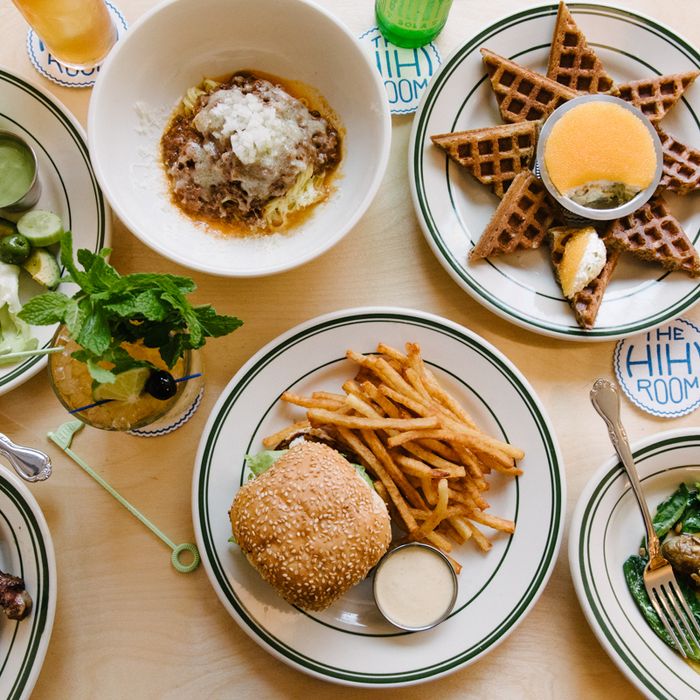 The HiHi Room has much more than sandwiches.
Photo: Charissa Fay
Nine years ago Eric Finkelstein and Matt Ross opened Court Street Grocers, a spunky Carroll Gardens general store and sandwich shop anchoring the tail end of Court Street near where it ducks under the BQE. The place soon became known for unearthing and championing rare regional-American foodstuffs you couldn't find anywhere else, and serving classic American sandwiches that tasted like the best versions of what they were. The partners had met as students at the Rhode Island School of Design and both later worked at Balducci's; their shop merged the worlds of art and commerce, turning esoteric-food sourcing and thoughtful sandwich construction into a sort of MFA-level art project.
Finkelstein and Ross gradually branched out to new neighborhoods in Brooklyn and Manhattan's Greenwich Village, augmenting their repertoire along the way and indoctrinating fresh new demographics into the splendors of New Jersey's Taylor ham, Duke's mayo, and the Jewish-Chinese relic that is the Catskill roast pork sandwich. Always, in the back of their minds, they envisioned expanding from counter-service heros to full-service plated food, but logistics foiled early attempts. Now, though, they're poised to open their first full-fledged, non-sandwich-centric bar and restaurant, the HiHi Room, named for the greeting that's become Court Street Grocers' social-media tagline. That phrase beckons in neon from the glass façade; inside, white-tiled and white-bricked walls frame a zinc bar, bar-height tables up front, and slatted-wood booths in the back. Finkelstein and Ross outfitted the space with the same oddball zeal with which they source ingredients, prowling a Burlington, Vermont, library for rubber-webbed steel chairs, the Brimfield antique show for a fern-bar-style light fixture and a framed wood burl, and Amazon for the sliding coat hooks they installed below the bar and are particularly excited about. Peter Falk peers down from an Italian "Tenente Colombo" movie poster, and a Late Night with David Letterman cue card for Calvert DeForest (aka Larry "Bud" Melman) is stationed by the door. While these touches might give you some insight into the pop-culture predilections of Ross and Finkelstein, they don't telegraph what will emerge from the kitchen.
That is the domain of Walker Stern, former co-chef of Battersby and Dover and longtime CSG customer. Stern (along with chef Marc Howard) collaborated with Ross and Finkelstein on the restaurant's menu, translating their wish list of regional delicacies into a framework of breakfast, lunch, and dinner dishes. You can expect to find Mount Desert Island oysters, Carolina shrimp and grits, upstate escarole specialty Utica greens, chicken scrapple, and crab Louise (like Louis but with green-goddess dressing rather than thousand island). Stern's "spaghetti Cincinnati" melds Battersby's duck bolognese with Cincinnati chili, a melting-pot marvel brainstormed by Macedonian immigrants in the '20s. Supplementing these American icons are Stern originals like cane-syrup-glazed chicken, salt-baked celery root with farro and hazelnuts, and brunch buckwheat waffles with whitefish salad and roe. There will also be a cheeseburger – the Court Street Grocers team's first – made with beef from nearby butcher shop Dellapietras on an Orwashers seeded bun. ("We never had a deep fryer, and we couldn't serve a burger without fries," says Finkelstein.)
Cocktails incorporating the partners' proprietary Grocers Bottling Co. sodas as well as regional ingredients like boiled cider syrup are the province of Mary Ellen Amato, a former Court Street chef who returned to the fold after opening her own now-closed Red Hook café, Rita's. If you order a drink, take note of the coaster and the swizzle stick. They're designed by Tamara Shopsin, a friend of the house and a member of the clan behind New York's ur-quirky luncheonette, Shopsin's, which happened to have started out as a grocery store, too.
The HiHi Room opens for dinner Tuesday, November 12. Here's a look at the space and some of the food.
The HiHi Room, 138 Smith St., nr. Bergen St., Boerum Hill; 718-576-3352 
*A version of this article appears in the November 11, 2019, issue of New York Magazine. Subscribe Now!