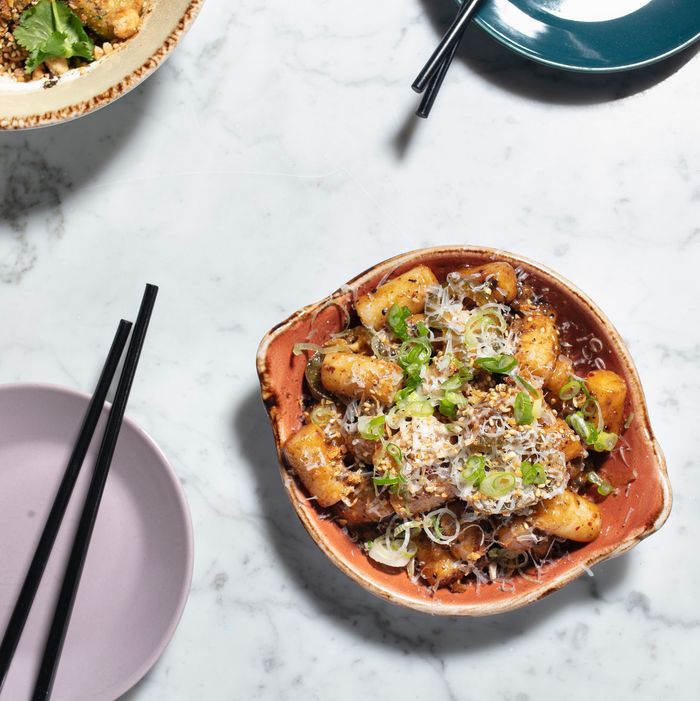 The chopped-cheese rice cakes.
Photo: Melissa Hom
The burger that chef Jae Lee served at his pop-up Him was the rare model that managed to stand out even in New York City in 2019. Lee's pickle-topped, cheesy, kimchee-mayo construction straddled the line between overly cheffed and instantly familiar. (Gothamist called the burger "amazing," and Eater New York's Ryan Sutton wrote it overpowered his burger fatigue.) Lee's pop-up has ended after a nine-month run, but the burger lives on. It's just migrated to the menu at Nowon, where, starting November 25, Lee & Co. will build on the burger buzz by offering it only from 5 to 7 p.m. (It's a move straight out of the cheffy-burger playbook.)
Named for his hometown in South Korea and located in the East Village, Nowon expands on and goes beyond themes Lee worked with at Him. (The menu also is in keeping with his experiences at such restaurants as Tabla; Morimoto's Momosan Ramen & Sake, where he was the opening executive chef; and Dale Talde's Rice Gold, where he was also executive chef.) There are some other carryover dishes from Him on the menu, including the honey-butter tater tots with labneh, but plenty more is new.
In some dishes, he'll draw on New York flavors, like in the spam-egg-and-cheese eggrolls and the chopped-cheese rice cakes. (That second dish is a fusion-y play on the uptown sandwich along with Win Son Bakery's san bei chop cheese.) The shin ramyun chicken wings are part Korean (the gochujang glaze) and part American (the buttermilk dressing), while the octopus a la plancha goes Pan-Latin with peanut mole and perilla chimichurri. Other dishes include spruced-up versions of classics like kimchee rice, which he makes with dry-aged ground beef as well. Lee has played around with ssam before — he's served a duck-roast ssam, which he says was the last dish he ate with his grandmother — and here he'll serve a beef-rib ssam with horseradish, banchan, white sauce, and hot sauce.
To go with the food, Nowon will serve a few nonalcoholic drinks like a strawberry-hemp creamy soda. Its liquor license is still pending, per the SLA, but once approved, Nowon's bartenders will pour Makku, an American-made makgeolli (the fizzy, low-ABV rice wine), a few soju, natural wines, and beers. The 34-seat space is outfitted with blue chairs and decorated with graffiti and murals from the artist Razo, including a wall covered in a hodgepodge of old Korean newspaper clippings, a partially visible poster for the 50 Cent movie Get Rich or Die Tryin', and various images like one of a soju bottle.
Nowon, 507 E. 6 St., nr. Ave A; 646-692-3867