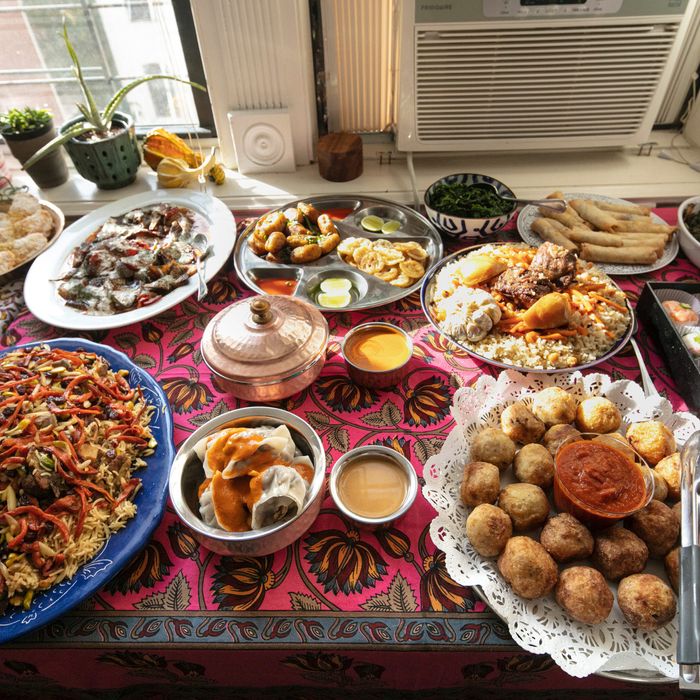 Some of the spread at the League of Kitchens potluck.
Photo: Melissa Hom
In one narrow New York squeeze of a kitchen, there were temari being unpacked, momos steaming, hawla getting carefully arranged on a platter, and vitello tonnato being put on display. It was all happening one Saturday earlier this November in a space where, when standing between the stove and the fridge, even two is a party. But this afternoon, a restaurant's worth of cooks were floating in and out of a room crowded with chatter, aromas, and tupperware. They were all there for the holiday potluck of all holiday potlucks: that of the League of Kitchens, the company that offers immersive cooking classes taught by immigrant women in their own homes.
"I always say this is the best potluck in the world, and it really, really is," Lisa Gross, who founded the company in 2013, told the crowd. Hosted by Gross at the Kensington apartment she shares with her husband, Daniel Sobo, and their kids, it may or may not be the actual best potluck in the world — that would require more reporting — but it is a one-day idealized version of New York's figurative melting pot turned into an actual melting-pot melting pot. One where a former French teacher from Lebanon obsesses over a Japanese expat's sushi, and a Nepalese mother makes sure a Mexican-born artist knows that her hot sauce is very hot, just the way she likes it.
For the instructors, the potluck is the one time a year they have to all hang out. "They themselves have really gotten to know each other and become friends with people who are really different from anybody else they know," Gross told me. She recounted her Persian instructor Mahboubeh (Mab) Abbasgholizadeh's reaction to last year's party: "She said to me, 'It was so funny to be at the holiday party because it was like meeting all these women just like me, even though they are from all over the world.'"
For the day, the Gross-Sobo kitchen turned into a world kitchen. A stack of half-pint containers with Gujarati tamarind chutney and other sauces sat near Greek halva, the semolina pudding. Over by the stove, Nepalese instructor Rachana Rimal layered coins of potato to be finished in the oven.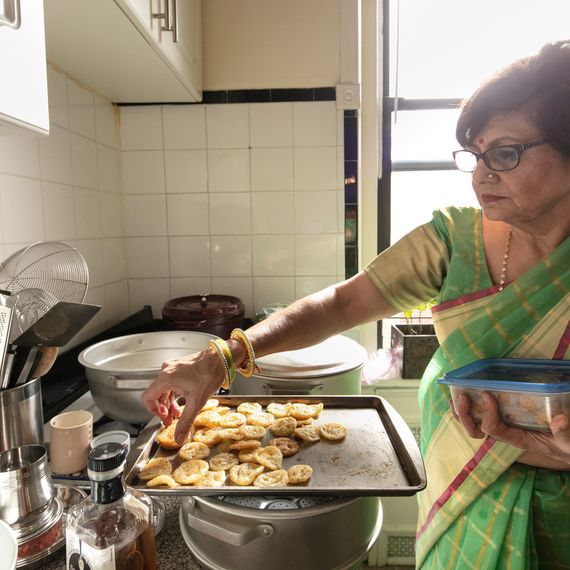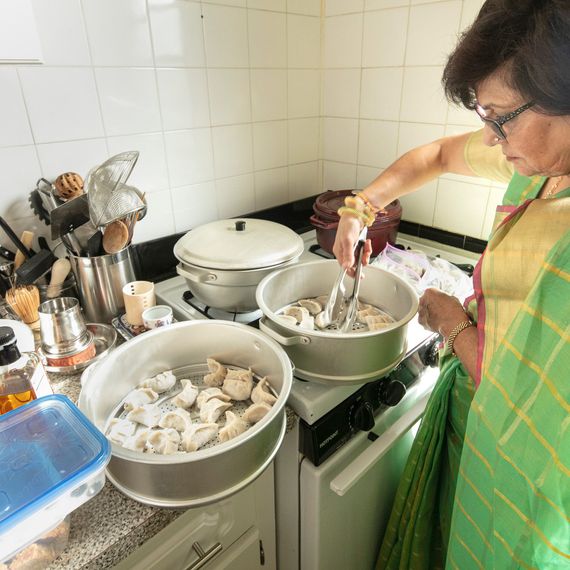 As Indian instructor Yamini Joshi arranged her dhokla, the Gujarati specialty made of fermented-chickpea-and-rice batter, Mirta Rinaldi laid out slices of cold meat for the vitello tonnato.
Behind them, Afghani instructor Nawida Saidhosin ladled yogurt sauce and sprinkled dried mint onto borani banjan, eggplant with tomato. The room smelled like sugar and chilies and anchovies and tamarind.
The conversation drifted from capers to Christmas in Argentina to saris. "It's a sari party," Gross joked of the day. Joshi explained her vatana patties (pictured below, center): potato balls stuffed with green beans, fresh coconut, cashews, and raisins. Others asked after Japanese instructor Aiko Cascio's temari.
"Heyyy, the party started without me? No party without Jeanette," the Lebanese instructor Jeanette Chawki joked before saying, "Hello, Argentina," to Rinaldi. There were lots of greetings and embraces like this between the guests. "Sonya, we miss you," Chawki said to Sonya Kharas, the former program manager, who hugged Cascio enthusiastically.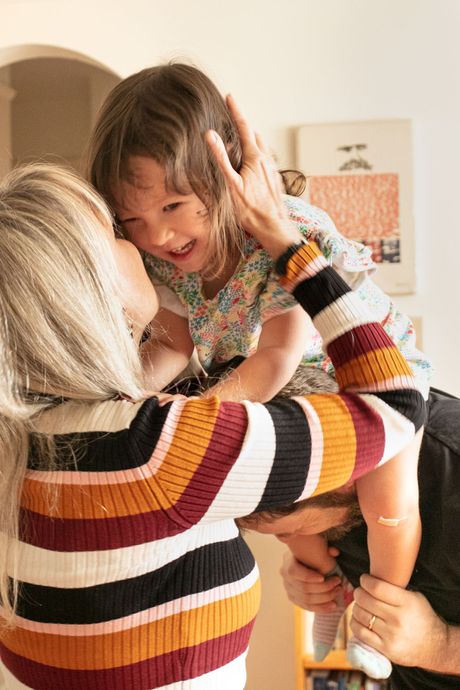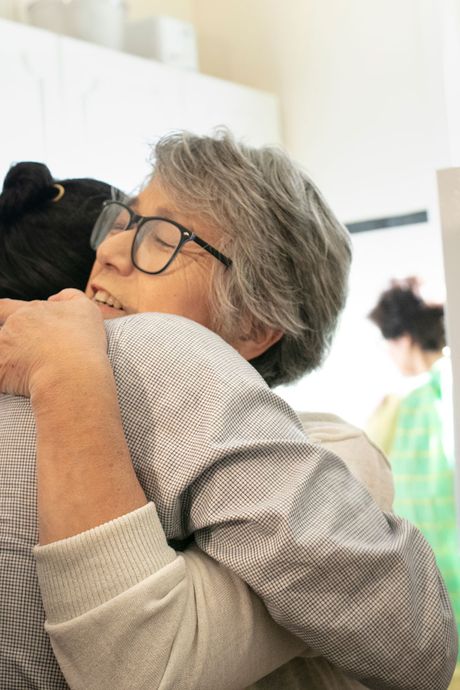 When it calmed down in the kitchen, Rinaldi arranged her alfajores, sandwich cookies filled with dulce de leche, on an unusual tray. "It's part of the barrel because in Mendoza, where I'm from, it's malbec land," she said, prompting another to ask, "The wine barrel? Do they make a lot of trays down there?" But Rinaldi had to rearrange her alfajores a few times because Gross's daughters Sylvie and Vivian Sobo kept sneaking cookies before lunch. "I'm super-hungry," Sylvia confessed when she came in with her mom. Their grandmother, Linda Sobo, corralled the girls during the afternoon.
In a sunny corner of the living room, the food was spread over colorful tablecloths provided by Joshi. Several women took their phones out to snap photos of the spread and then took selfies together.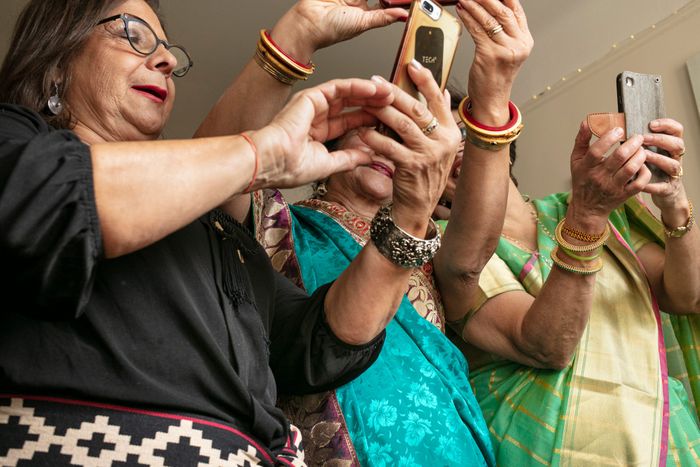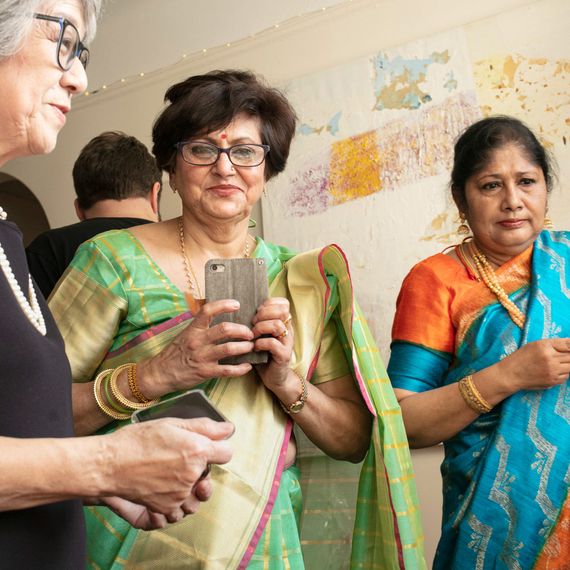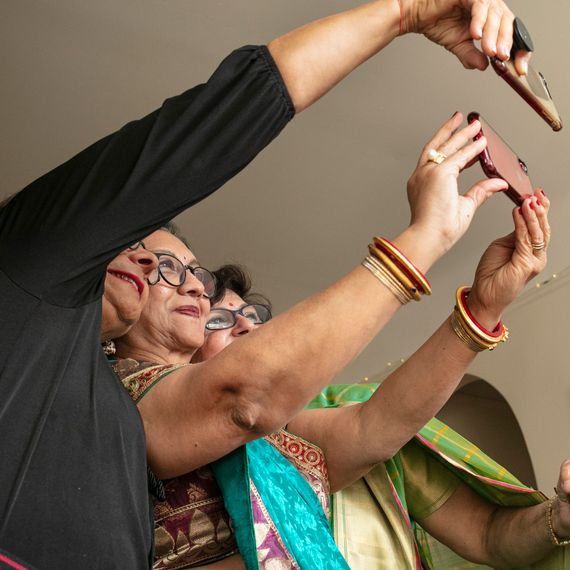 The party really started when Gross gathered everyone for her pre-meal thank you. "I'm very impressed by all the rollie bags in the foyer," she said. She took time to mention a few of the attendees, including the journalist Rachel Wharton, who is co-writing the League of Kitchens cookbook, and Kharas. Bangladeshi instructor Afsari Jahan chimed in to mention the company's supervising recipe writer, editor, and translator, Liz Tarpy.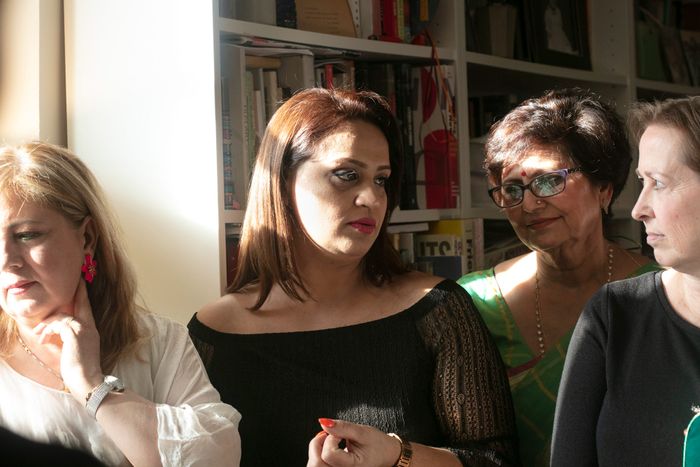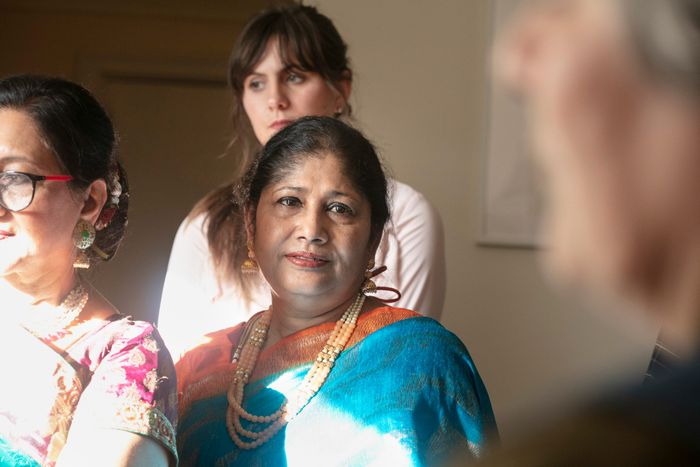 Following the speech, everyone explained their dishes: Rinaldi's vitello tonnato; North Carolina–born Wharton's pimento cheese; Jahan's tray of chicken rolls, samosas, and potato chop with green sauce and tamarind sauce. "I gave them the modern look because we are in New York," she said to laughter.
Cascio came up to explain her temari and a vegetarian alternative (fried yuba wrapped around vegetables and sushi rice; both pictured below), and Tarpy contributed local flavor with a kale salad with lemon-garlic dressing. Abbasgholizadeh introduced her baghali ghatogh as part of a genre of onion-based dishes called eshkaneh: Onions are caramelized with dill, then beans are added to the pot, and finally she breaks eggs into it (like shakshuka, she points out). "I know what you say: 'I have to eat and taste and see how it is.' I know how it is. I know," she confidently told me.
There was a sense of friendly competition to the afternoon, evident in the excitement and gentle ribbing. When Joshi introduced her dkohla (pictured in the center, below) as "a very traditional dish," Jahan teased (accurately), "from Gujarat."
The women were just as enthusiastic about their favorite dishes that others had brought. Rinaldi loudly proclaimed "ohh, yummy" in response to Chawki's tabbouleh (pictured below), which was introduced with a tongue-in-cheek boast. "Um, it's the queen of the table," Chawki said to laughter, before explaining that's what it's called in Lebanon.
Chawki was particularly proud of her dandelion greens (pictured below) with onion and garlic, one of several other dishes she brought. "It is my favorite. I did it yesterday; always on Friday we don't eat meat. So I would like you to have a taste," she said.
"This is really good," Chawki said when Saidhosin introduced her borani banjan, a side she brought along with her qabili palau, lamb and basmati rice pilaf. (Both pictured below, bottom photo.) Others noted similarities across cuisines, as the Uzbeki instructor Damira Inatullaeva did between plov (pictured below, top) — "the key of Uzbek cuisine" — and qabili palau.
When it came time to eat, everyone eagerly lined up. Sylvie plopped down in the middle of the room, and the plates were a hodgepodge: Nepalese dumplings next to pimento cheese and crackers (pictured below, top right), three kinds of kibbeh (pictured below, left) including pumpkin and labneh with meat, and Gross's namul (pictured below, bottom right), spinach cooked with garlic, soy sauce, toasted sesame oil, and toasted sesame seeds.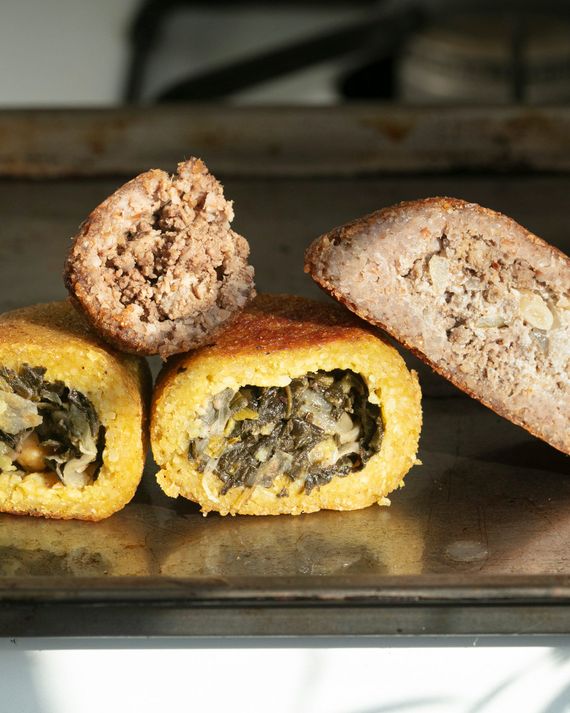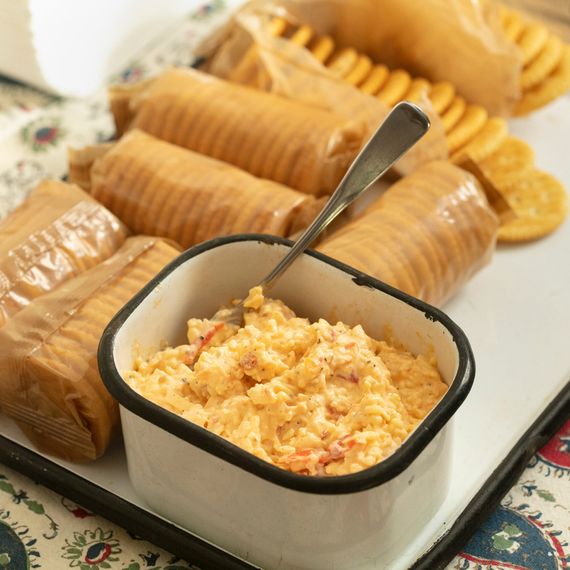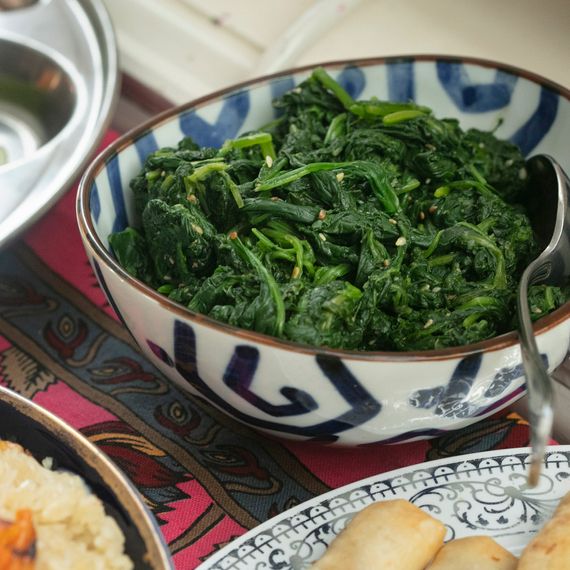 What makes this potluck so unique isn't just the international buffet but the individuals. Take Abbasgholizadeh: An educator, journalist, and women's-rights activist who was active in the Islamic revolution, she founded a number of organizations in Iran, including the Association of Women Writers and Journalists and the journal Farzaneh. After being arrested several times from 2004 to 2010, she left the country.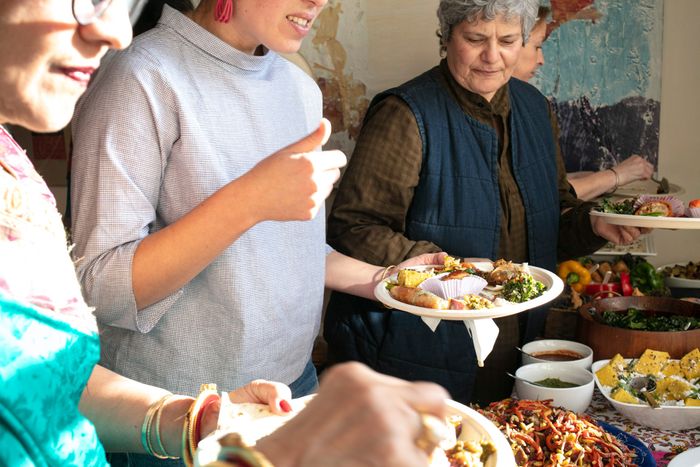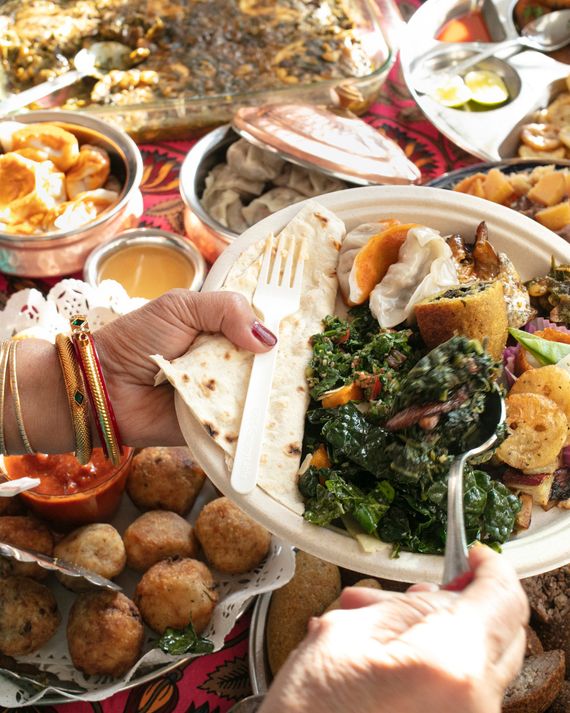 The room was full of women like Abbasgholizadeh, all particularly engaged with their cultures. Through the International Rescue Committee, Gross reached Saidhosin, Rimal, and Iraqi instructor Maha al-Obaidi. The League brought on Mexican instructor Angie Vargas after Gross connected with the executive director of the Center for Traditional Music and Dance, a sponsor of the Mariachi Academy that Vargas and her husband run. Along with catering, Jahan teaches edible design through ROC-NY, and she put those skills to use with her halwa (pictured below, center), shaped by cookie cutters.
Those were part of the potluck's second round. After the savory dishes were cleared, everyone introduced their desserts. Several were variations on the halwa theme. There was Rimal's Nepalese barfi (pictured below, top), made with dates and evaporated milk solids; Joshi's carrot halwa (pictured below, bottom); Greek instructor Despina Economou's halva; and Jahan's spread of halwa in semolina-carrot, pistachio-lentil, and carrot-milk flavors. (She also made an egg pudding, which she compared to flan.) Pointing out Rimal and Joshi's dishes, Jahan said, "Everything is halwa."
During the dessert prologue, some international tensions flared up — in good fun — over halwa. "Many people make halva, but I don't know which country started first," Economou offered diplomatically, explaining that she makes hers (pictured below) with semolina, olive oil, sugar, raisins, almonds, water, and milk. After Joshi said this is the "same as halwa," Chawki chimed in, "Halwa, it means 'sweet' in Arabic." "No, no, no," Jahan began, before Economou interjected, "It's not Arabic; it's Greek," to laughter. This prompted Abbasgholizadeh to finally weigh in: "That is Persian, actually."
Eventually, they moved on to talk about other, less controversial desserts. "What is this?," Chawki asked the crowd about her dessert (pictured below, bottom right). "Baklava. Baklava. Baklava," they responded. There was cardamom cake (pictured below, top right), baked by Kharas; program assistant Sarah Dittmore's pumpkin cake with caramel frosting; Vargas's conchas with hot chocolate (pictured below, bottom); and Inatullaeva's meringues (pictured below, left) with icing and condensed milk. "We do this on the first day of the year," Chawki said, explaining that they make white foods then. There were also Italian-American rainbow cookies brought by former communications manager Claire Harlam, which caused some excitement, and an Gross's autumn fruit salad among the spread.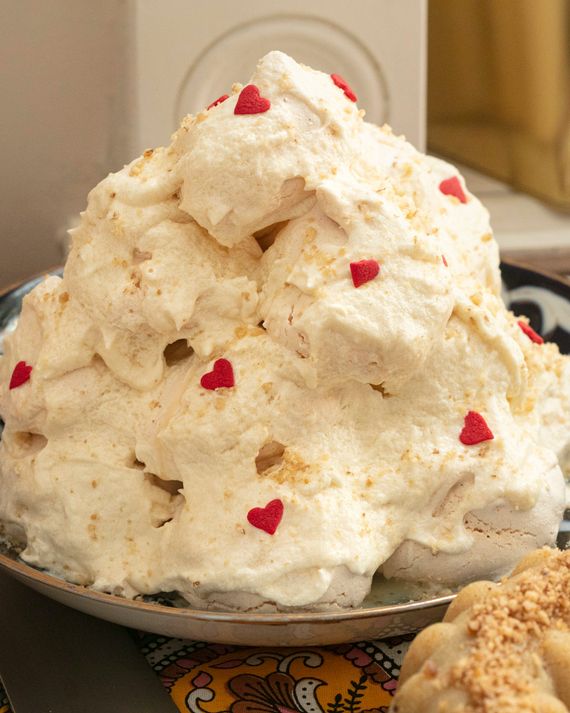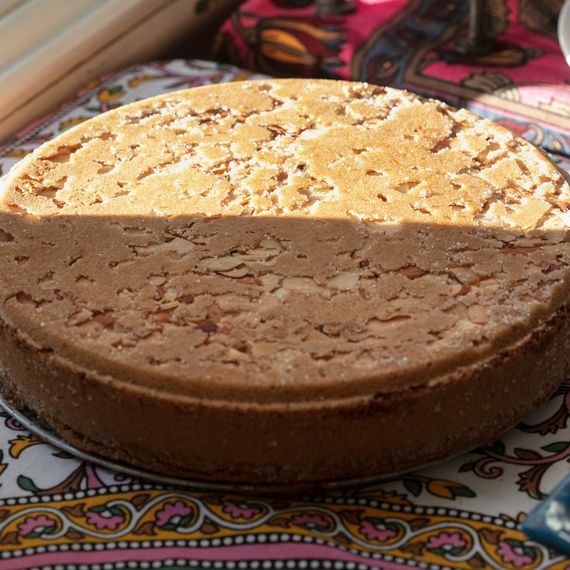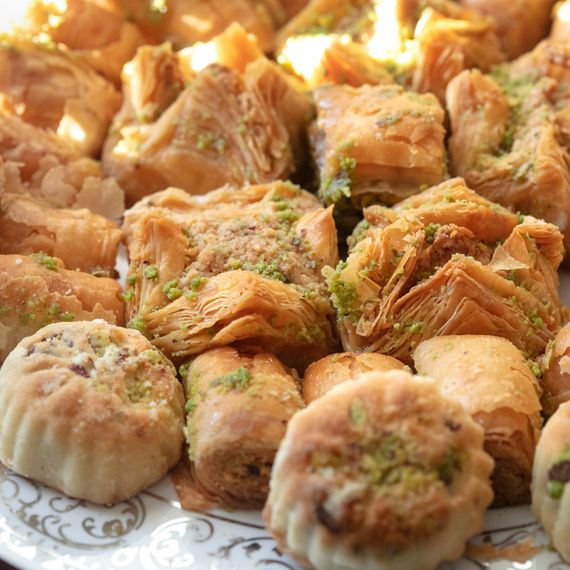 Rimal's flaky goji (pictured below, top) — which she describes as a half-moon shaped dumpling with mawa, sugar, and nuts — was met with more recognition by Joshi, who repeated its name in Gujarati, and Jahan. "This is mostly for Diwali, yes?," another asked, to confirmation. "And frying is traditional?" Rimal said it is, while Jahan added that the dish can also be steamed and baked. It was the sort of moment that defined the afternoon: conversation between people who are proud but inquisitive and eager to share. It felt like how New York could be like every day.