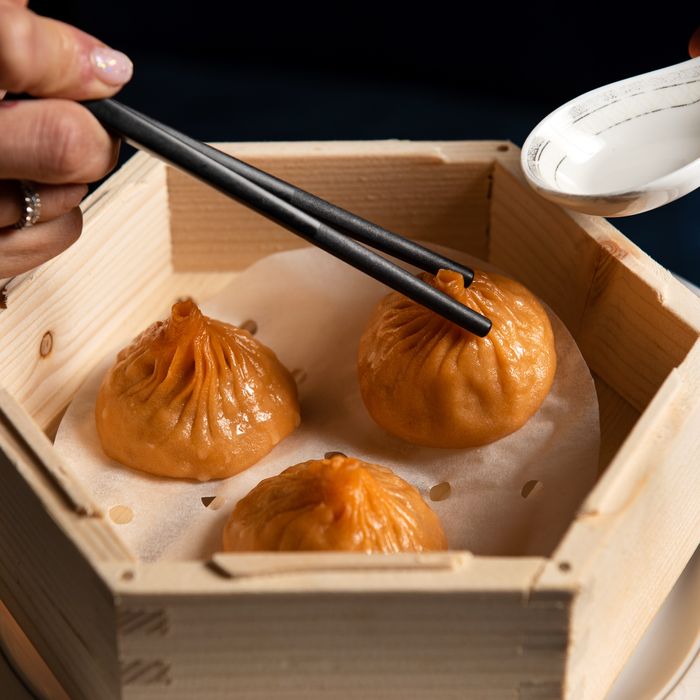 Hot-and-sour pork xiao long bao at Hutong.
Photo: Liz Clayman
New restaurants have come in all shapes and sizes over the course of the great Chinese-food renaissance that's been blooming around town for the past few years. There are crawfish-boil restaurants and Mongolian hot-pot restaurants and strings of new fast-casual joints like the excellent Xi'an Famous Foods, which began life as an outer-borough food stall and has blossomed into a mini fast-casual empire. There are small neighborhood restaurants opened by sophisticated émigrés hungry for a taste of home (Hunan Slurp, MáLà Project), modern restaurants opened by entrepreneurs from China (Zhu Rong's Hao Noodle), and aircraft-carrier-size franchises that arrive with armies of cooks and chefs (the star-crossed Peking-duck palace DaDong) and take up residence in prominent, extravagantly decorated, palatial rooms.
Hutong, which opened a few months ago in the prominent, palatial former Le Cirque space off the courtyard of the Bloomberg headquarters in midtown, is the latest aircraft carrier of a restaurant to arrive on our shores from across the Pacific. Like DaDong, Hutong has grandiose outlets elsewhere (London, Hong Kong, and one coming soon to Miami), each presumably fitted with lavish "wine tower" displays, as this one is, and raucous bar zones where you can sip high-concept cocktails with names like Oriental Breeze and the litchi-and-vanilla-vodka-based Comfortably Numb. The cathedral-height main dining room has been refitted with acres of silver sconces, polished chandeliers hanging from long wires, and rows of half-moon-shaped blue leather booths that look as though they've been lifted, not so gingerly, from an Art Deco bank lobby in old Shanghai.
"This feels like the third-best restaurant at the Bellagio," someone at the table said, not inaccurately, as I sipped my high-concept fusion cocktail, which was a kind of Old Fashioned tinged with sesame seeds. One or two of the first appetizers we sampled reminded me of something you might encounter at a randomly overpriced Vegas establishment (dry, denatured "crab and tofu"; the cereal-sweet, Cap'n Crunch–style Sichuan shredded beef). But as dinner progressed (and I returned for subsequent visits), my Chinese-food-snob friends and I found plenty to like about classic Sichuan dishes like kou shui chicken (otherwise known as "saliva chicken" thanks to its mouthwatering consistency and temperature), steamy bamboo boxes filled with festively colored dim sum (try the rosé-Champagne shrimp dumplings), and house specialties like xiao long bao dumplings injected with tangy deposits of hot-and-sour soup.
For an operation of this size, the five-page menu is refreshingly small and eclectic and filled with modish "signature" dishes, each marked with a stamp on the page and relentlessly pushed by the diligently efficient wait staff. These include cigarillo-size slices of prawn roll mixed with scallop for extra sweetness and texture (very good) and a strange interpretation of pork dumplings encased in a faintly chewy mochi crust covered with a dusting of charcoal (sort of good). I would order the aforementioned xiao long bao again (although my soup-dumpling-loving daughter pronounced them "a little weird"), and the same goes for the house dan dan noodles, which are flavored with plenty of sesame and lip-tingling ma la spice and served like soup in small blue-and-white-patterned bowls.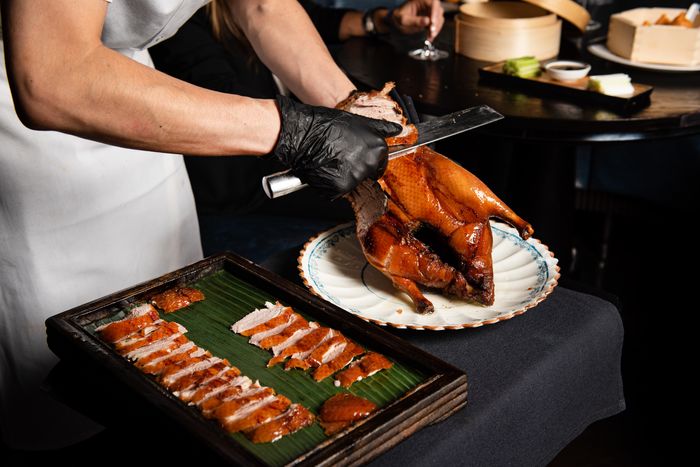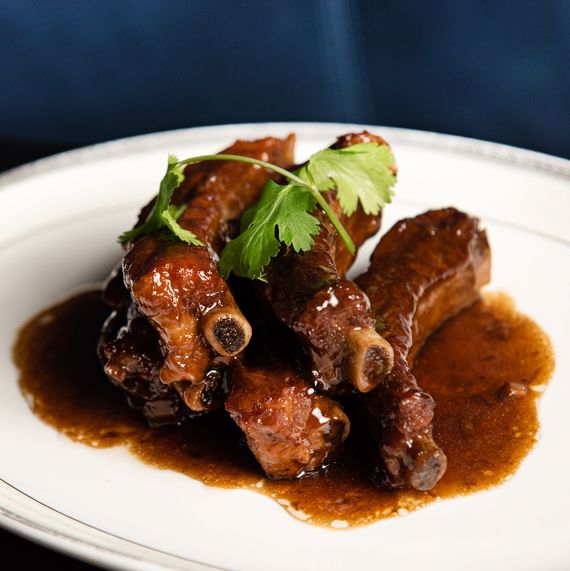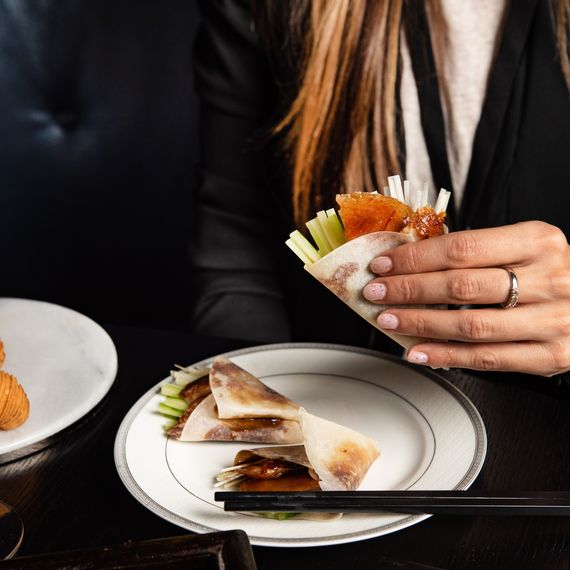 Hutong describes itself as a "northern Chinese" restaurant, although if the menu veers in any one direction it seems to be toward Sichuan, which, for the past decade or two, has been the default trendy cuisine not just here in New York but in international dining capitals like Beijing, Tokyo, and Shanghai. Our Peking duck was perfectly acceptable as far as sweet-sauced, conveyor-belt versions of Peking duck go, but if you feel like dropping upwards of $70 on a single dish, I recommend the Hutong lobster, which is fried in tender little nuggets and tossed in a fragrant bouquet of chiles, black beans, and frizzled garlic. The festive soft-shell-crab dish called Red Lantern packs a similar punch, as do other spicy, Sichuan-accented creations like the excellent ma la beef tenderloin, the giant crispy kung po prawns, and the wok-fried Sanchen spiced chicken tossed with cumin, plenty of star anise, and more dried chiles.
In the tradition of behemoth international dining franchises everywhere, none of this grub comes very cheap (Nine of the 13 entrées cost over $39 or well above), and the various ancillary charges that tend to accrue during the course of a proper Chinese banquet (platters of the chef's rather ordinary fried rice, numerous noodle options, that extra bottle of La Tâche '14 for $3,630) have a way of piling up if you're not careful. Not that profligacy and overspending seem to bother the crowds of business folk and moneyed gastronauts pushing their way into Hutong these days. If you happen to have a few spare dollars on hand after the savory dishes are cleared away, however, try the elegant, salty-sweet white-chocolate "bao" (the mousse-stuffed chocolate is molded into the shape of a traditional bao tze), which is a rarity in the annals of Chinese cooking — a decent dessert.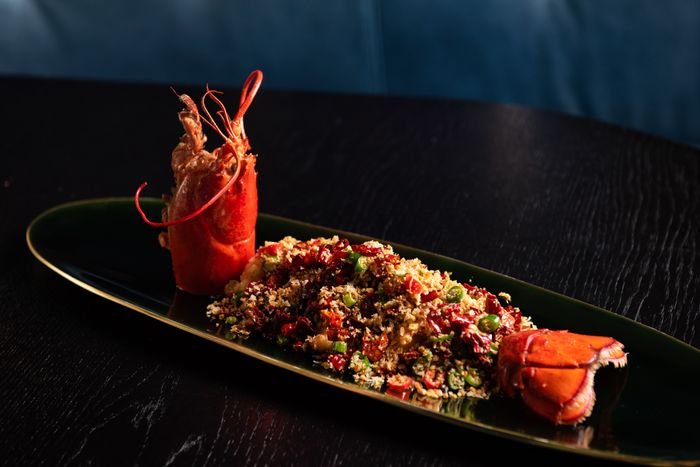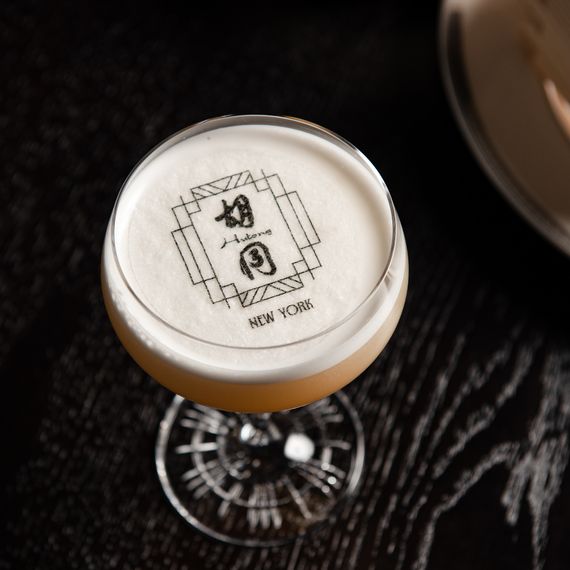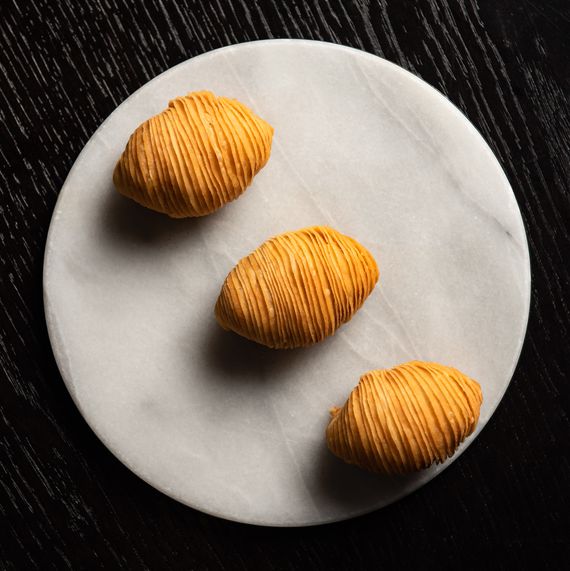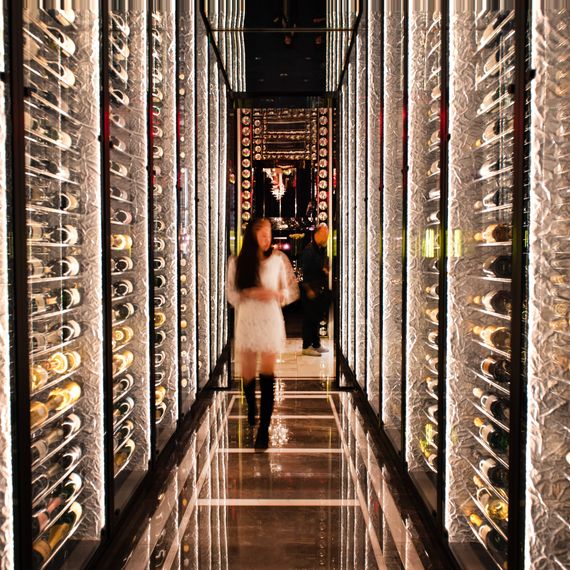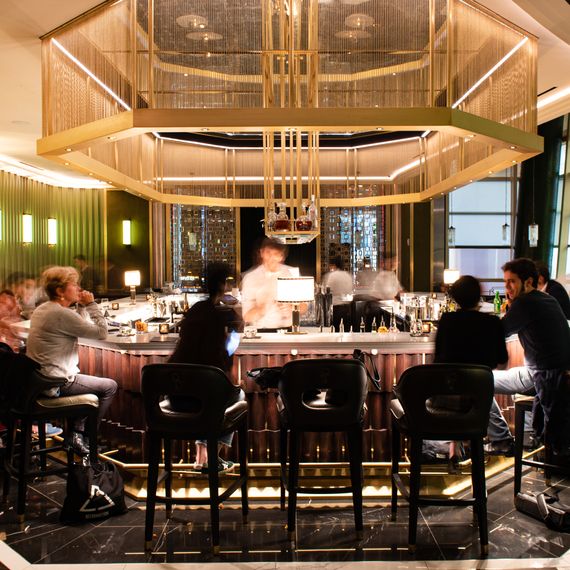 Hutong | 83 (out of 100)* | Very Good
731 Lexington Ave., entrance off 58th St.; 212-758-4800; hutong-nyc.com
Open: Lunch and dinner daily.
Prices: Appetizers, $10 to $18; entrées, $16 to $84.
Ideal Meal: Dim sum sampler, kou shui chicken, Hutong lobster and/or Red Lantern soft-shell crab, ma la beef tenderloin, Four Seasons beans with pork and shrimp, white-chocolate "bao."
Note: The kitchen offers half a Peking duck for the fairly reasonable price of $45, and if La Tâche is a little above your price range, there are 27 other red Burgundies to choose from on the well-stocked trophy-wine list.
Scratchpad: The space and glitzy vibe aren't for everyone, but if you're in the market for posh, often very good Chinese cooking in midtown, you could do worse.
*The rating scale of 0 to 100 reflects our editors' appraisals of all the tangible and intangible factors that make a restaurant or bar great — or terrible — regardless of price. See The Thousand Best for 999 more great places to eat and drink.
*This article appears in the November 11, 2019, issue of New York Magazine. Subscribe Now!