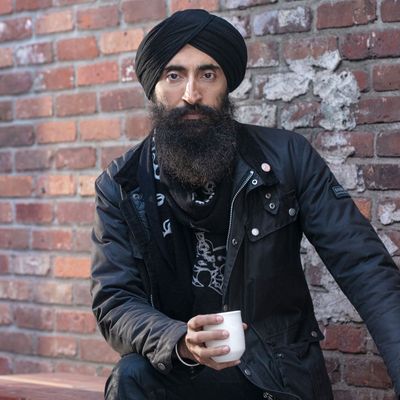 Waris Ahluwalia's new shop is now open in Chelsea.
Photo: Melissa Hom
A couple days ago, man about town, actor, fashion guy, and tea enthusiast Waris Ahluwalia quietly opened House of Waris Botanicals. Like Ahluwalia himself, the project is a multi-hyphenate. And even though it's crammed into a tiny nook of a space — 150 square feet! — there is, as they say, a lot to unpack. "It's not just a tea house, and yet you can get an incredible selection of teas," Ahluwalia says of the shop, located in Chelsea. It's also not just a celebrity pet project, but an actual, notable new addition to the New York's food and drink world — especially if you're craving quality genmaicha or looking for a spot to have a nonalcoholic drink. Here's everything you need to know about this surprisingly complex, incredibly interesting new idea:
So where is this place?
It's located on a residential stretch of West 24th Street, in the carriage house of the Orchard Townhouse. It's tucked away ever so slightly from the street and you'll miss it if you aren't looking. So, pay attention!
150 square feet! That's, like, twice the size of my apartment.
It's a small space, but doesn't feel cramped. There's a bench outside, between the gate and the door, and another inside. The design is light and clean, with white walls and 19th-century wood taken from the building next door. Once they're done decorating, there'll be more plants, a library of books, and an illustration from Waris's friend Walton Ford.
Okay. So it's a café?
Partly. From 8 a.m. to 6 p.m., they'll sell drinks like Sweet Clarity (holy basil, rhodiola root, eleuthero root, ginger, green cardamom, orange peel, sweet basil) and Saffron Rose "Golden Milk" (tigernut milk, green cardamom, turmeric, ginger, Ceylon cinnamon, nutmeg, black pepper, vanilla, rose water, rose petal, and saffron) along with more straightforward ginger kombucha and nitro matcha and coffee. Also, adaptogenic boosters like mushroom immunity and focus formula.
But it's not just a café?
Waris insists tea is only one part of a bigger picture. "Not everything here is tea-related. It's all plant and herbs. Tea is just one of the herbs," he says.
Okay, okay. There's a lot going on in those drinks! 
It's true. But Waris didn't hole himself up in an isolated cottage to come up the concoctions. "We have a team of herbalists that took years to do this together. The functional part is kind of defined," he says. "It took us a while to put all the ingredients together for function, and then it took us even longer for taste."
What do they taste like?
Grub can't speak for the all the drinks, but the Sweet Clarity has a nourishing, warming quality to it that is not unlike Sleepy Time teas. Waris wasn't averse to the comparison, but he wants to point out: "Those are good. These are better."
What if I just want straight tea?
You have plenty of options. Along with the drinks, they currently have 35 different loose-leaf teas like savory genmaicha; green tea with toasted rice kernels, from Japan; milk oolong from Anhui, China; silver tips, a Darjeeling white tea; and herbal tea blends including mystic mint and turmeric honeybush.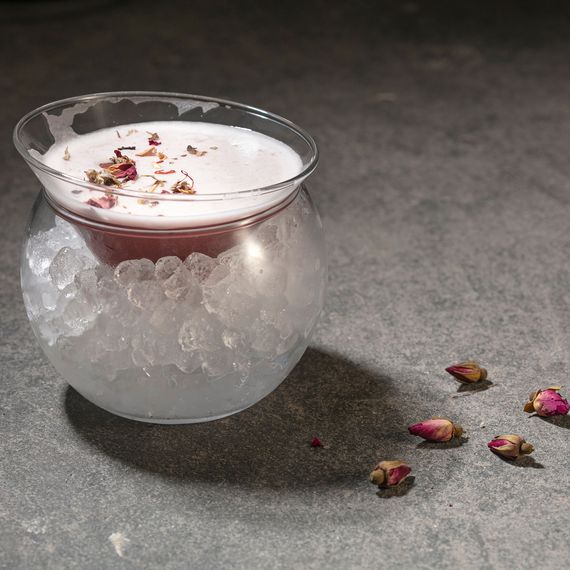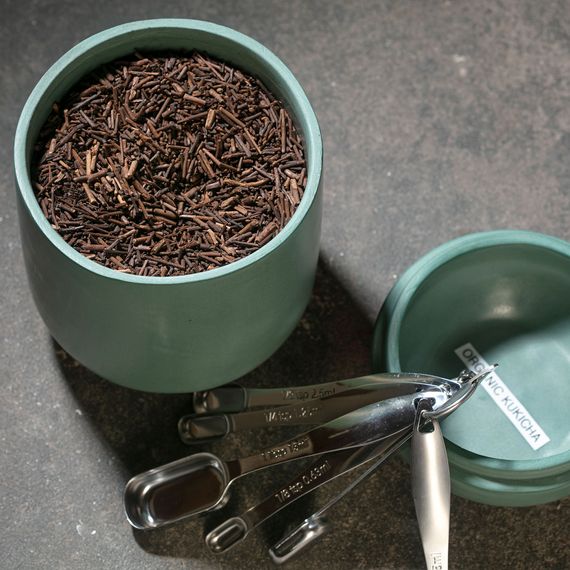 I love me some honeybush.
Right on. House of Waris Botanicals will also be the only place where you can buy those classic teas retail.
You mentioned a team of herbalists?
Yup. On the weekends, the shop will have an on-site herbalist who can create customized blends for you. You'll just talk about how you like things to taste, what you're looking for and need. Maybe you're having trouble sleeping, or just want black tea with rose petals. (Also, you'll have to sign a disclaimer saying the blend isn't a prescription or intended to treat, cure, or prevent diseases.)
I've never met an herbalist!
Same. Waris believes they're offering something unique for New York. "There's nowhere in the city, in the greatest city in the world, where you can come in off the street and meet a certified herbalist," he says.
Can I eat anything with my tea? Maybe some fermented tea-leaf salad?
There is one treat: a dark-chocolate nigella-seed cookie. Gluten-free and dairy-free, it's made with almond flour, dark chocolate, cane sugar, cocoa powder, powder sugar, and nigella seeds.
I like cookies. I also like going out at night. What is this you were saying about n/a drinks?
After Thanksgiving, the space will extend its hours on Thursday to Saturday until midnight or later, depending on demand. After 6 p.m., it'll operate as a nonalcoholic bar, an idea that stems from Waris's own frustrations as a nondrinker, but which is also tied into the space's overall mission "to look at wellness as celebration."
I like celebrations! Especially that Kool & the Gang song …
House of Waris Botanicals will be the latest place to try to offer interesting and thoughtfully made drinks, created by "a team of mixologists," that don't actually have any booze. Waris, who doesn't drink, echoes the sentiment of many others who are sober or just looking to drink less: Why isn't there somewhere to go where I can drink more than a seltzer? Some of the drinks, like the Game Set Matcha, will have tea. Others won't. All will be based on herbs and plants. Take the Midnight Honeybush, made with ginger-turmeric oat milk and turmeric honeybush.
Oh, I love honeybush!
Yes, you said this already.
House of Waris Botanicals, 463 W. 24th St.; nr. 10th Ave.; 833-568-3832