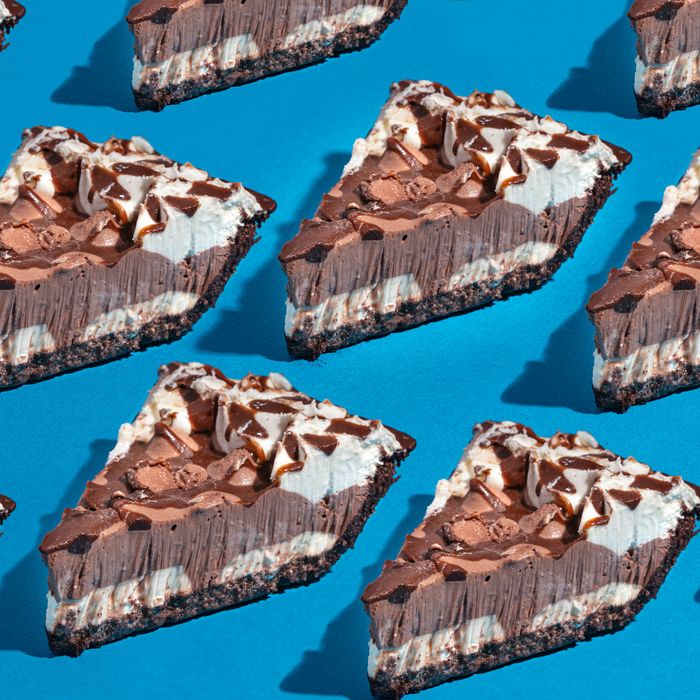 Some desserts demand to be eaten in cars.
Photo: Melissa Hom
Thursday — Thanksgiving — marks the official start of the "holiday season," a monthlong stretch filled with meals, presents, and arguments with family members. (Thanksgiving unofficially begins for my family when we debate about whether to make an assimilationist "white" turkey or one that's tandoori-spiced. I am, and forever will be, team tandoori.) For me, it is also a month spent in cars, driving from the city to the suburbs and looping back again. This is good, because it is in a car where you can fully experience the best pie in America.
I want to be clear that I enjoy pumpkin, pecan, apple, and any of the other classic, labor-intensive pies that will be found on tables and in kitchens all across the country's suburban destinations. But the very best pie is not a destination pie. It is a journey pie that you won't find in any ovens or home refrigerators. You will find it, instead, at highway exits and turnpike rest stops. It is here that you will encounter the Burger King Hershey's Sundae Pie — not just the best fast-food dessert, but the best pie you can buy by the slice, period. A salty-sweet mess, $2 of comfort for a weary traveler.
You will buy the Hershey's pie at the drive-through. It is too nomadic for tables and plates. This is pie you eat off your lap. If you're a passenger, you can eat while the ride continues. If you are a driver, you quickly pull over in the parking lot. Either way, it is in a car, hopefully with Beyoncé's "Halo" playing on the radio, that you discover that the Hershey's pie — each slice made for you, and only you — is a Russian nesting doll of private, personal pleasure.
First, open the slice-shaped box. Rip off the cardboard strips that line the sides. Lift the lid. See the top, little peaks of something that looks like whipped cream, always arriving slightly squashed. A freeform lattice of glaze glistens as it thaws. The pie is imperfect and humble and there is beauty in its honesty. It is everything your relatives are not.
The top layer is "chocolate crème," like a mix of mousse and soft-serve. Keep digging and discover more flavor underneath, a layer of "vanilla crème." In between, little chocolate chips, each one a blessing. Dig inside the chocolate and you find vanilla; dig inside the vanilla, and you find chocolate.
The crust glistens with salt and sugar.
Taken together, the pie's individual elements merge into a unified whole that can satisfy cravings you didn't know you had. It is dense, but also delicate. A goddess pie that offers salt, chocolate, and corn syrup as spiritual panacea. When you reach your destination and find yourself surrounded by aunties and uncles and bickering in-laws, remember this in-transit blessing, a secret you keep for yourself.
I cannot tell you how many slices of this pie I have eaten in my life, only that they were devoured in the backs and fronts of Honda Civics, as the streetlamps flickered orange, en route from here to there to nowhere at all.
The pie is me, and the pie can be you, too. Venture out. Tuck in.