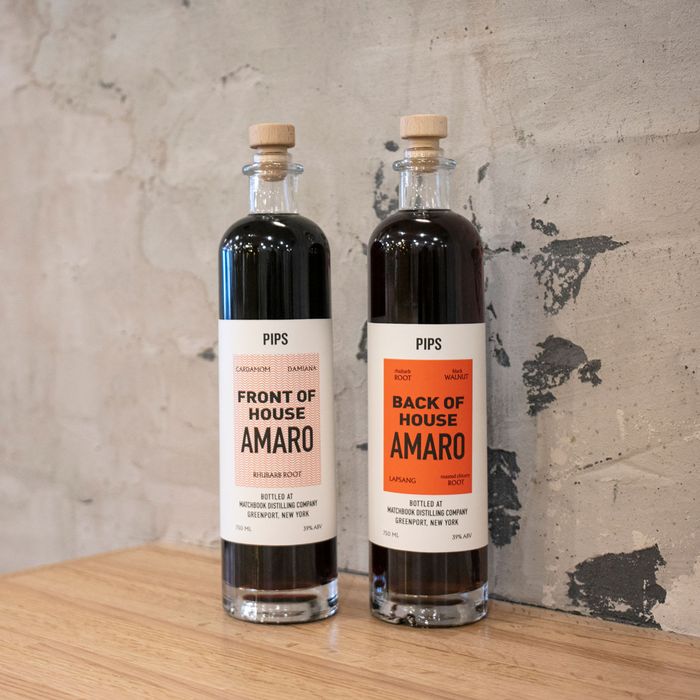 Custom-made amaro from Pips, a new wine bar in Brooklyn Heights.
Photo: Melissa Hom
When the natural-wine bar Pips opens in Brooklyn Heights next month, it will do so with a couple of drinks you literally cannot get anywhere else. No, not a cocktail made with some newfangled, innovative technique, or even a recently resurrected liqueur from a remote Italian mountain village. What it's got on the menu, instead, is a pair of amari, traditionally the bitter, herb-heavy liqueurs first created in Europe. At Pips, the custom beverages are imported from the faraway land of Greenport, Long Island, where they're made exclusively for Pips by Matchbook Distilling, one of a growing contingent of local booze-makers that's exploring the increasingly popular (and increasingly non-Italian) digestivi game. Now, for restaurateurs, custom-made amaro is the ultimate booze flex. The bitter, sweet herbal liqueur is still unusual to most Americans, and is seemingly infinitely customizable with botanicals. It is also, unlike cocktails, a new creation that can't be immediately copied by other restaurants.
"It was always a dream of ours to make our own amaro, and over the years we've actually been in touch with a few people who wanted to help us make one from local herbs," says Pips partner Elise Rosenberg. "It took eight years, but it finally came along."
Rosenberg and her partners, Emelie Kihlstrom and Tamer Hamawi, who operate Gran Eléctrica and Colonie, first started talking about making their own amaro before local producers like Forthave Spirits, St. Agrestis, and Matchbook even opened up shop. The boom in local distilleries goes back to the end of last decade, but what's changed, as Food & Wine reported last year, is that New York distillers can now create custom booze for individuals. Amaro is particularly appealing, and more American distillers are now making it.
At Pips, the two custom products are called Front of House and Back of House, and they're distinct in style: The former is drier and bitter ("almost more Cynar-ish," says chef Jared Braithwaite), while the latter is heavier and more floral. "We kind of created a nouveau botanical slate to still achieve the same classic profile," says Matchbook co-founder Leslie Merinoff, citing elderflower, buckthorn berry, and Lapsang souchong, among other ingredients.
Matchbook is hardly the only place that sees this as an opportunity to expand the traditional set of amaro ingredients. Bloomington, Indiana's Cardinal Spirits collaborated with New York spice master Lior Lev Sercarz of La Boîte, who came up with a 17-spice blend for an amaro they worked on over the course of two years. It's chock-full of warm spices, and co-founder Jeff Wuslich suggests drinking it over ice.
For the chefs and owners, working on a custom blend also allows them to tailor the flavors to match the food (or mood) in their restaurants.
Pips isn't the only New York restaurant getting its own American-made Italian digestivo. Last January, Andrew Tarlow introduced the limited-edition, smooth-sipping Marlo Amaro at his Brooklyn restaurants, including Diner and Marlow & Sons. The restaurant group's then–beverage director pitched the idea to Brooklyn's Forthave Spirits, which landed on an agreeable, easy drinking style made with 40 botanicals, including sun-dried lime, spearmint, cardamom, and rose petals.
"We definitely wanted something balanced, not too sweet, a little lighter from an alcoholic point of view," says Tarlow. It's "something where you could have one or two, actually have it with dessert … versus a palate cleanser or palate killer. It's much more subtle than the big ones."
Alas, fewer than 300 bottles were made of Marlo, poured at Tarlow's restaurants and now sold at his wine shop Stranger Wines. "I like things that are temporary," Tarlow says. "We've owned the restaurants for such a long time, it's kind of nice to have things that flow in and out."
Once those bottles run out, Tarlow says he thinks his group will re-up with Forthave or, if it's too busy, another distiller. ("Maybe we'd do it on our own," the restaurateur muses.) Even if he doesn't, other restaurateurs will. Like Joe Campanale, who runs LaLou and Fausto, and who stocks an extensive collection of amari while peddling rare vintage bottles. Now, he says he's working on his own amaro, also with Forthave. "It's in the super-early stages," he cautions, but one thing is already certain: It will easily be the rarest amaro in Campanale's already-impressive collection.