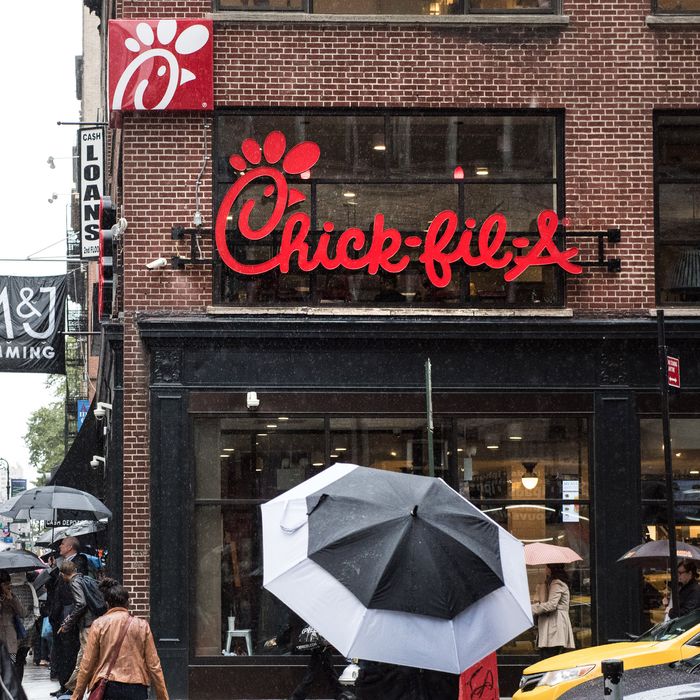 Photo: Andrew Renneisen/Getty Images
These are, um, trying times for Georgia-based fast-food chain Chick-fil-A. First, there's the completely warranted protests surrounding a new location in the U.K., led by LGBTQ advocates. Kanye West gave the chain an odd shoutout on his latest album, Jesus Is King. Then there's the chicken-sandwich offensive being led by Popeyes, which will bring back the viral menu item this Sunday, November 3. And now, Chick-fil-A execs seems to have forgotten the very essence of their brand: that it's closed on Sundays.
According to USA Today, the chain sent an email to members of its loyalty program encouraging them to order chicken sandwiches in celebration of National Sandwich Day. "No matter which Chick-fil-A sandwich you love, order yours on November 3 for National Sandwich Day," read the email. November 3 is a Sunday, and as previously mentioned, the same day the Popeyes chicken sandwich returns.
The company followed up that email on Thursday with another with the subject line, "Well … this is awkward." "We didn't realize it falls on Sunday when we are closed," reads the second email. "We apologize for the confusion and hope to see you soon (Monday-Saturday)." That is, if people aren't all filled up on Popeyes.