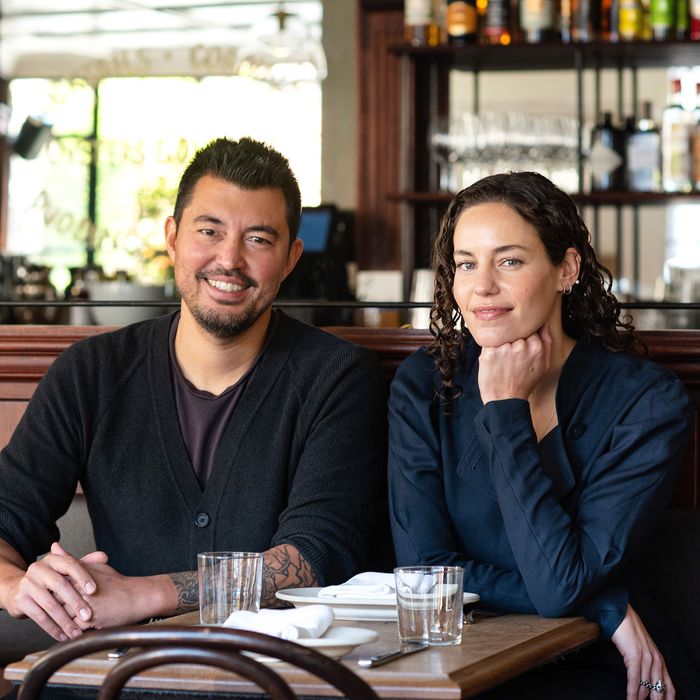 Anton's chef-owner Nick Anderer and general manager Natalie Johnson.
Photo: Liz Clayman
You might know Nick Anderer for the pasta, pizza, and other Italian food he cooked for ten years at Maialino, Marta, and Martina. But he doesn't want you to let that define him. "I'm a New Yorker through and through," he says. "And lately, I've just been obsessed with old New York." So obsessed, in fact, that since leaving Danny Meyer's employ last spring, he has been poring over the New York Public Library menu archive and scrutinizing Delmonico's cookbooks the way philologists pore over and scrutinize ancient texts. He has done some scrupulous fieldwork, too, having checked out most of the city's iconic taverns, restaurants, and saloons — and even a few in London — in the good name of research. The culmination of all this assiduous scholarship is Anton's, Anderer's first solo project, which just opened in the West Village.
The space has history too: Until recently, the 1850s Greek Revival building housed Frankies 570 Spuntino, the Manhattan outpost of Frank Falcinelli and Frank Castronovo's homey Italian restaurant in Carroll Gardens. When Anderer was making the rounds of chef-restaurateurs he admired to ask for advice and real-estate counsel, the pair volunteered that the 570 space might be just what he was looking for. This arrangement allowed the Franks, who had been planning to refocus their attention on their Brooklyn "campus," to remain silent partners, and it presented Anderer with a space requiring very few modifications, most of them cosmetic. With general manager and beverage director Natalie Johnson, Anderer brightened up what had been a dark-wood dining room, painting the ceiling white, shortening and lowering the divider between the bar and the tables, and installing decorative light fixtures.
Anderer named the place after his great great grandfather, who emigrated to New York from Germany in the 1850s. But that doesn't mean Anton's is meant to be a period piece. "What we're aiming to do is evoke old New York without putting it in your face," says the chef. He plans to do that by tapping into his family's rich food history and making the menu a personal statement. So while many of the dishes conjure up the spirit of old New York, others give you a glimpse into the Anderer-family recipe Rolodex. Hanger steak Lorenz, for instance, is a nod to Anderer's great-uncle, a Philadelphia butcher. The burnt toast accompanying an aubergine purée is not an indictment of Anderer's father's breakfast-cooking skills but an acknowledgment of the truism that toast isn't toast if it isn't well done. The brunch popover is based on Johnson's 90-year-old grandfather's family favorite and is about the size of your face, she says. Other dishes tweak classic recipes, like the "Hudson rarebit" made with a funky mélange of Jasper Hill Farm cheeses, and a version of creamless creamed spinach that Anderer lightens with a mushroom velouté in place of the customary veal or chicken stock.
And yes, there will be pasta. But here, Anderer calls it "macaroni," which "sounds more old New York." Lasagnette noodles are dressed with a lamb-neck–and–beef-shin ragù; bucatini Baczynski, named for its East Village bacon source, is "amatriciana meets New York Ukrainian butcher"; and angel-hair francese was inspired by an off-menu order that Anderer and Johnson make every time they visit Gene's, the Greenwich Village institution that turned 100 this year.
Johnson's 500-plus-bottle wine list is largely old-world, food-friendly, and priced from $48 on up. The cocktails are classic, the martinis and Manhattans are batched and frozen, and the Guinness, as only seems proper, is on tap.
Here, a look at the space and some of the food.
Anton's, 570 Hudson St., at 11th St.; 212-924-0818