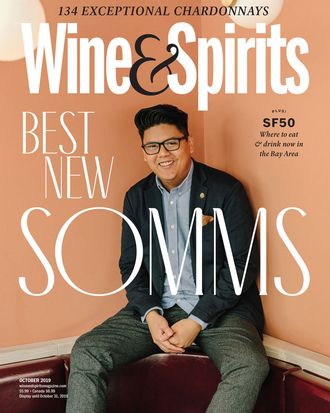 Anthony Cailan was featured on the October 2019 cover of
Wine & Spirits
magazine.
Photo: Wine & Spirits Magazine
After a Times report last week in which four women accused him of sexual assault, sommelier Anthony Cailan has resigned his position at the New York restaurant the Usual, which he ran with his brother, Alvin. Cailan denies the women's claims.
According to the Times report, Cailan invited his accusers over to his apartment for wine and in some cases drugs, and then became sexually aggressive with them, even after they asked him to stop or showed disinterest in continuing their encounter. In one case, a woman felt professionally pressured to have sex with Cailan.
Reporter Julia Moskin also saw an email exchange in which Cailan was asked to stay away from wine retailer Domaine LA following reports from female employees that he made them feel uncomfortable. Cailan responded, "I really do not know what you are talking about."
The women, two of whom chose to remain anonymous, cited Cailan's recent appearance on the cover of Wine & Spirits, in which he was named one of the best new sommeliers, as the catalyst for their decision to come forward. In a statement, representatives for the magazine said, "We are deeply troubled by the allegations reported in the New York Times against Anthony Cailan … We were unaware of the allegations against him until today. Wine & Spirits does not condone sexually inappropriate behavior and we hope this will be a catalyst for change in our industry."
Late last week, Wine & Spirits issued a follow-up statement announcing its editors' decision to remove Cailan from its Best New Somms list. "This year, when Anthony Cailan was nominated by his peers, our research showed him to be of upstanding character," the statement reads. "However, after reviewing the allegations reported against him, we have decided to withdraw his name from this year's Best New Sommelier winners."*
It appears that prior to the Times story, Cailan's brother, Alvin, was confronted over his brother's misconduct. According to a mutual friend of the brothers, Alvin did not believe the women, telling this individual that "I know he's a flirt, but this all seems a little much." One of the women, Raquel Mackler, meanwhile, reached out to wine expert Alice Feiring to discuss issues with Cailan. Feiring, who is currently promoting her book, Natural Wine for the People, told Mackler that Cailan, who is 29, "was still just a kid who has some growing up to do."
Over the weekend, Feiring took to Instagram to respond to the story, writing, "I'm mortified by my words to Raquel. And I'm deeply sorry. I responded impulsively from my personal experience of abuse, without reaching out about the details of hers." For his part, Alvin Cailan told the Times via text that "there's nothing for me to comment."
*This post has been updated to reflect the removal of Cailan's name from Wine & Spirts Best New Somms list.