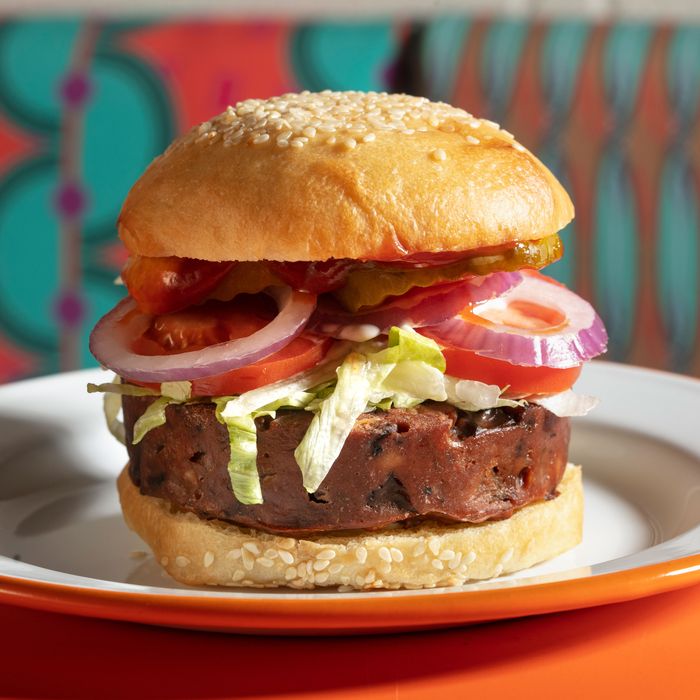 A burger with ketchup, mustard, vegan mayonnaise, lettuce, tomato, onion, and pickles, from Lekka, opening November 19.
Photo: Melissa Hom
The chef Amanda Cohen has built her considerable reputation on her ability to celebrate the unsung heroism of vegetables. She transforms them into all sorts of complex, satisfying creations at her Lower East Side restaurant, Dirt Candy, which is focused on all vegetables, all the time, and yet Cohen has very strong feelings on burgers, too. A burger should be delicious. A burger should have structural integrity. A burger should be a vehicle for condiments — the condiments are a core tenet of burger experience — but a burger should also taste like something in and of itself. "It's a little soft, a little crunchy, a little juicy, and then, when you get to the patty, there's an unctuousness that fills your mouth," Cohen says. "That's a really good burger."
Alas, she says most veggie burgers are not good. "You're just like, 'oh, bun… condiments … mush … condiments.'" And so, Cohen has historically steered clear of burgers. Carrot sliders and broccoli hot dogs? Sure. Veggie burgers, though? Absolutely not. She wasn't anti-burger; she just didn't see a place for herself in the already glutted veggie burger landscape. "I didn't know how to advance the dialogue of a veggie burger," Cohen explains. "I didn't know how to make a good veggie burger that is any different than the ones other people have made."
Yet when the South African philanthropist Andrea Kerzner, whose family is well known in hotel industry, approached Cohen last spring about opening a South African inflected fast-casual vegan burger place, it just so happened that Cohen was in the midst of her own unlikely veggie-burger awakening. As part of a project through NYU, she'd collaborated with a Chinese historian to recreate yuguanfei, one of the world's original mock meats, from China's Song dynasty.
The question then was, what to do with it? "And then we started playing with it, and I was like, Oh, there's so much you can do," Cohen recalls. For example: a burger? It's not like the city has a shortage of alternative burgers. There is Brooks Headly's Superiority Burger — another top chef leading burg-innovation — and the highly Instagrammable empire of By Chloe, and approximately one million restaurants hawking Impossible and Beyond Burgers, imported from Silicon Valley. All of these people are attempting to answer the same central question: What can a vegetarian hamburger be? A croquette on a bun, or a simulation of beef?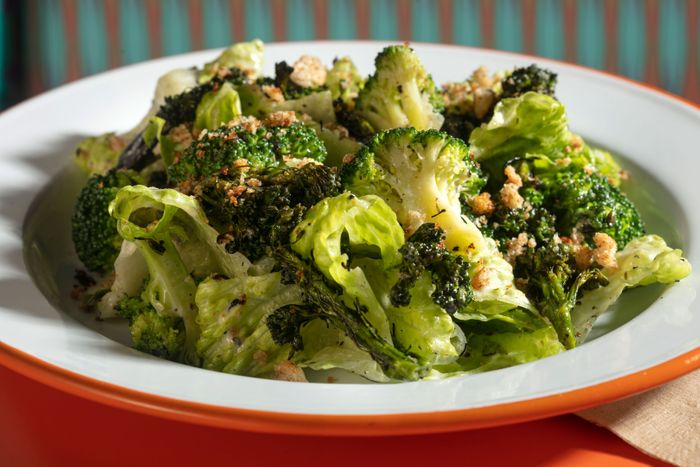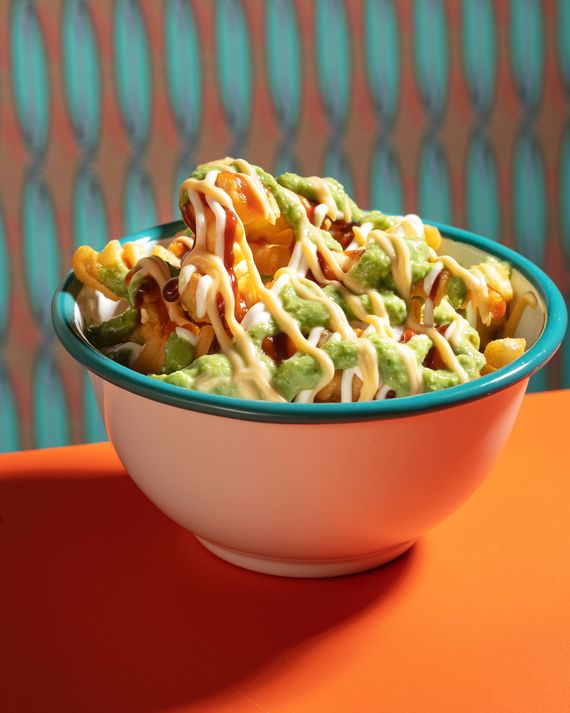 When Cohen and Kerzner open their new restaurant Lekka in Tribeca this coming Tuesday, the burgers will not be meat replicas, and that's kind of the point. This is not a high-tech combination of unpronounceable ingredient advancement. Instead, Cohen's using "ingredients you can find in your cupboard." The patty, made from mushrooms, beans and gluten-free grains, is substantial. It has heft. And — rare among traditional-veggie burgers — it is cohesive enough to stand up to flame grilling.
The other thing that makes Lekka distinct, besides Cohen's palate, is its South African influence, both in its name (Lekka is Afrikaans slang for "awesome" or "delicious") and its burgers. In addition to the all-American staples (straight, cheese, and the requisite guac), there is a version topped with peri peri sauce — spicy red chilis, garlic, and lemon juice add kick to the expected lettuce/mayo/tomato — and a masala burger inspired by South Africa's gentle curries, topped with coconut chutney cabbage slaw, tamarind-spiked ketchup, and shattered papadum, for crunch.
Along with the burgers, Cohen's team will put together a tight menu of salads, all standards, but infused with her trademark whimsy: a chopped salad with preserved lemon and fennel; a cauliflower Waldorf; and a broccolini Caesar. Then, obviously, there are fries — crinkle cut, which are the best, Cohen maintains, because they are optimized for a maximal condiment-per-bite ratio. (Here, condiment options include: curry, cheese, peri peri, BBQ mayo, and hatch chili.)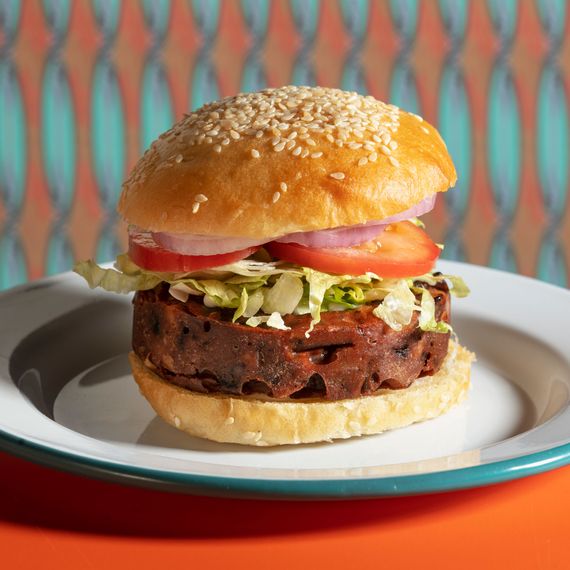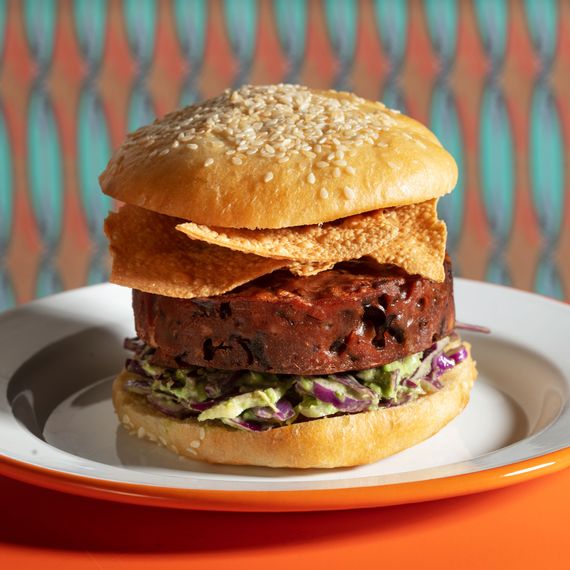 The third prong of a classic burger joint is milkshakes, a tradition Lekka aims to honor. Using Cohen's oat-milk soft-serve as the base, they come in soda fountain flavors like chocolate or strawberry, but also in matcha or halva, and — because why not? — they can be spiked with either protein powder or rum. Should you prefer your rum without ice cream, Lekka also has a full bar. As at Dirt Candy, the wine list is drawn from female-owned and operated vineyards, and (as at Dirt Candy) the cocktail menu is big on vegetable juices, from carrot punch to beet vodka gingerade. (Also like Dirt Candy: there's no tipping, including the bar.) "They're easy," says Cohen, assessing the cocktails. "They're not meant to make you think."
Lekka itself is designed to be easy. The 50-seat spot has counter service, with buzzers, Red Lobster-style; the food comes on trays, with no dishes. It's bright and low-key, with white brick walls and turquoise-and-pink accents, the kind of place you see toddlers and Real Housewives. "We want this to be a neighborhood place," Cohen says.