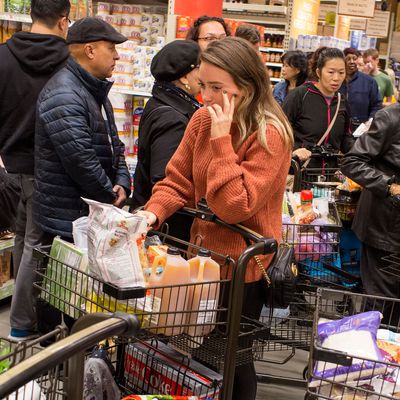 Customers have swarmed the Brooklyn location of Wegmans since it opened in October.
Photo: Andrew Lichtenstein/Corbis via Getty Images
For someone who frequents the usual patchwork of pricey, cramped, increasingly frayed (and bankrupt) grocery store options around Manhattan, the new Wegmans outlet, which opened just a couple of weeks ago in the Navy Yard near the Brooklyn waterfront, offers all sorts of strange and unfamiliar surprises.
There's the almost unsettlingly large parking lot, which on the weekday afternoon I stopped by appeared to be only two-thirds full (though one reliable Brooklynite reports that the lot is "pure madness" during the busier weekend hours). The great rows of neatly arranged carts outside look just like what you see in one of those efficient, barn-sized operations out in the distant, grocery-rich suburbs. There are the paper bags at checkout ("Sorry, sir, we have no plastic option!"), the occasionally eye-popping prices ($14 for a large jug of Tide, compared to $29.99 at my local, grave-robbing Gristedes back home in Manhattan), and the legions of loquacious, welcoming Wegmans staffers who line up to greet you at their bountiful cookie, burger, sushi, and pizza stations like the boisterous staff of a Japanese restaurant, as you walk through the great, whirring doors.
"Try the Danny — it's the favorite of our founder's son, Danny," cried the friendly woman at the sandwich counter as I perused the somewhat-bedraggled looking offerings arrayed under a long sheet of glass. I ordered my Danny (with mayo, olive oil, and mustard), then drifted away among the sushi folk and the pizza hawkers ("The buffalo chicken is my favorite!"), only to be chased down minutes later by the sub lady, waving my Danny in her hand. "Here's your sub, sir!" she cried in her best imitation of a booming New York City voice. "Welcome to Wegmans!"
Your grumpy critic experienced similarly unnerving bouts of good cheer as I made my unsteady way down the fluorescent-lit aisles of plenty, deep within the vast prepared-foods section, which seemed to me to be so large that on this first visit, at least, I never quite managed to escape it.
I paid a relatively hefty $3.50 for a single okay-but-not-great slice of pepperoni pie at the pizza station, and plunked down $18 at the spacious sushi zone for an assortment of brightly sauced rolls, which my California-roll-loving daughter pronounced "colorful but subpar" as she sampled them back home. As it is throughout the store, the selection was impressive, however (in addition to a blizzard of rolls, you can get a cuts of sashimi-ready striped jack for $64 per pound), and the same was true at the fried "Asian" prepared-buffet trough station (when in doubt always get General Tso's). After much consideration, I also picked up a latke as a large as a pie plate for $7 during the course of my spree (flaccid but tasty when warmed up later), along with a $9 cheeseburger at the vaunted Wegmans Burger Bar which was cooked a proper medium-rare to order, and dressed with a small pile of pickles.
What other hot-take observations did I tap into my increasingly sauce-stained phone before lumbering back across the river for a well-deserved late-afternoon nap? This spanking new branch of Wegmans is much more welcoming and better organized than my local Union Square Whole Foods, which since the great Amazon takeover, has, frankly, gone all to hell. You can obtain a wide selection of kombucha — I counted four — to go with your mountain of fattening, mostly nonorganic prepared foods, which is many more choices than at the local Citarella on Sixth Avenue. In terms of pure haute food-snob appeal, I didn't see anything during the course of my woozy wanderings that approached the offerings at New York's original Eataly on 23rd Street, but after your shopping is done, you can nevertheless take your grocery bags upstairs for a drink at the new Wegmans Bar.
"This is the first full bar ever at a Wegmans," said my barkeep, whose name was Stacey. She said she'd come in for the opening, like lots of the people on the floor, from a far corner of the grocery chain's upstate empire. With its dun-colored furniture and silent sports TV on the wall, the room looked a little dispiriting, like a bar you might find in a small regional airport somewhere above Albany. But unlike at your local Whole Foods, there are sakes on the menu and nine glasses of red wine, including a glass of Beaune Premier Cru for $22. My very nice "Italian Old Fashioned" (so named for the splash of Fernet Branca) cost a little less than it would at some of the swankier joints across the river ($14), and it was a strange pleasure to enjoy it in such a relaxed way, late on a dark winter's afternoon, surrounded by other shoppers drinking their beers and eating warm slices of pizza from triangular boxes, their shopping bags collected around their feet.