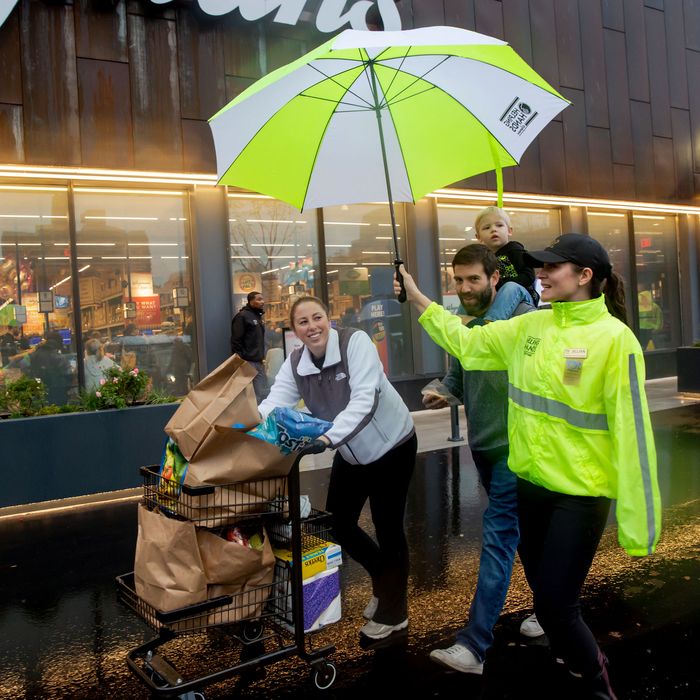 The store's debut was rainy, but festive.
Photo: Mark Abramson
They gathered in the dark, in the rain. They came with umbrellas, and with rolling carts. They came with friends, roommates, lovers, neighbors; from Marine Park, Greenpoint, Massapequa, Long Island. San Antonio. They came because at 7 a.m. yesterday, the first Wegmans in New York City opened its doors.
As you know by now, Wegmans is a chain of family-run grocery stores that got its start in Rochester, New York, and devotion among its fans runs surprisingly deep. "It's just like no place else in the world," says Dani, a Wegmaniac who went to college in Rochester. "Wegmans is more than a grocery store — it's a religion."
I was among those devotees, spending my Sunday morning in the rain, ready to become a convert. I talked to Claudia, a veteran Wegmans shopper who told me "Sure, it's a for-profit operation, but they're very family oriented — their vibe is different." They have everything, she tells me — delicacies like black truffle and galangal, but they're not snobby about it. Nobody's judging you and they don't keep copies of Kinfolk in the checkout. This isn't Whole Foods, after all, even if they do have kiwano melons. "It's just gonna blow your mind," Claudia assures me.
Everyone wants to have their minds blown, which is why Wegmans newbies are here, too. "What I'm hoping for is the chance to be surprised," says Nadia, who has never before been inside a Wegmans. "I go to the Key Food around the corner, and I know exactly what I'm going to pick out every single time," she says. Here at Wegmans, she's ready to experience that surprise. (Almost everyone I talked to had either driven their own car, or been driven by a car, a suburbanization of the urban grocery store experience that seems at odds with the city's need for less automotive congestion, but good for hauling home vast quantities of food.)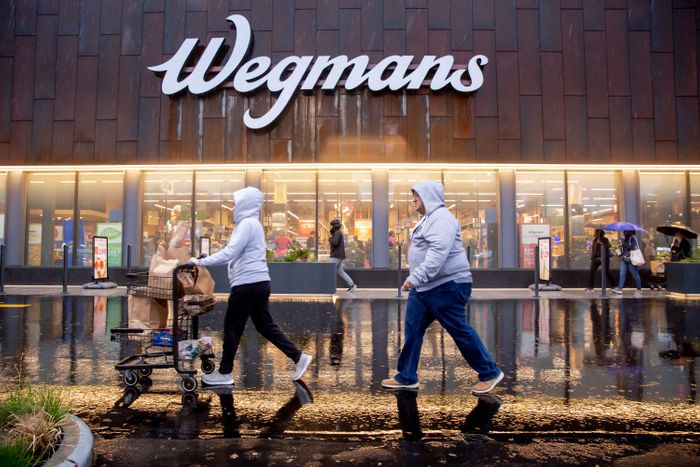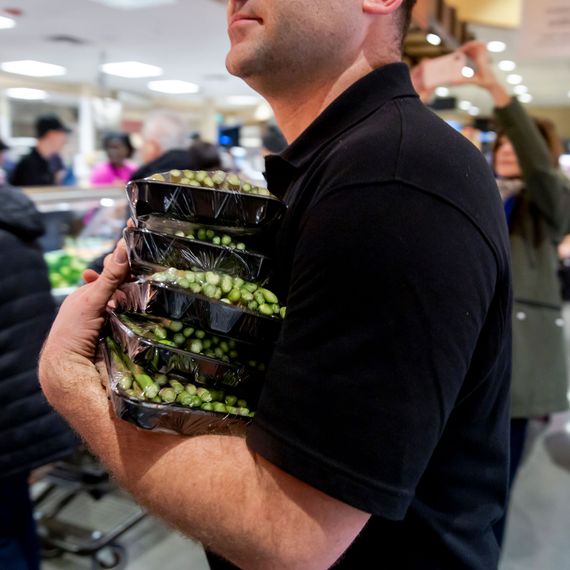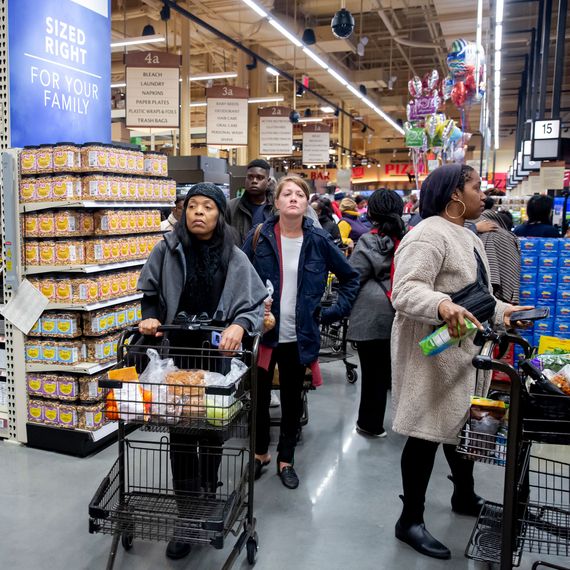 Suddenly, but with commendable organization, the line begins to move and soon I am inside. Abundance often looks like gluttony, but in the bright and tidy aisles of Wegmans, abundance feels like comfort. This is 74,000 square feet of suburbia stuffed in the Brooklyn Navy Yard, and it feels like stepping into a Dr. Suess book: Everything is bright and perfect and filled with promise. The startlingly fresh monkfish looks like a cartoon. Bins of apples overflow. There are papayas and purple dragonfruits and yellow little quinces. Vegetables are fresh, bagged, or zoodled. There is a wall of kombucha; cakes available in wholes, halves, or slices; pretzel balls and doughnut holes. An elevated toy train circles a display of plant-based meats.
Beyond the bakery and the seafood market, there are carts and counters hawking a menagerie of "restaurant foods": wings, burgers, pizza, salads, sushi. You could forget that there are also shelves: not only wellness shelves and bulk-bin shelves, and shelves with cassava flour and tiger nut flour and Wegmans's own pan seasoning flour, but also shelves stocked with Doritos, Oreos, and barbecue-flavored Lay's. In the back left corner, a small wonderland of beer. There is a bar upstairs, and a café that seats 100, and downstairs, by the entrance, is a coffee shop called Buzz.
Next to the cookie station, I meet Susan, who has flown in from San Antonio, and has been camped out since midnight. She is wearing a neon pink hoodie that says "Women of Wegmans." She tells me she is one of six such women, who make it their business to attend the stores' openings nationwide. "People ask me, Why do we fly all the way back east to go to a Wegmans opening?" she explains, anticipating my first question. "My analogy is, people will fly and go to the Super Bowl. I come to Wegmans openings." Susan is here to snag the first receipt of the day, which she does: A Wegmans brand almond-coconut fruit and nut bar, for 99 cents.
As I wander around the store admiring tiny croissants and regular-size doughnuts, I am asked many times by employees if I need help. Not in a hostile way, or with a tone that makes me feel rushed, but with the gentle concern that would indicate the store is staffed exclusively by well-meaning Eagle Scouts. I am offered a map of the store. I am offered a bite of apple pie. I am offered one quarter of a seared sea scallop.
Near some quiche, I meet Joe and Julie, a pair of longtime Wegmaniacs who now live in Williamsburg. They are not here just to buy their groceries. Going to a Wegmans to shop is like going to a spa to take a bath. They are here for the full experience. "We're planning to spend most of the day here," Julie says as she Instagrams Joe, who is inspecting the quiche. "We're gonna check it out," she continues, "eat breakfast, lunch, eventually we'll shop for ourselves. We hear there's a bar, so we'll definitely be spending time there."
"As a loyalist, I will come here instead of going to Whole Foods," Joe says. Julie agrees: "Nobody likes Whole Foods."
Wegmans is beloved with a passion that transcends reason. People love Wegmans the way they love baseball, or their grandmothers. Everyone is here, and happy. A toddler runs by me, squealing with joy. "WHOA, WHOA, WHOA!" he shouts, pointing in a direction that is generally up. "A train!" There it is, circling above. His mind is blown. This is the moment, I realize. He is a Wegmaniac now.