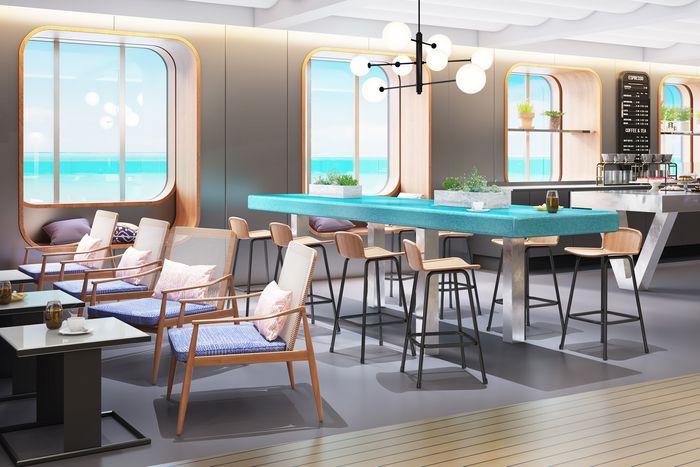 "Cruise food" doesn't exactly have the best rap. The floating resorts are best known for their main dining rooms with assigned seats and dining times, not to mention all the buffets you never wanted to eat. But Virgin Voyages, the new cruise line from the British megabrand Virgin, isn't having that. When its first ship, the Scarlet Lady, sets sail from Miami to the Caribbean in 2020, it'll let guests choose from more than 20 eateries serving fresh, delicious food in high-concept spaces inspired some of the world's best restaurants.
The best part: all food and gratuities will be included in the cruise price, whether guests are dining at its glamorous mid-century steakhouse, grabbing lunch at its curated food hall, or getting a burger delivered to the cabin at 2 a.m. And because the ship has banned single-use plastics, travelers can be sure any to-go orders will be packed as sustainably as possible.
Although there'll also be plenty of places to drink aboard the Scarlet Lady — a coffee shop, plus several bars and lounges — the food is what guests should really plan their days around. For travelers who demand fresh, authentic, and carefully prepared food on vacation, here are seven restaurants aboard the Scarlet Lady to try.
Inspired by Mexico City's street-food scene, Pink Agave will offer an intimate, immersive dining experience that'll transport guests to the vibrant capital city. A master of ceremonies will serve as a tour guide, offering diners engaging history lessons as they sample sopes, tortas, and mezcal, while a DJ slowly builds energy throughout the night.
Razzle Dazzle gets its name from "dazzle camouflage," the red-and-white stripes the British and American navies painted on ships to confuse enemies during World Wars I and II. And like its namesake, this plant-forward restaurant has every intention of subverting expectations. All dishes will be vegetarian or vegan, but they but can be made "naughty" with meat or alcohol add-ons. This spot will serve innovative twists on classic comfort foods for breakfast, lunch, and dinner, plus host a drag brunch on weekends.
Part-restaurant and part-laboratory, Test Kitchen is all about the alchemy of cooking. The science-inspired space, which also will host cooking and mixology classes, will be adorned with test tubes and beakers. And in the true spirit of experimentation, each dinner will be invented on the spot: When guests sit down, they'll receive a list of ingredients instead of a menu, and the chef will use those ingredients to create a one-of-a-kind meal.
A grand stairway will greet guests at Wake, a mid-century-inspired steakhouse that'll serve the most elegant meals on the ship (mercifully sans dress code). Its gilded take on the era's chophouses includes a raw bar, red wine poured from magnum bottles, and tableside cocktail service. Yes, the bar comes to you.
Choose
Your
Own
Adventure
The Galley is a curated food hall that'll be the ship's go-to for a quick bite. With eight food truck–style restaurants, diners can choose from options like a taco shack, sushi bar, panini shop, burger grill, noodle bar, soup and salad stand, and a 24-hour diner. Each vendor will offer signature dishes, changing throughout the day.
Guests will want to bring their whole crew to Gunbae, a lively, hands-on Korean restaurant and soju bar. A complimentary round of soju will kick off each meal, and diners can then barbecue dinner safely over a flameless grill at each table. The sleek restaurant-bar hopes everyone will linger, hanging out with friends late into the night.
Fresh, handmade pasta will reign at Extra Virgin, a communal-style trattoria emphasizing approachable, regionally inspired dishes. Diners may want to resist the urge to order a pinot grigio and check out the rarer Italian wines that can be served by the glass. The bar will be fitted with technology that allows all wines to be poured individually, sparing guests whole-bottle price tags. For anyone in search of privacy, there'll be a separate dining room fit for a mob boss.
All images courtesy of Virgin Voyages.
This is paid content produced for an advertiser by New York Stories. The editorial staff of Grub Street did not play a role in its creation.