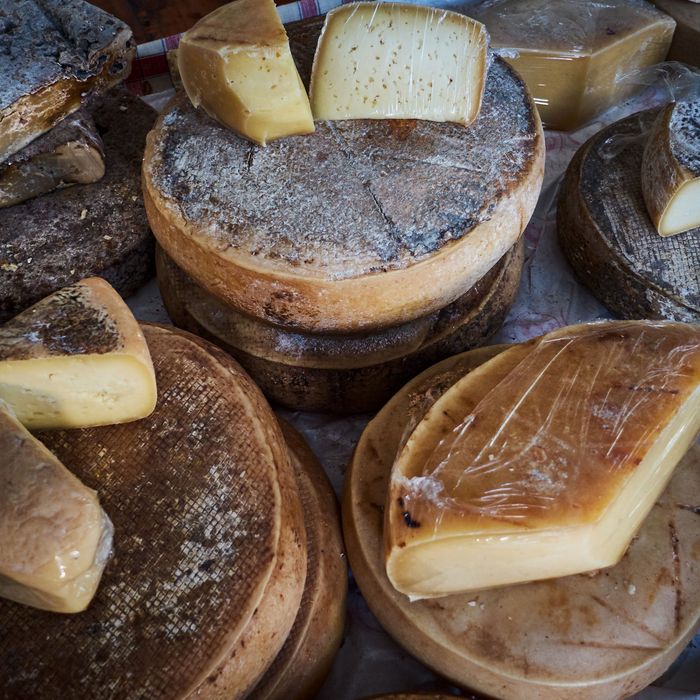 Italian cheeses are among the products affected by the tariffs.
Photo: Alessandro Arnaboldi/Universal Images Group via Getty
Hoard your Gamay and Gruyère. The Trump administration is imposing 25 percent tariffs on a range of European foods and beverages, including French and German wines, Italian and Swiss cheeses, cherries and peaches, salami and other meats, and much more. Not all products from every country were hit: Italian Pecorino was, but Italian wine, pasta, and olive oil weren't.
Set to go into effect on October 18, the tariffs were announced yesterday. A full list of affected goods, which includes camera parts and clothing from different countries, can be seen here. Industry members had feared a cheesepocalypse after the Trump administration proposed tariffs on E.U. imports because of a dispute over E.U. subsidies for Airbus. It's another front in Trump's trade war, and unfortunately Parmesan is a casualty.
The tariffs don't range as extensively as had been feared. Joseph Profaci of the North American Olive Oil Association tells Reuters that many products that were to be hit with tariffs are not on this list and that "we're still digesting what it will mean for the industry." But this isn't the song being sung by some in the cheese world. Ralph Hoffman, the executive vice-president of New Jersey importer Schuman Cheese, tells Reuters that the tariffs could mean a 30 percent reduction in imports and that "they hit cheese hard."