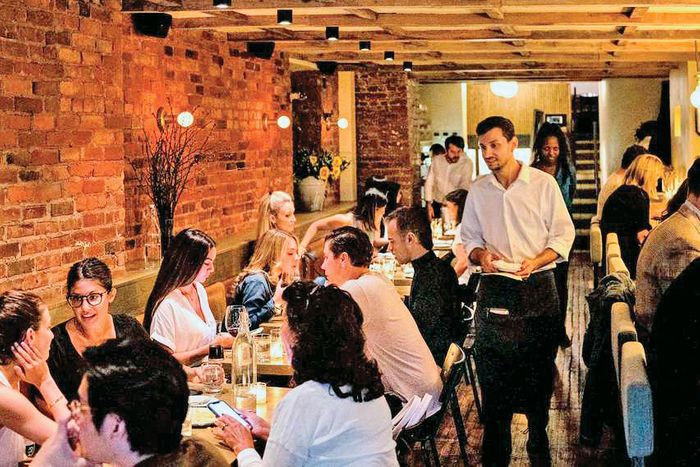 Rezdôra.
Photo: Scott Heins
The air is crisp, the leaves are turning, the Jets are probably already out of playoff contention. Fall is here, all right, and with it comes a whole slew of impossible-to-get-into new restaurants. As we've noted before, if you want to eat dinner in this town at an hour that would appeal to someone other than a Miami Beach retiree or an insomniac, you need a Navy seal–level contingency plan. And in part two of our foolproof, field-tested, fiasco-averting, starvation-preventing plan-B-restaurant guide, that is what you get. Below, we show you how to navigate three new hot spots (and one slice joint overrun by pepperoni addicts), suggesting places to bide time over a cocktail until the host comes through with the coveted "Your table is ready, text 1 if you're on your way" message should you be willing to wait and, if not, where to go instead.
323 Van Brunt St.
Billy Durney's long-awaited Red Hook saloon. It took him months to perfect his much-talked-about cheeseburger, and it can take seemingly as long to get a taste of it.
The wait: Resy reservations are booked a month in advance, so good luck with that. But walk-ins, as they say, are welcome. On a recent Saturday night at around 7:30 p.m., our little group of optimists was quoted a two-and-a-half hour wait.
The pre-Prohibition cocktails at Red Hook Tavern are aces, but so are the tipples at St. John Frizell's excellent neighborhood canteen, Fort Defiance (365 Van Brunt St.), right down the street. Sip a Sazerac while you wait for a text. And if you decide to stay put, the under-the-radar eight-ounce burger is pure dynamite. Get it with blue cheese.
Like Red Hook Tavern, Sohui Kim and Ben Schneider's mom-and-pop shop the Good Fork (391 Van Brunt St.) has charm and personality in spades. The food's good too: Go for the dumplings, the steak and egg Korean style, the smash burger, and the ramen Bolognese.
If you have Billy Durney on the brain, go across the street and a few blocks south to Durney's other Red Hook restaurant, Hometown Bar-B-Que (454 Van Brunt St.), where you can get some meaty strips of pastrami-spiced bacon and a brisket sandwich on an onion roll that will make you forget all about Red Hook Tavern's cheeseburger. Note that the counter-service line at prime time is usually long, but it moves fast.
Restaurant Impossible: Pastis
52 Gansevoort St.
Keith McNally's brasserie reborn a block away from the original.
The wait: At press time, an 8 p.m. reservation for four was available two and a half weeks out. Walk-ins are permitted, but we struck out on several recent visits, and they don't do texting.
If the Pastis host-stand brigade sends you packing but you want to give it another shot later, nurse a meticulously made cocktail at the Wild Son (53 Little W. 12th St.), a cozy café and bar and that rarest of Meatpacking District species: an unpretentious spot that doesn't feel like a tourist trap.
A five-minute cobblestoned stroll from Pastis will get you and your walk-in party frisée aux lardons, steak-frites, and even less than six degrees of Keith McNally separation: Cafe Cluny co-owner and Keith McNally's ex-wife Lynn Wagenknecht opened the Odeon with the brothers McNally in Tribeca in 1980 (284 W. 12th St.).
Up on the roof of Restoration Hardware (9 Ninth Ave.), on the site of the original Pastis, you can see the new Pastis and also channel the old McNally spirit by tucking into a good burger and great fries.
Restaurant Impossible: Rezdora
27 E. 20th St.
Judging by the frenzied reception of this snug, subterranean spot and its Texas-born, Modena-trained chef, you'd think New Yorkers had never eaten pasta before.
The wait: One recent night, a party of two was quoted an hour wait for bar seats or two hours for a table.
Depending on how far you're willing to risk roaming, amble over to ultracivilized Raines Law Room (48 W. 17th St.) for a pre-pasta-perfect Bicycle Thief (gin, Campari, grapefruit, lemon, soda), or, for a quick one, duck into Old Town (45 E. 18th St.), where the service is snappy and the martini ample.
Amazing — some might say baffling or mind-boggling — that while you'll cool your heels for an hour or two for a seat at Rezdôra, you can head seven blocks north and waltz right into Jonathan Benno's "not-Italian" Italian restaurant (7 E. 27th St.), as we did recently, and sample some of the very best pasta in town. The garganelli verde with veal ragù alone would make an Emiliani grandma hang up her apron and permanently put down her wooden spoon.
Adjacent to Benno is Leonelli Taberna (7 E. 27th St.), Jonathan Benno's ode to Roman cooking. Where the pasta at Benno is elegant and practically French in its plating and presentation, Leonelli's is rustic and hearty: spaghetti cacio e pepe, cecamariti all'amatriciana, and a gnoccho alla Romana with braised oxtail served in a Staub roasting dish.
27 Prince St.
The home of the Spicy Spring ("roni cup") slice.
The wait: We joined a herd of 50 pizza aficionados willing to sacrifice 33 minutes of their lives one recent Sunday evening for a slice of pepperoni pizza.
Head two and a half blocks north to this sports bar with a jury-rigged pizza station up front for a first-rate, no-wait slab of grandma pie courtesy of prize-winning pizza guru Nino Coniglio, who runs the notable slice joints Williamsburg Pizza and Brooklyn Pizza Crew (310 Bowery).
From Prince Street Pizza, walk 50 paces west to Mott Street, take a right, and you are steps away from Cafetal Social Club (285 Mott St.). They don't do slices, but they'll make you a four-slice grandma pie (dough from Parisi Bakery, mozz from Di Palo) in about 12 minutes, which you can eat sitting down at a table like a human being instead of wolfing curbside like a maniac …
… Or take in the always intriguing sights of Little Italy by toddling five blocks south to Manero's (113 Mulberry St.), where they turn out a delicious and unusual upside-down square. It's as tall as it is wide and comes lavishly topped with thick-cut pepperoni upon request.
Plan E: Village Square Pizza
In the time it takes you to complete your Spicy Spring slice transaction at PSP, you can stroll over to Village Square Pizza (147 Ave. A), in Alphabet City and gobble down a couple of pepperoni squares that are judiciously sauced, expertly crusted, and abundantly roni-cupped. The signature white squares are good, too.
 For more plan-B restaurant recommendations, go to New York's "The Thousand Best Restaurants." 
*This article appears in the October 14, 2019, issue of New York Magazine. Subscribe Now!