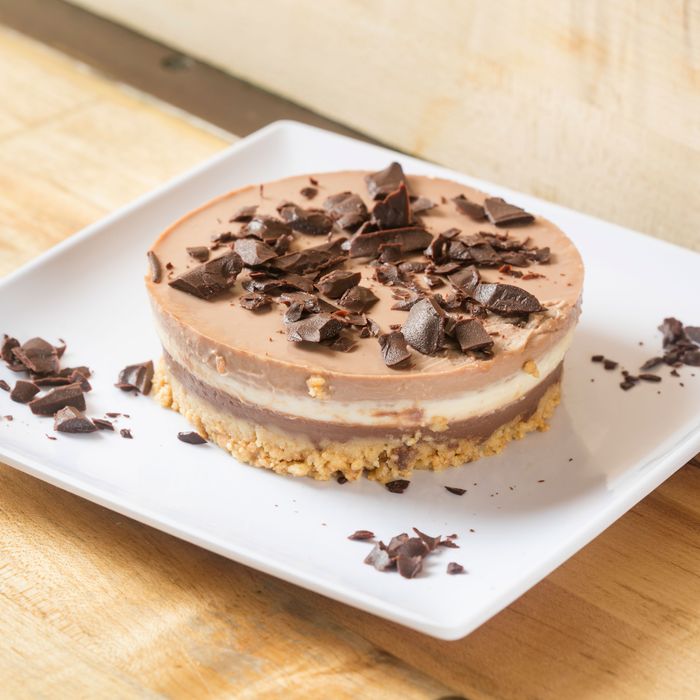 Memphis Seoul's Death by Chocolate cake.
Photo: Melissa Hom
The Farm on Adderley and its sister spot, Sycamore Bar & Flower Shop, have become local fixtures in leafy Ditmas Park since they both opened last decade. The former succeeded as the sort of neighborhood restaurant which was, as New York's Underground Gourmet writes, "instantly embraced" when it opened in 2006, thanks in no small part to excellent fries. (What's a local spot without good fried potatoes? Fraudulent!) Kathie Lee is one of the owners of the two spots, and now she'll plant more roots in the neighborhood with the Rusty Nail.
Starting today with its food operation, which is a takeout-oriented location of Crowns Heights' Memphis Seoul, the bar will open in two stages. Subsequently, the actual bar will open, well, as soon as possible: "We were ready to open months ago," Lee says of the bar, explaining that they're still waiting for their paperwork to be processed by the liquor authority. "It's been six months, so we think any day now. We hope any day now."
The Rusty Nail is located in the former home of Mamma Lucia's, another neighborhood spot that closed earlier this year after several decades. It was a convivial, cozy Italian-American restaurant squeezed into a corner space; as Lee tells it, owner Giorgio Migliaccio decided it was time to retire. "He wanted the next person to take over the spot for 40 more years and also be a community staple," she says. The restaurant's name comes from the place's weathered but durable structure — "there were lots of rusty nails, we felt comforted by that, that they held the place together," Lee says — as well as from a classic cocktail. That drink is made from just Scotch and more Scotch, sort of, in the form of Drambuie, a liqueur made from the booze, honey, herbs, and spices. More classic cocktails like this will be the focus.
Outfitted with custom fixtures and antique pieces, the space will seat, Lee says, 40 to 45 people. After she decided to keep the space's kitchen, she ended up reaching out Memphis Seoul owner Bart Hubbuch to see if he'd be interested in setting up shop. Originally from Dallas, Hubbuch was a career sportswriter who'd spent 27 years in the business before getting fired from the New York Post for a tweet about Donald Trump winning the 2016 presidential election. "I felt like I had really gotten burnt on it at the time," he admits. "I was in a rut and it wasn't what I wanted to do anymore. Getting fired by the Post ended up being a blessing in disguise."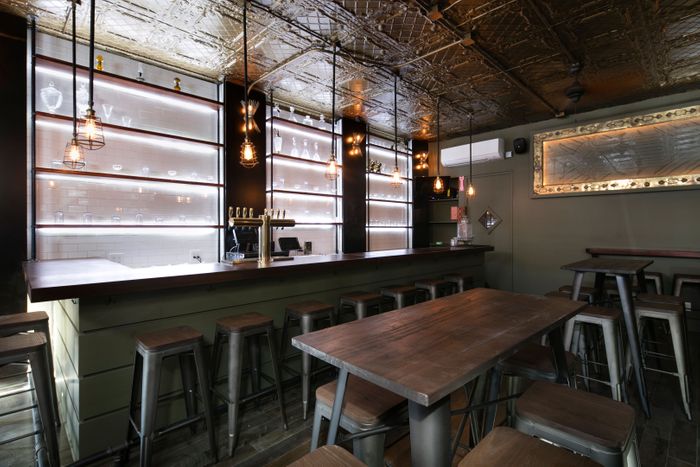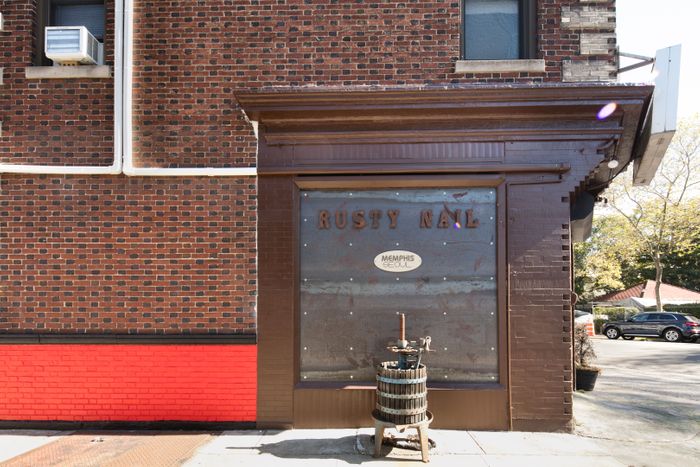 After that happened, he started thinking about what to do next. Hubbuch had always been a home cook, he says, and had long been interested in running his own business. So he started Memphis Seoul, which serves a style of food that could be called barbecue-adjacent with some Korean flavors. The Rusty Nail will operate as a business within the business: People can go pop in for a takeout order or come off from the bar proper.
The meats aren't smoked, but there is pulled pork, a vegetarian pulled jack-fruit, and bulgogi meatloaf. He serves all three on sandwiches, sliders, steamed buns, and rice bowls — with toppings like kimchi coleslaw — and hot wings in several flavors. The pulled pork is how the business started, but Hubbuch says the meatloaf is his most popular item. "There are two types of people: People who grew up with good meatloaf and love it, and people that were scarred for it," Hubbuch says.
The Rusty Nail, 1701 Foster Ave., at E. 17th St.; 718-484-7229