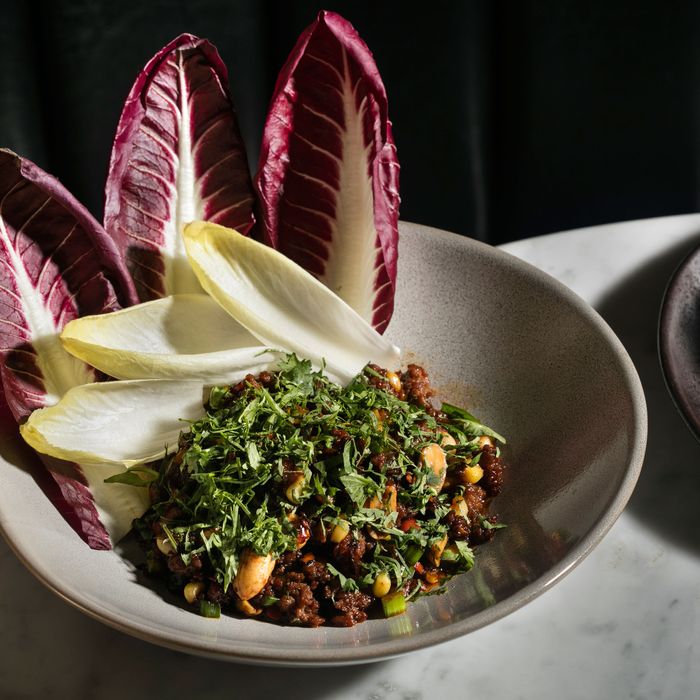 Chinese Tuxedo is now serving brunch, with dishes like lamb sang choy bao.
Photo: Melissa Hom
Every month in New York, there are a bewildering number of new dishes to eat, drinks to imbibe, and food-themed events to attend. Often, the hardest part is just figuring out what's really worth your limited time. So Grub Street kicks off each month with a curated selection of dishes, drinks, and events that should absolutely be on your agenda. Make your plans now.
1. Get a prosciutto, egg, and cheese at a new Italian-American bakery.
For most of the last two decades, Renato Poliafito worked with Matt Lewis to celebrate and spread their mutual love of American sweets through Baked. The two published four Baked cookbooks and now sell cake mixes and other items online, but now Poliafito has left Baked for a different love: his Italian-American heritage. At his Prospect Heights café Ciao, Gloria, he's serving espresso made with Verve coffee beans and food and pastries he's concocted with Ginger Fisher Baldwin, who he's brought over from Baked. There are Italian touches all over. You can get a bacon, egg, and cheese ($10) made with a frittata, or a prosciutto, egg, and cheese ($10) with the same egg prep. Come lunch, you get focaccia sandwiches with mortadella and ricotta salata ($11) or roasted vegetables ($11) with pesto and fresh ricotta. There are, of course, plenty of pastries too, with plenty of Italian-American touches: croissants with pistachio cream ($5.50), cookies including amaretti ($2.50) and cantucci ($2.50), a Neapolitan tricolor bar ($5), and the Italian tea cake ciambellone ($5.50).
2. Eat late-ish night cheeseburger pizza at Momofuku Nishi.
Dave Chang and co. are getting on the late-night pizza train. On Sundays and Mondays only, Momofuku Nishi chef Nick Tamburo will offer Sicilian slices starting at 9:30 p.m. for $5 each or $10 with a Miller High Life or rotating Fernet. The pizzas are very Momofuku; the most basic is the three cheese with mozzarella, Parmesan, Pecorino, and red onion. But there's also a cheeseburger pizza with aged cheese, American cheese, dry-aged beef, iceberg lettuce, and special XO sauce, and a Hawaiian with mozzarella, Parmesan, anchovies, andouille sausage, red onion, jalapeno, and pineapple. Smoked Calabrian chile ranch is offered for dipping. Take note: there are only six slices of each available a night.
3. Have a dim sum brunch at Chinese Tuxedo.
Brunchers take note: Chinese Tuxedo will start serving its dim sum dishes on weekends, from noon to 3 p.m., as of October 19. The Doyers Street spot has introduced a handful of new items, including lamb sang choy bao ($25), lettuce wraps with peanuts, corn, and red vinegar gastrique. There are other new, non-dim sum dishes like the jonah crab and corn omelette ($23) with oyster sauce-brown butter; the Chinese greens ($14) with roasted shallot and oyster sauce; the chilled noodles ($15) with bonito soy, black garlic, and sesame; and the stir-fried Singaporean noodles ($17) with honey-glazed roast pork, garlic stems, and oyster sauce.
4. Go to Gertie for a dinner with Lil' Deb's Oasis.
It's a sad truth that unless you're Guy Fieri, you will never really get to visit all the houses of pancakes, tuna melt destinations, and meatloaf shops you want to. But for those who always have luncheonettes on their mind, Williamsburg Gertie's has something that will, at least, offer a balm. On October 14, they'll host the first of their monthly Luncheonette Roulette events with Lil' Deb's Oasis. The owners of the popular Hudson, New York, spot will bring some of their favorite dishes to the city, including their chocolate-ginger pie with whipped coconut cream and choripan with salsa verde, pickled pineapple, and fried egg on an English muffin.
5. Head to not one, not two, but three natural-wine fairs.
This October, there is not one, not two, but three festivals dedicated to the wide, funky, crushable world of natural wine. A couple hours outside of the city in Hudson, restaurateur Zak Pelaccio will bring back his Peripheral Natural Wine Fair (advanced tickets are $35, day of tickets are $45) with winemakers like Vermont's Fable Farm, Italy's La Stoppa, and many more gathering on October 26. The night before his Back Bar will host a supra (tickets are $75), a Georgian feast, with Georgian-style wine from Black Lamb Wine and Terrell Wines. Importer and sommelier Byron Bates will bring Wild World, the first natural wine fair in Texas, to New York on October 28 (tickets are $55). It's happening at Brooklyn's Berg'n from 10 a.m. to 7 p.m., with over 50 wines, farmhouse beers, and ciders along with talks from journalists and industry members. Finally, Raw Wine will return to the city on October 27 and 28. Along with the main event at Knockdown Center, where there will be 100 producers, they'll host events at restaurants and bars around New York (and beyond) from October 23 to November 6.
6. Check out Chinatown's next rice roll destination.
The rice rolls keep coming, this time straight out of Guangzhou. Last month, Yin Ji Chang Fen opened at 51 Bayard Street in Chinatown. The menu is more extensive that of Joe's Steam Rice Roll or the excellent but tiny Yi Ji Shi Mo, with 16 rice roll options ($3.95 to $6.95) ranging from barbecue pork to marinated chicken to crunchy crullers. There's more seating, too, as well as a more extensive menu of breakfast specialties including congee ($2.95 to $5.95; from chicken to Lai wan style), Hong Kong–style milk tea ($2.75), and snacks like toast ($2.50) with butter and condensed milk.
7. Buy your ticket to a special dinner featuring a ton of great chefs.
On October 17, 18, and 20, the food website ChefsFeed will throw Indie Week Brooklyn at Greenpoint's soon-to-open Rule of Thirds restaurant. Hosted by Jamie Young of Sunday in Brooklyn and Trigg Brown of Win Son and Win Son Bakery, the event will include three dinners featuring 24 chefs. The Thursday (which is sold out) and Friday dinner (tickets are $125) will each have 12 chefs cooking a single dish for a 12 course menu. Friday's cooks include Brown, Mei Lin of Los Angeles hot spot Nightshade, Diego Moya of Racines, Mistri Norris of Petra & the Beast, and others. On Sunday (tickets are $175), all 24 chefs will participate in what can only be described as a big ass dinner. It's 12 courses, so chefs will be paired together.
8. Or eat laksa and kingfish at an omakase hosted by New York's only sake brewery.
On October 15 and 16, New York sake brewery Brooklyn Kura will host a 15-course omakase (tickets are $150, seatings are at 6:30 p.m. and 9 p.m.) that'll double as a preview of a new sushi restaurant. Called Union Sushi Co., it's the project of former Mayanoki chef Jeff Miller and Grape and Grain and Rooftop Reds co-owner TJ Provenzano. Expect dishes like kingfish with sunflower seeds and a laksa made with fish head and scraps (read: trim and bone), along with sake from Kura and some beverages from Rooftop Reds. More permanently, Kura has started its own raw bar on Friday nights, serving scallop sashimi alongside its sake.
9. Go to a festival that's about all things coffee.
If you're a coffee geek, you'll want to head to the New York Coffee Festival, hosted at the Metropolitan Pavilion from October 11 to 13. (Advanced tickets range from $30 to $110, day of tickets are $40 to $150.) There will be the second ever "Roast Masters" competition, featuring 25 of North America's most well regarded coffee roasters; panels and workshops on topics like climate change and coffee growers; a cold brew cocktail bar; and food from Two Hands, Jessy's Pastries, and others. There will also be cocktail demonstrations, including one on Vietnamese banh cuon thit (a type of steamed rice roll) from Saigon Social's Helen Nguyen.
10. Head to the Strand for a event featuring a Great British Baking Show favorite, and another with one of the country's leading booze writers.
Mark your calendars, Great British Bake Off fans. On October 11 (tickets are $15 for admission and a gift card or $25 for admission and a signed copy) former finalist Kim-Joy — who won viewers over with her unique and extremely cute sweets — will stop by the Strand for her new cookbook. Aptly called Baking With Kim-Joy, it includes recipes for cat paradise cake, choux-bun turtles, and other Kim-Joy creations. (She'll also pop by Greenpoint's Archestratus on October, where she'll sign books while everyone drinks free champagne and you can try her techniques at DIY baked goods stations.) Then on October 30 (tickets are $15 for admission and a gift guide or $30 for admission and a signed book), booze writer Brad Thomas Parsons will stop by to talk about his new book, Last Call, with blogger David Lebovitz. Parsons asked bartenders around the country what their last drink would be, and the book features 40 recipes.
11. Have your Halloween dinner at Greenpoint Fish & Lobster Co.
Looking for a Halloween dinner before you go out to count how many people you can find dressed up as Joaquin Phoenix's Joker and Constance Wu and J.Lo in Hustlers? If you're in Greenpoint, consider popping by Greenpoint Fish & Lobster Co., which will for one night only change into Greenpoint Steakhouse. They'll serve a pescatarian menu ($65 for a four course prix-fixe) of steakhouse favorites, including a smoked clam wedge salad, fried calamari, oysters Rockefeller, half a broiled lobster, and a tuna tomahawk steak. The restaurant will also begin offering daily specials ($20, served all day unless otherwise noted) this month: Mondays are for fried fish, Taco Tuesdays are for all you can eat tacos, Wesnesdays are spaghetti and fish meatballs from 5 p.m. to close, Thursdays are for lobster rolls, and Fridays are for moule frites.
12. Go to New York Taste, back and better than ever.
New York Taste is finally of legal drinking age. On October 21, New York's one-night celebration of the city's restaurants and bars returns. (General admission tickets are $130 and early admission VIP tickets are $230.) Grub has corralled some of the city's best chefs and bartenders all into one room, including Adda's Chintan Pandya, Crown Shy pastry wiz Renata Amenu, Hanoi Soup Shop's Daniel Le, Hunky Dory's Claire Sprouse, Superiority Burger's Brooks Headley, the Standard Grill's Rocco DiSpirito, and more.