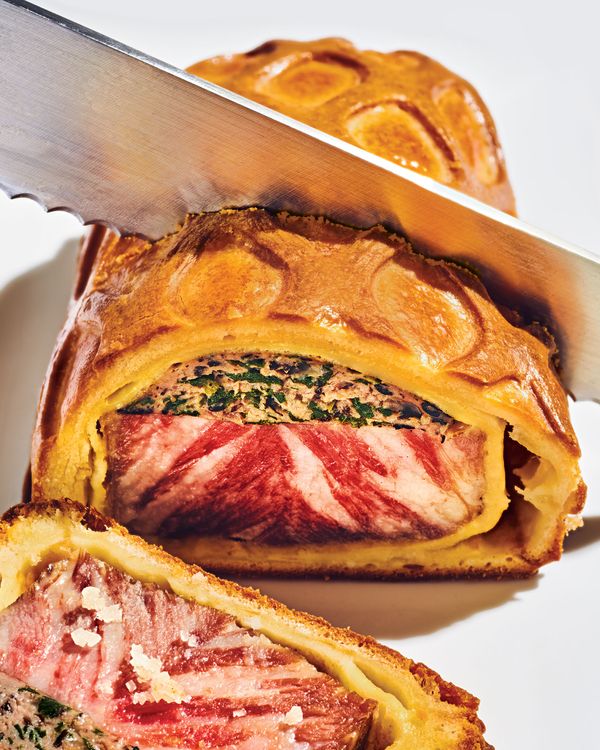 TAK Room's prime-beef short-rib Wellington.
Photo: Joe Lingeman
Wasp cooking is a term that most consider either an oxymoron or a punchline. But in his memoir, The Book of Eating, Adam Platt depicts an unexpected epicurean inheritance, fondly recalling the sybaritic tendencies of his Waspy gourmand family. Beyond the stereotypes—bland, anti-foodie, relentlessly mayoed—much of so-called Wasp or country-club food descends from English-influenced Americana and the heyday of French-inspired Continental cuisine. It's the sort of retro cooking that's having a bit of a revival around town, and when done well, it's undeniably delicious. Frozen peas and Wheat Thins aside, here are a few defining dishes and where to get them.
Beef Wellington (above)
A British dish of meat wrapped in pastry, but a helluva lot more impressive than a Cornish pasty. Said meat is typically fillet of beef topped with duxelles. The dish was named after Arthur Wellesley, Duke of Wellington, of Napoleon-quashing and tall-rubber-boot fame. Besides him, Richard Nixon, Julia Child, and Don Draper were big fans. At TAK Room, they make it with prime beef short rib, carve it tableside, and give it a superrich pour of périgourdine sauce.
*A version of this article appears in the October 28, 2019, issue of New York Magazine. Subscribe Now!