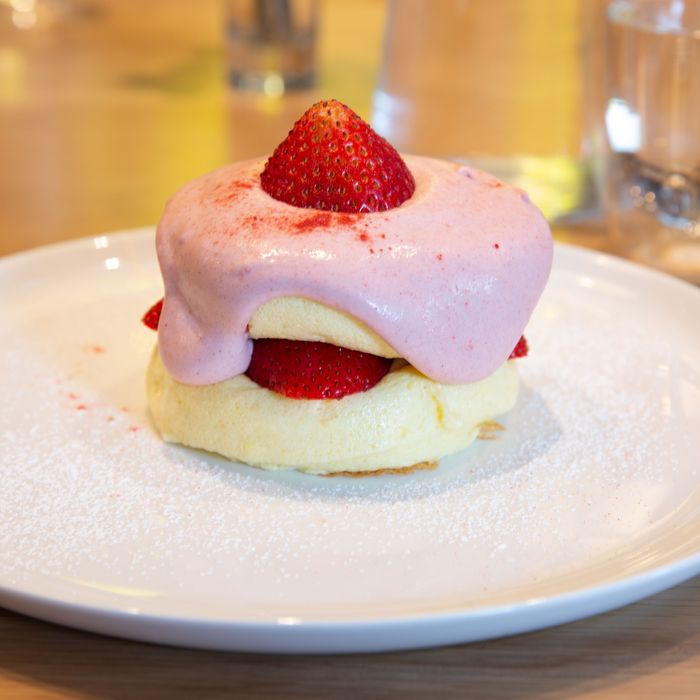 Flipper's strawberry soufflé pancakes.
Photo: Emily Denniston
It's already October, and with the end of the year fast approaching, New York was in danger of going through all of 2019 without a Cronut-like, rainbow-bageled, extreme-milkshake food craze. Luckily, Flipper's — a Japanese chain that specializes in "miracle pancakes" — opened in Soho last week, and the city's #influencers could breathe easy.
Grub Street's office is about two blocks from Flipper's, and we'd all seen the lines that formed on the sidewalk each morning. I knew that, one day, I would have to join that line. So, imagine how surprised I was when I showed up on a recent afternoon and walked right in.
The hostess, a diminutive woman with red-orange lipstick and the commanding presence of someone twice her size, led me upstairs to a sparsely decorated dining room with light wooden tables and the de rigueur neon sign ("When I Flip, You Flip, We Flip"). Nothing about the room screamed "Japan": The majority of the staff were Americans or non-Asian, the music coming through the speakers was '80s American pop, and the menu featured standard brunch fare like eggs Benedict and French fries. But I was here for the pancakes, so I ordered both the original and strawberry varieties. (With a honey lemonade, my bill would end up being $43.55 before tip.)
My pancakes, the waitress informed me, would be ready in "45 minutes to an hour."
It seemed like a good time to grab my phone and read up on Flipper's.
Of the three dominant soufflé-pancake chains in Japan — Flipper's, Gram Cafe and Pancakes, and A Happy Pancake — Flipper's has the smallest footprint with 12 locations. But it is the first to offer New York these by-way-of-Japan pancakes (local spots Hi-Collar and Taiyaki are both U.S.-based, while a few other spots feature soufflé pancakes but don't specialize in them). Consider it something of a coup, and Flipper's chance to capitalize on the #soufflepancake Instagram market in Manhattan.
Every chain has its proprietary secret, but the basic premise of a soufflé pancake is this: Make a standard pancake batter — flour, egg yolks, baking powder, and vanilla — and then whip in a delicate meringue (made with egg whites). The batter is poured into ring molds to keep it from spreading and then cooked at a low temperature so the pancakes can rise slowly. Each side is cooked for three to four minutes, so it's no wonder than an order of three pancakes can take a while to make, even on a quiet day.
Twenty minutes after I ordered, I saw some pancakes hit a neighboring table. "Oh my God," one of the diners exclaimed, as he scrambled to grab his phone. "That," the waiter said, "is the reaction we hope for."
34 minutes after I ordered, my own strawberry pancakes arrived: two coaster-sized, inch-thick cakes, neatly stacked and separated by a layer of fresh strawberries and cream, topped with more cream, and another strawberry. I dutifully took my own picture, mostly for reference, but also to have in case I needed some high-engagement content for my own feed.
The plain pancakes came about 20 minutes after that: They were slightly smaller, topped with whipped cream and a mint sprig. I took another picture, and then I took a bite.
They were light and airy with the vague flavor of cooked egg and … that was it. Strawberry was better because the fruit flavor came across in a surprisingly natural way, a bit like eating strawberry shortcake that went on a diet: flavor without any heft.
They were not, despite the name, miraculous. They were instead exactly what you would expect from Instagram-famous food: pretty enough to make you pause for a moment, before you scroll on and forget about them entirely.