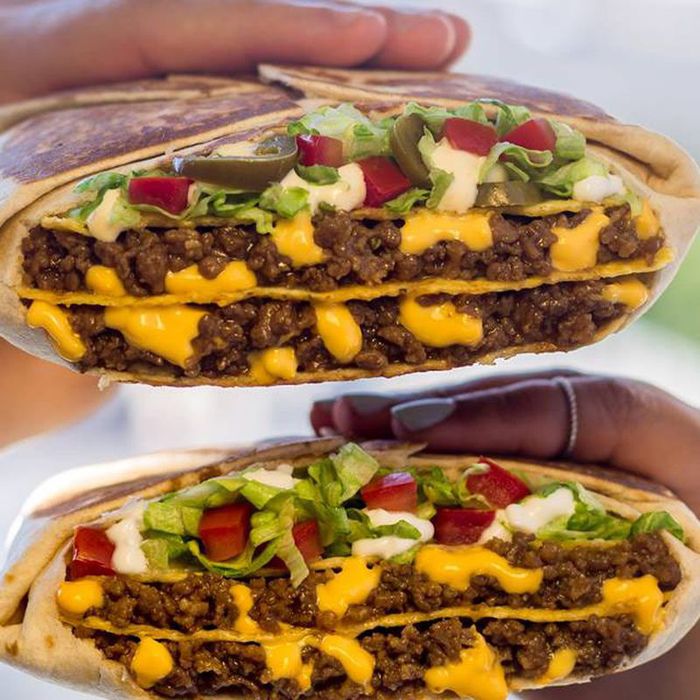 Crunchwrap Supreme lovers, take note.
Photo: Courtesy of Taco Bell
If you were planning to hit up your neighborhood Taco Bell for a traditional Taco Tuesday feast, you may want to take a seat. On Monday, the chain announced that it had voluntarily recalled roughly 2.3 million pounds of "seasoned beef" from restaurants in 21 states in "the eastern Midwest, northern Southeast, and Northeast." The culprit in this case was not salmonella but metal shavings, according to the U.S. Department of Agriculture. Presumably, this is not an experimental new ingredient added to the chain's taco meat filling.
There have no been confirmed reports of illnesses or injuries as a result of the metal-shavings-seasoned beef, which was produced, according to the USDA, from September 20 to October 4 by Kenosha Beef International in Ohio. Per Taco Bell, the meat the chain received was produced on two lines at a single plant and then shipped to Michigan, New Jersey, New York, Ohio, and Virginia distribution centers. Sadly, if you want ground-beef tacos tonight, you may have to resort to the old-fashioned, homemade way and go to the store to buy Old El Paso kits.