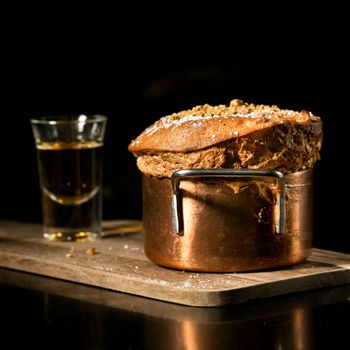 A Nutella and praline soufflé at the forthcoming restaurant Francis & Staub.
Photo: Melissa Hom
Pity the poor soufflé. It was once perhaps the ultimate example of la grande cuisine, a living testament to France's ability to take humble ingredients and, through no small amount of labor and technique, turn them into something stunning. Perhaps you still eat soufflés, but in New York they are, generally speaking, either expensive gimmicks — $2,500 for an off-menu number with caviar and gold! — or chocolate throwaways relegated to the bottom line of the dessert menu.
Francis Staub — the cast-iron legend and also the man behind Manhattan's outpost of the chicken-centric Le Coq Rico — thinks this is a problem. "You know what soufflé is?" he demands. "You appreciate it? It's a great dish! A great dish." In Paris, Staub says, there are two different restaurants devoted solely to the art of soufflé. And they are packed! Americans go there! Americans can appreciate a real soufflé (in San Francisco, Cafe Jacqueline is a soufflé legend, even), so why isn't anybody doing soufflé — really doing it — in New York? "Thirty minutes," Staub says, gravely. That is the trouble.
Traditionally, soufflé is slow. The process cannot be rushed. A cook might spend half an hour whipping the eggs, and baking the soufflé, only to have it deflate on its way to the table. (Ask any French chef of a certain age, and they will tell you there is nothing more tragic than a deflated soufflé.) So you order soufflé at the beginning of a meal, and hope it's ready by the end. A soufflé, it is an occasion. And New York City, restaurant owners can't count on occasions to pay the bills. "Nobody's going to wait 30 minutes," Staub says. "Impossible!"
So Staub wants to change that. At his new restaurant, Francis & Staub, which is set to open next month in the former Les Halles space, he and his team plan to make soufflés more of an everyday option, with faster, more affordable models that will nevertheless be visually impressive (Instagram!), and flavors that rotate regularly. It is not merely a culinary mission, but a political one: Staub and Farnabe want to democratize soufflé.
This wasn't the original plan, necessarily. Staub and his chef, Richard Farnabe, wanted to turn the old sprawling brasserie space into a new sprawling brasserie space. "We didn't even think about soufflé in the beginning," Farnabe explains, and they will indeed offer a full menu of updated brasserie dishes, but they also wanted to do something different, something you couldn't get somewhere else, something they don't have at Balthazar or Frenchette.
And so Farnabe — who, it should be mentioned, is the chef behind that $2,500 caviar soufflé — got to work, developing not only a soufflé menu, but also a new soufflé technique that would produce lighter models than the old-guard soufflés of yore. Because soufflé, in addition to being slow, can also be heavy. "Most of the time, you eat the soufflé, and that's it, you don't move," Farnabe says. So he developed a new approach to making soufflés, one that doesn't require flour, and which can get a finished dish to a diner in about seven or eight minutes.
How did he do it? Indeed, we would all like to know. Farnabe and Staub cannot reveal their trade secret(s?), but they will say that they have created not only a nouveau-souffle science, but a soufflé-specific infrastructure. At Francis & Staub, they've built two designated soufflé stations with two soufflé ovens — one for sweet, one for savory — operated by two soufflé-only chefs, who have one single priority, and that is soufflés. The rest has been a process of soufflé experimentation: the mold, which is not Staub, since it must be metal for proper heat conduction. The temperature of the oven. The humidity of the kitchen. The ingredients. The techniques to prepare the ingredients. "We're getting very close now," the chef says.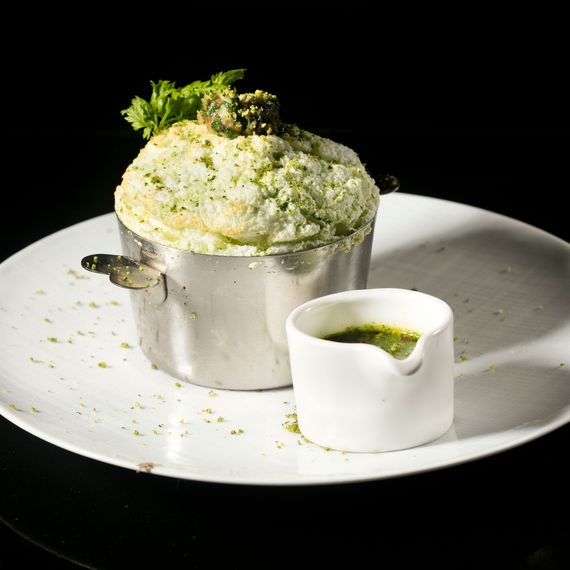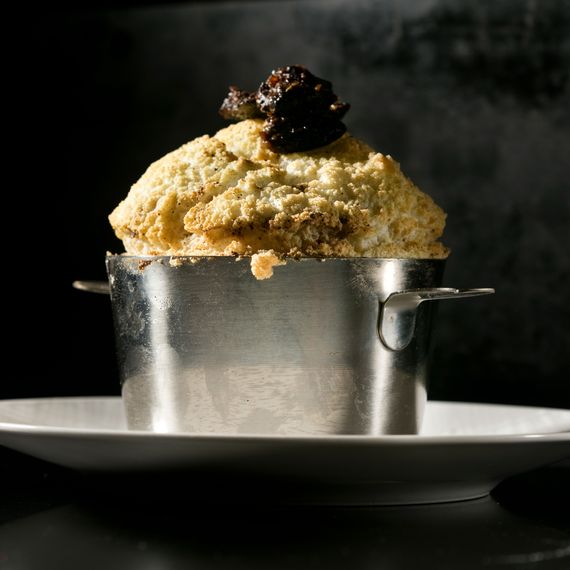 The soufflé menu will have ten options (five sweet and five savory, ranging in price from $14 to $22), and now the idea is to nail down those options. While Farnabe isn't sure yet which recipes will make the opening roster, he's working on lobster soufflé, escargots soufflé, soufflé with foie gras, and one that's based on aligot, the classic combination of potatoes and cheese that should itself be more popular in America than it is. For dessert, he says, he is thinking about American tastes, the soufflé-ification of American canon: red-velvet soufflé, gingerbread soufflé, and Nutella-praline soufflé spiked tableside with a shot of cognac. (Maybe even a peanut-butter-and-jelly soufflé?)
Their hope is that these soufflés will show you that their brasserie offers something new, even for an approachable, unpretentious neighborhood joint. "Why come come to our brasserie if you have the same one downtown?" Farnabe asks. "We want to be different."