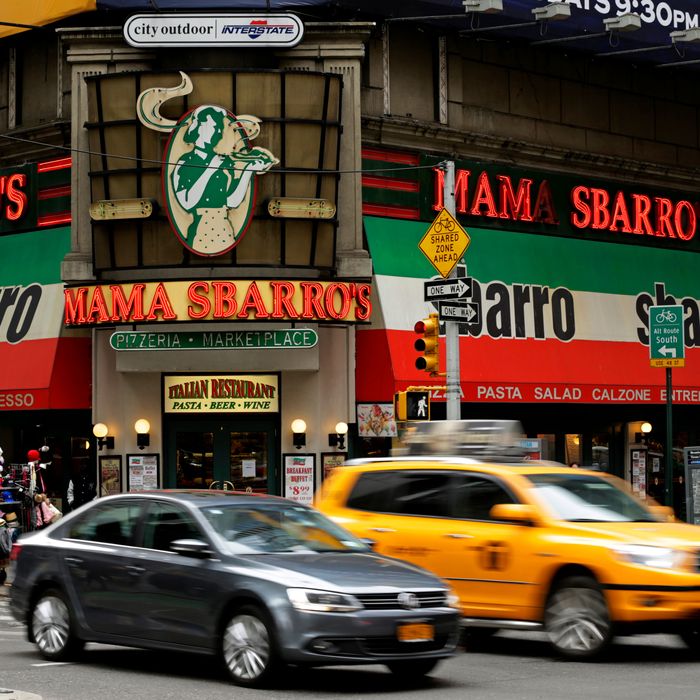 RIP.
Photo: Peter Foley/Bloomberg via Getty Images
Every day, it seems like New York City dies a little bit more: It seems to become harder and harder for small restaurateurs to hold on against the tide of fast casualization, and classic institutions close shop for reasons other than retirement. Historically important places like the Lenox Lounge get demolished. Dean & Deluca has been shriveling away. Barbuto is gone; just this weekend, City Bakery closed. And — take a seat for this one, please — Sbarro has closed its Times Square location after 23 years. In perhaps a sign of the times, the news passed without much notice, except in a release shared by QSR magazine, and a more recent thread on Reddit. It's nothing but disrespect for a New York institution that manages to do the impossible of making Famous Famiglia look good.
According to QSR, the cause of the closing was failed lease negotiations; the lease had expired on June 30. It's been a rough few years for Sbarro, and not even because of the quality of its pizza. The chain filed for bankruptcy in 2014 and its number of locations dwindled by more than half from 1998 to 2016. All may not be lost, though, as Sbarro CEO David Karam says they are searching for a new location in Times Square. Still, that's no guarantee.
The closing raises existential questions about the future of New York — what is New York without Sbarro? Where are we supposed to get our pizza? — but also for New Yorkers in Times Square: What are they going to do when they want a jumbo-sized New York slice with a side of baked ziti? Who knows. Maybe there's no point to living anymore.
Here, we present a love letter to Sbarro from happier times: