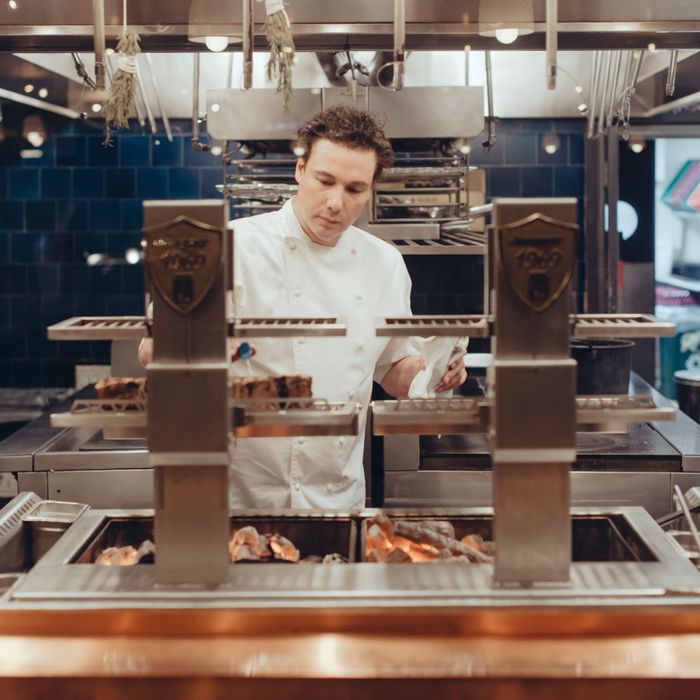 Rocco DiSpirito at the Standard Grill.
Photo: M. Cooper
The Rocco DiSpirito comeback tour is over — at least at the Standard Grill. "Page Six" reports that the celebrity chef and the hotel restaurant have divorced, adding that a tipster tells them that those with Wednesday reservations had been given the bad news: DiSpirito was not in the house and an alternate menu was being offered. In the end, the chef's much-talked-about return to restaurant kitchens after 15 years wandering the wilds of television and celebrity lasted less than a year.
While DiSpirito hadn't run a restaurant since 2004, his fellow chefs, especially those who worked under him at his restaurants, in particular Union Pacific, still talk about him reverentially. (So do those who dined there, for that matter.) While some food geeks were skeptical about DiSpirito's return — he did, after all, appear on Dancing With the Stars — critics found a lot to love. New York's Adam Platt found himself "still dreaming about" the ruby-red shrimp-and-truffle risotto "days later," and the New York Times' Pete Wells called it "so much better than almost any restaurant serving a comparable menu of grilled meats and chilled seafood." Maybe that wasn't enough.
In a statement to "Page Six," a rep for the Standard billed DiSpirito's tenure as an "exclusive collaboration" during the restaurant's tenth anniversary. Sure! Anyway, oh well.