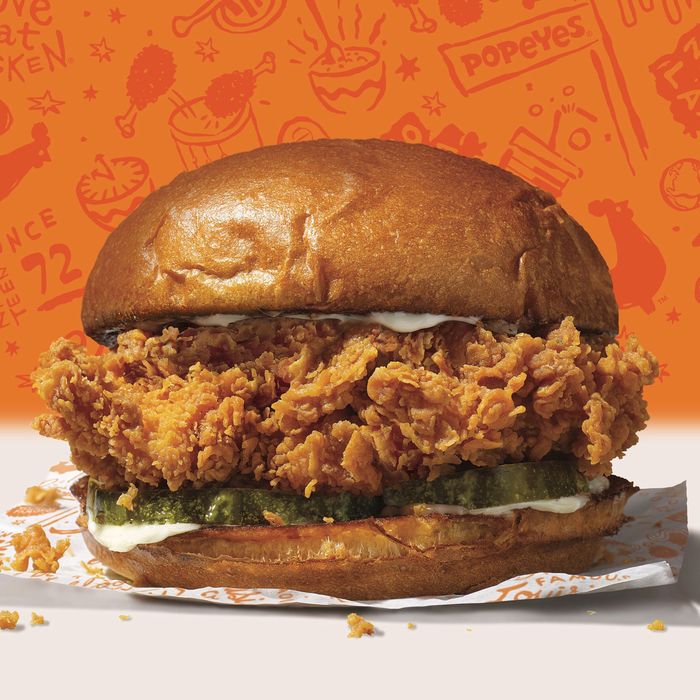 Photo: @PopeyesChicken/Twitter
It's been nearly two months since Popeyes ran out of the fried-chicken sandwich that launched a hundred thousand tweets, lines down the block, and even got a gun pulled on some employees in Houston. It marked a truly low moment in American food history and showed that maybe we weren't ready for a chicken sandwich of that magnitude.
The good news is we're getting a second chance to prove that we're not complete animals: Today, Popeyes announced that the chicken sandwich will return as a permanent menu item on November 3. Before you check your calendar, yes, that is a Sunday — you know, the one day of the week rival Chick-fil-A is closed.
If you slept through most of August, then you likely missed the Twitter-based beef — which started after Popeyes subtweeted Chick-fil-A — that brought the new sandwich to the attention of the internet-loving public. This time around, the company plans to advertise the sandwich's return in a very old-school way, with full-page ads in the New York Times, New Orleans Advocate, and the Atlanta Journal-Constitution.
In an interview with CNN, Popeyes reps promised that they'll be able to back up all the smack-talking. "We plan to offer it to our guests for a long time," North America head of marketing Bruno Cardinali told CNN Business. "We are confident that we'll be able to meet the demand."
This post has been updated with new information throughout.