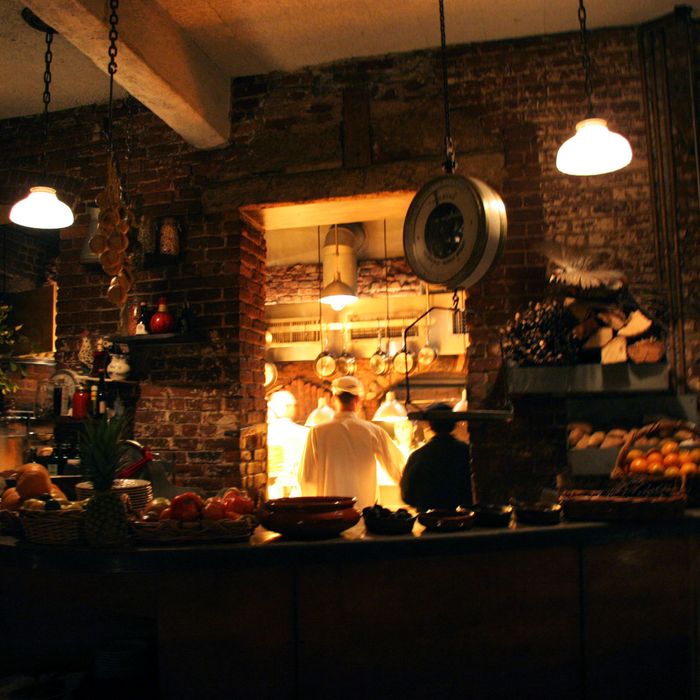 The kitchen at Peasant.
Photo: Lauren Klain Carton
In the year 2019, a restaurant that serves a menu of regional Italian food, cooked in a wood-burning oven, with ingredients that change based on the season, is common to the point of cliché. In 1999, when chef Frank DeCarlo built Peasant on Elizabeth Street, New York was different, a city comfortable with show-off-y cooking and wacko ingredient mash-ups ("apple-smoked salmon with oysters, caviar, and caper sauce" as well as "caramelized sweetbreads with sorrel and musk melon" were two dishes served at the time).
DeCarlo's restaurant was part of a collection of new spots — including Prune and Lupa, which both opened at the same time — that instead emphasized unfussy simplicity. "I wanted to do something nobody else was doing," DeCarlo says. He built the kitchen himself, fueled his fires with wood, and put together a menu of rustic Italian food that he wanted to eat. As it turned out, this would be the type of food many other New Yorkers would want to eat, too.
In a 2001 Times review, then-critic William Grimes wrote that the fire "adds a sublime crunch to the excellent crust of Peasant's little pizzas." Grilled sardines, "done to a crisp and drizzled with a little lemon and oil," were "heaven-sent." Rosemary and sea bream combined "so that each bite seems to release a small cloud of fragrant steam."
If this, Grimes wrote, "be peasant fare, don't tell the royals."
(I'm on the record about my own favorite Peasant dish: the dense, tender block of rabbit lasagna that was finished off in that same wood-burning fire, the kind of simple food that is easy to find yourself craving on a cold, rainy January afternoon.)
For those people who knew about it, the restaurant's real secret weapon was the basement wine bar, open only to walk-ins and unmarked to the point where it was unlikely anyone would happen upon it, making it one of the city's most secluded dining rooms.
You know where this is going: DeCarlo announced that, after dinner on December 31, he would close his restaurant and leave the city. In a somewhat welcome twist on the same old story, the chef said at the time that it was not an issue of losing his lease, or owing to any kind of drop in business. After two decades, DeCarlo felt that it was simply time to move on. "My wife and I, we had a 20-year plan," he told us then. "Well, we had a ten-year plan and then we decided to do another ten."
Surprisingly, just about a month after DeCarlo first announced his plans, he and the chef Marc Forgione said that they'd struck a deal for the restaurant, and that Forgione would take over, maintaining the name and rustic-cooking approach.*
DeCarlo, however, will still step away, and says he plans to spend most of his time on the eastern end of Long Island, where he runs the seasonal restaurant Barba Bianca. "For seafood, we have traps in the water," he says of life on the North Fork as a chef. "The small farms — I can get radishes right out of the ground. You can't get that in the city."
For New York, of course, it's a big loss, but one that feels more bittersweet than the typical restaurant news. DeCarlo wants to move on, and for New Yorkers who want to taste his cooking, it's fortunate that he decided to do so only after his particular vision was adopted by so many other restaurants around town — even if it does mean having to say good-bye to that lasagna.
*This post has been updated to reflect the news of Forgione's purchase.