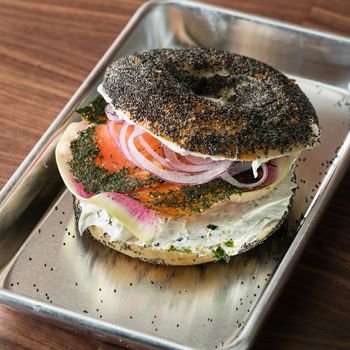 Somewhere between 2009 and 2014, when the High Line came to fruition, New Yorkers ceded the far west side of Manhattan between 14th Street and 34th Street to the tourists. That meant giving up Chelsea Market, the 22-year-old food hall, which attracts a whopping 6 million visitors per year. For comparison, The Met drew 7.4 million visitors last year while the Empire State Building brought in 4 million visitors.
What, besides the need to entertain out-of-towners, could possibly get New Yorkers to return? Perhaps an incredibly 21st-century take on the grand appetizing tradition from one of the city's most popular bagel chains — with a quiet entrance on 15th Street. Enter Black Seed Appetizing.
"Early on, we were like, 'We're a bagel shop. We're not an appetizing store,'" says co-owner Matt Kliegman. "If people want that, there's already some great options with Russ & Daughters, Zabar's."
But when the Chelsea Market team informed them that they wouldn't be able to add a wood oven to the space — Black Seed's Montreal-style bagels are wood-fired — Kliegman, co-owner Noah Bernamoff, and executive chef Dianna Daoheung reconsidered what else their five-year-old company could be. "They said, 'What can you guys do that would make this store perhaps different or more exciting than some of your other locations that you are opening up?" says Bernamoff. "And so we're like, 'Well, there's this little sidepiece to what we do, which we don't really do, but it's a complementary appetizing piece.'"
On October 10, the new shop and the chain's seventh location will open in the Chelsea Local section of Chelsea Market, a cavernous space underneath the main market dedicated to popular local sellers, including Saxelby's Cheesemongers, Buon Italia, and the Manhattan Fruit Market. Black Seed's storefront, with about 16 seats, won't be making bagels on-site (though they'll be delivered fresh daily), but there will be an extensive menu of appetizing delights — cream cheese, smoked fish, tinned fish, salads, caviar, crackers, pickles, nut butters, olives, and more — that mix the traditional with more modern, chef-driven elements.
Bernamoff, for example, cites cream cheese as an appetizing staple that's desperately in need of both an update and reining in. "In the world of bagel shops and cream-cheese flavors, there's a sort of belief that anything goes," he says. "And I think that we've been very careful at Black Seed over time to be like, 'No, that's not necessarily true.' I mean, people might buy it but it's not necessarily okay to make birthday-cake cream cheese."
Furikaki, bottarga, lobster and tarragon, and lemon caper cream cheeses, however, are a go. "I think the way we look at it is like, we don't have to set off any fireworks to get people to notice our product," Bernamoff says. "What we need to do is find the right flavor combinations that have some root or some foundation in the tradition of high quality cream cheese, fish, and bagel production."
Opening day is coming the midst of a few high holidays, but Bernamoff and Kliegman insist that despite their Jewish heritage, they're not looking to compete with century-old appetizing shops or draw their crop of incredibly loyal customers away. They simply want to approach appetizing in a way only Black Seed Bagel could. That means sourcing high quality, sustainable fish, like sable and French herring; continuing the long-running restaurant collaborations that brought them black-truffle cream cheese (The NoMad) and halva cream cheese (Seed + Mill); and stocking pantry goods inspired by the Ibernian peninsula's unrivaled tinned-fish tradition. Think sardines, anchovies, octopus. In other words, appetizing with a global perspective.
"We're an equal-opportunity bagel shop," Bernamoff says. "Everyone ought to enjoy a good a good bagel. Everyone ought to have access to delicious smoked salmon or black-truffle cream cheese and we've got it."
Black Seed Appetizing at Chelsea Market, 75 Ninth Ave., nr. 15th St.; 212-652-2111