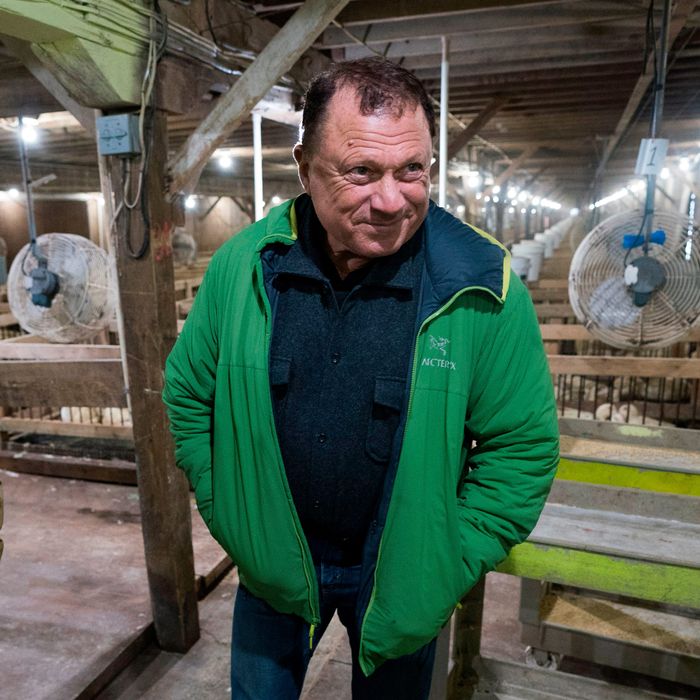 Hudson Valley Foie Gras's Marcus Henley and Izzy Yanay,
Photo: Don Emmert/AFP via Getty Images
Big Foie Gras isn't going down easy. Producers of foie gras in New York and Quebec plan to sue New York City over the ban that the City Council passed yesterday. "They gave us a three-year grace period, and the law is so completely screwed up in terms of constitutionality in New York and federally that we don't have any real concern," says Marcus Henley, the manager of Hudson Valley Foie Gras in Sullivan County, New York. They aren't actually all that concerned about fattened bird liver's becoming contraband in the five boroughs. "It won't ever be enforced."
Sponsored by Manhattan councilwoman Carlina Rivera, who called foie gras "the most inhumane process," the ban would affect New York State producers Hudson Valley, La Belle, and D'Artagnan. Violations would be punishable by a $2,000 fine. Over the summer, Henley testified against the ban and told a Wall Street Journal reporter that if it passed, Hudson Valley would "lose jobs" and "maybe the business."
Specifics of the lawsuit are still being determined, including who the plaintiffs will be, but Hudson Valley, La Belle, and the Quebec farms are working with three different law firms to fight the ban. They're not yet certain of when they can file the suit — whether it has to be a year and a half after the ban goes into effect or if they can, as they hope, file immediately. The farm has an agricultural marketing cooperative, Catskills Foie Gras Cooperative, with La Belle Farms, and Henley says the two farms employ 400 people.
"That's what's at risk here. It's 400 families, and for us the really horrible thing about this — we all hear, it's in the press these days — is due process," he says. According to Henley, Hudson Valley will fight the constitutionality of the ban. "Under the New York State constitution, cities are able to enact local laws — local laws," he says. "If the state has issued regulations about the sale of poultry products, then a municipality cannot do that."
New York State regulates the sale of poultry products, like foie gras, and Henley argues that the ban regulates a product outside the city and is "in effect" an extraterritorial regulation. It will also, he points out, ban foie gras products from France and Quebec, which is why he argues it is also federally unconstitutional. That's the same argument made by the those challenging California's foie-gras ban. In January, the Supreme Court announced it would not hear an appeal challenging the law, upholding a 2017 ruling.
New York City flirted with a foie-gras ban in the aughts, when councilman Alan Gerson considered introducing a ban. That didn't come to fruition, but the tide may have turned. According to Henley, no members of the City Council visited Hudson Valley Foie Gras to inspect the farm. "We even had some councilmembers tell us, 'Hey, don't worry, we'll pass the law and you'll overturn it,'" he says. "There's no perfect certainty when you go into court, but we're feeling pretty good about our chances."