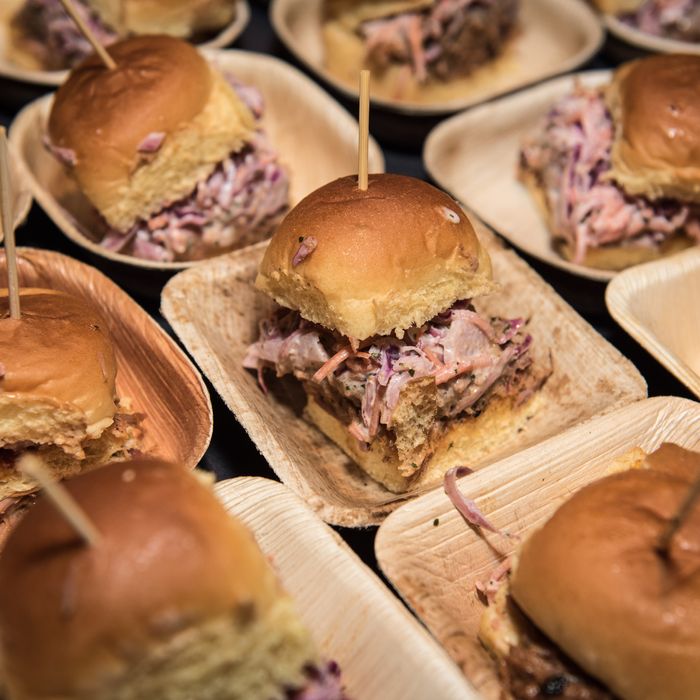 Pig Beach will return with plenty of barbecue.
Photo: Liz Clayman
Do you have a calendar reminder set? Have you got your tickets locked down? New York Taste — our annual gala dedicated to eating and drinking all sorts of lovely things made by the city's most esteemed culinary talent — will take place on October 21, and this year's lineup is shaping up to be the most exciting yet in the event's 21-year (!!!) history.
Of course, we would not make such a bold claim without also providing hard evidence. So what kinds of edible delights can you expect to find? Kāwi's Eunjo Park will arrive with her already-famous rice-cake dumplings (doused in Parmesan and truffle butter). Pickled red ship with fried saltines will be provided by Alex Raij and her wonderful bar, Saint Julivert (among the best seafood restaurants in the entire city). The Beatrice Inn's Angie Mar will offer beef tartare that's spiked with anchovy and marcona almond gremolata (yes, please). Rocco DiSpirito, from the Standard Grill, plans to sauce pasta with a smoked short-rib ragù, and the pizza geniuses from Emmy Squared will drop their signature pies, topped with banana peppers, red onions, and — wait for it — homemade ranch.
Is that not enough? Do you also want to know that there will be cocktails from drink havens like Jungle Bird, Pegu Club, and Undercote? There will be desserts like Miro Uskokovic's chai tiramisu, Melissa Weller's saffron-apricot kougin-amann, and Levain Bakery's God-level cookies. Do you want caramel-corn Kakigōri? You will find that at New York Taste. The world's best sticky toffee pudding? Yes. Dragon's beard cotton candy from East Wind Snack Shop? Of course.
All of which is to say: You do not want to miss this event, and so, if you have not already, you should grab tickets here. $130 general admission tickets will get you unlimited tastings and an open bar, while the $230 VIP tickets include access to a special preview hour, a private VIP lounge, and a very special goodie bag.
While we all wait for the big night to arrive, here is the full list of participants for you to peruse and anticipate. We'll see you there!
Chintan Pandya (Adda)
Akhtar Nawab (Alta Calidad Taqueria)
Lee Carames (The Aviary NYC)
Angie Mar (The Beatrice Inn)
Gaston Becherano and Theo Friedman (Bonsai Kakigōri)
Edan Leshnick (Breads Bakery)
Zach Zeidman (Café Altro Paradiso)
Nino Chiokadze (Chama Mama)
Renata Ameni (Crown Shy)
Angie Rito and Scott Tacinelli (Don Angie)
Selina Ullrich (East One Coffee Roasters)
Chris Cheung (East Wind Snack Shop)
Emily Hyland and Matthew Hyland (Emmy Squared)
Sam Yoo (Golden Diner)
Victoria Blamey (Gotham Bar and Grill)
Miro Uskokovic (Gramercy Tavern)
Daniel Le (Hanoi Soup Shop)
Eyal Shani (HaSalon)
Melissa Weller (High Street on Hudson)
Claire Sprouse (Hunky Dory)
Jane Peang (JeJu Noodle Bar)
Krissy Harris (Jungle Bird)
Eunjo Park (Kāwi)
Moonlynn Tsai (Kopitiam)
Connie McDonald and Pam Weekes (Levain Bakery)
Lynnette Marrero and Natasha Bermudez (Llama San)
Orhan Yegen (Lokanta)
Greg Baxtrom (Maison Yaki)
Bill Clark and Libby Willis (MeMe's Diner)
Yuu Shimano and Tomohiro Urata (Mifune)
José Luis Chavez (Mission Ceviche)
Ori Safra (Nur)
Nico Russell (Oxalis)
Audrey Saunders (Pegu Club)
Matt Abdoo and Shane McBride (Pig Beach)
Ricardo Barreras (Pilar Cuban Eatery)
Jilbert El-Zemtr and Michael Sadler (Republic of Booza)
Stefano Secchi (Rezdôra)
Alex Raij (Saint Julivert)
Judy Lai (Silk Cakes)
Rocco DiSpirito (The Standard Grill)
Steven Tarpin (Steve's Authentic Key Lime Pies)
Brooks Headley (Superiority Burger)
Sondre Kasin (Undercote)
Cedric Vongerichten (Wayan)
Tom Naumsuwan (Wayla)