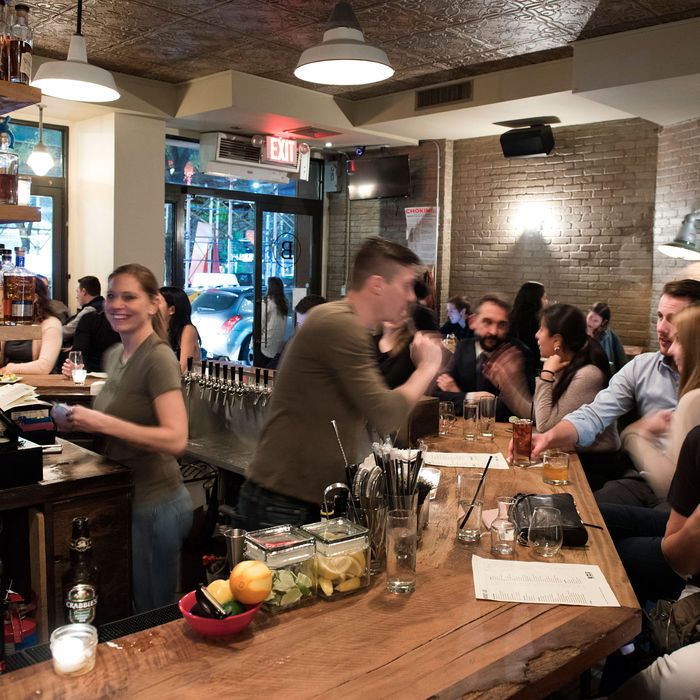 Bondurants on the Upper East Side.
Photo: Liz Clayman
Over the past few years, there's been a lot of doom and gloom about what New York's minimum-wage increase would mean for restaurants — at least coming from business owners. It's a notoriously difficult business, with slim margins, and some restaurateurs argued that there was no wiggle room. Speaking to Eater in 2016, Momofuku man Dave Chang called himself "pretty damn liberal" before saying of the New York wage hike that, "as a business owner, it doesn't make any fucking sense." As it turns out, the legislation has been pretty good for restaurants and restaurant workers so far.
A study by the National Employment Law Project found that both restaurant revenue and employment have risen. From 2013 to 2018, when the minimum wage rose from $7.25 an hour to $13.50, the authors say that New York's restaurants have seen stronger job growth then in 12 cities that have not have any increase in their minimum wages. This is consistent, the authors say, with what's happened in other cities like Seattle.
Restaurants don't actually need to increase their prices to pay for the new minimum wage, while the workers have more money to spend on, as Nicole Hallet points out in an opinion piece for MarketWatch, going to restaurants.
The Economic Policy Institute, Hallet notes, argues that the wage increase will actually create more employment. According to the NELP, restaurant sales increased an average of 6.6 percent every year from 2014 to 2018. The next front in this conversation, Hallet notes, is the tip credit, through which restaurants can only pay their staff $10 if they make $5 or more an hour in tips. Officials are currently considering whether to abolish the credit, and there are all kinds of problems with tipping including that it allows for racism, sexism, and classism to factor into compensation of workers.