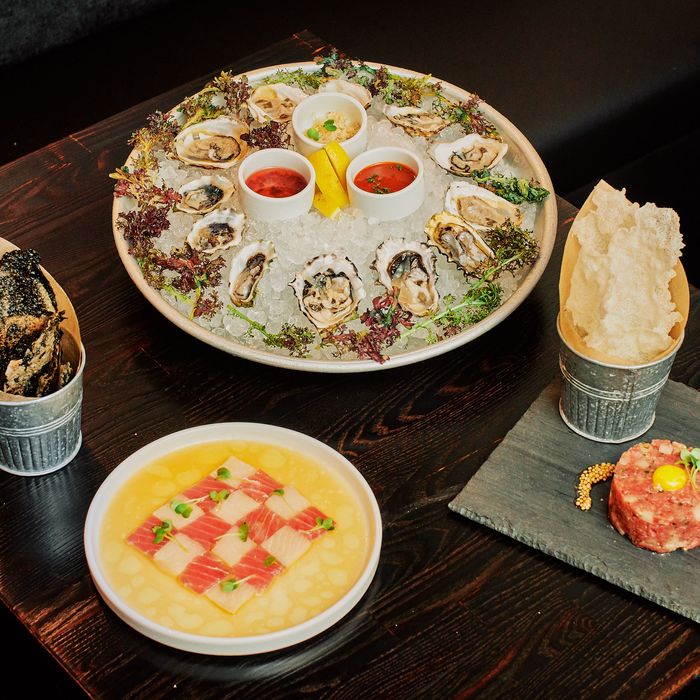 The raw bar spread at new Upper East Side restaurant Ivy Lane.
Photo: Christian Rodriguez
There are few things better than the fresh, bracing intrigue of perfectly iced seafood: oysters, clams, crabs, caviar. But even if the taste is timeless, the very notion of a raw bar continues to evolve in New York, where chefs are always willing to put an original spin on the age-old idea. Here are ten new spots that manage to make the raw-bar experience feel as fresh as the seafood they serve.
Ivy Lane
What to get: Tuna and hamachi ($19)
Earlier this month, this three-level restaurant opened on the Upper East Side complete with a cocktail lounge, two levels of dining, and a small but impressive raw bar. The standout here is chunks of tuna and hamachi arranged in a checkerboard pattern and served in citrusy yuzu broth and dressed in spicy wasabi olive oil. Pile it all on the provided nori chip and you'll be in raw-seafood heaven.
The Jones
What to get: Maine uni ($12)
Uni has become such a local staple that it's pretty hard to make it stand out, but the Jones manages to do that with this tender and spreadable sea-urchin dish served with a tangy lemon jam and Ritz crackers.
Lola Taverna
What to get: Lavraki sashimi ($20)
The theme at this restaurant from the team behind SoHo bistro Little Prince is Greek food with a modern twist, which is easier to pull off when your chef counts Noma and Brooklyn's Aska among his former employers. The restaurant's short but enticing list of raw-bar options includes this lavraki — Greek for European bass — served sashimi-style with light white soy sauce, lemon juice, and honey from the island of Crete (minotaur not included).
Lamia's Fish Market
What to get: Scallop piri piri and shiso leaf ($16)
The underwater-steampunk aesthetic calls to mind 20,000 Leagues Under the Sea, but this Alphabet City restaurant is extremely serious about its seafood. This menu item — listed under "Carpaccio, Ceviche & Crudo" — features scallops seasoned with piri piri, the Afro-Portuguese spice made with the searing hot peppers of the same name, and that citrus-mint crossover known as the shiso leaf for a dish that burns and cools at the same time.
Esca
What to get: Crudo tasting ($19 to $28)
Since the beginning, crudo has been part of this Italian seafood spots legacy. So much so that you can get 17 — !!! — different takes on the dish, including mahi mahi seared with wild fennel pollen, peppery coho salmon, diver scallops in tangerine olive oil, and more. So, we say go for the crudo tasting menu, where you can try three or six different dishes (picked by the chef) for $19 and $28, respectively.
Gotham
What to get: Scallop ceviche ($22)
Since taking over at one of the city's most revered old-school restaurants, chef Victoria Blamey has injected the menu with the influences of Latin cuisine, an ode to her Chilean upbringing. That's all display in this scallop ceviche featuring crisp, pickled daikon radishes, granada chili, and a corn-based leche de tigre that's both spicy and citrusy.
Būmu
What to get: Salmon ($18)
Joaquin Baca of the late restaurant Teo recently signed on as chef at this new restaurant, bringing with him an extensive menu of raw delights including this tongue-in-cheek take on lox and bagels featuring salmon, tangy yogurt, pickled beets, and everything-bagel spice for crunch.
Mar at Mercado Little Spain
What to get: Gambas al estilo de ElBulli 1996 ($21)
It's been eight years since El Bulli closed its doors for good, but the restaurant at José Andrés's seafood spot, Mar, is located inside his Spanish food hall. For this classic dish, shrimp is thinly sliced and topped with a sauce made from the shrimps' heads. (With El Bulli's Adria brothers involved in the project as well, they can make a strong claim for authenticity.)
The Riddler
What to get: Raw-bar plateau ($58)
At this New York outpost of the San Francisco original, you will find Champagne caviar, and more Champagne. There's also a lovely raw bar stocked with oysters, crab claws, caviar, and shrimp. Order the raw-bar plateau, a bottle of bubbly, and lean into the luxury of the whole experience.
Gran Tivoli
What to get: Wild black sea bass carpaccio ($14)
If you equate carpaccio exclusively with meat, think again. This Australian-Italian spot swaps out classic beef for wild black sea bass, then garnishes it with fresh clementine, pickled chilis, oxalis flowers, and a drizzle of oil.