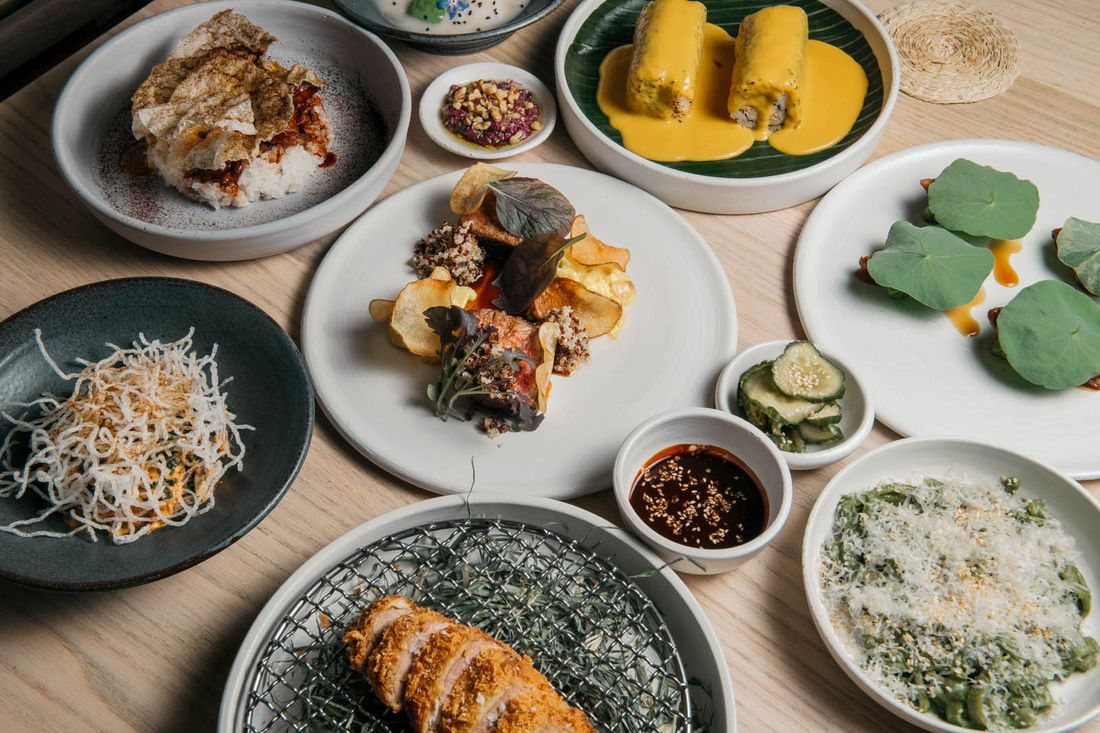 Llama-San's Nikkei-inspired specialties.
Photo: Scott Heins
Ambitious "gourmet" cooking comes in all shapes and sizes these days, but every once in a while a deceptively accomplished new restaurant appears that makes your weary critic pine, perhaps a little too wistfully, for the days when top chefs occupied a more settled, stately place in the world. Or so I thought to myself as the ceviche creations at Erik Ramirez's excellent new West Village venture, Llama-San, arrived at our snug little banquette in the back of the loudly buzzing room. There were beautifully textured chunks of scallop decked with purple borage blossoms in this first flight of dishes and slices of hamachi dotted with bits of uni hidden in bubbles of foam tasting of lime, coconut, and matcha. We studied these creations in silence before taking one bite, then another. "Damn, these are delicious," someone finally said, shouting a little to be heard above the gathering happy-hour din.
In fairness, there isn't an actual happy hour at Llama-San, at least not yet, and, like other talented, ambitious chefs around town, Ramirez, who opened his popular (much larger) Peruvian-themed flagship Llama Inn in Williamsburg a few years back, has limited options when it comes to finding well-located real estate in the pricey, cutthroat canyons of Manhattan. His new venture occupies the former space of the recently shuttered Spanish gastropub Tertulia, another fine bar-restaurant that punched well above its weight. The bones of the narrow railroad-car room have been left more or less intact, but the walls are now hung with Peruvian art and colored in pleasing, modish tones of tan and white; yet the bar seems bigger than before, and the cocktail crowd feels a little louder and more raucous on busy evenings.
Don't let this stylishly casual party atmosphere fool you. The theme of the cooking here is the Japanese-Peruvian fusion cuisine called Nikkei, and in the hands of Ramirez and his talented chef de cuisine, Sergio Nakayoshi, the best of the dishes — the ceviches, the elaborate rice bowls, the Japanese-style nigiri with aged duck and rice rolls enlivened with braised chicken thighs — contain a multitude of cultural flavors and influences in a single bite. The aforementioned scallop ceviche was poured with a tart, faintly milky leche de tigre sauce containing hints of Japanese black sesame mingled with an Incan fruit delicacy called cherimoya, and if you call for the house noodles, you'll receive an elegant clay bowl filled with a tangle of cool, thin rice noodles tossed with Japanese mushrooms marinated in sesame and soy, slivers of toasted seaweed, and a spicy-sweet Peruvian-chile sauce called ocopa.
"What kind of madcap experiment is this?," someone at the table asked as we sipped our glasses of Japanese rice beer and pondered the duck nigiri, which was arranged sushi style on a plate with pats of hand-molded rice, each one layered with roasted banana, slices of aged duck breast, and a droopy, decorative nasturtium leaf that made the dish look fanciful and a little strange, like something out of a Dr. Seuss cartoon. The wheels of softly grilled Japanese eggplant dressed with a pesto made from pine nuts, miso, and the Peruvian herb huacatay caused a similar reaction, and so did a decorative, deliciously soft tofu-and-shrimp combination that the kitchen constructs with a block of housemade tofu layered with baby shrimp, drifts of puffed rice, and an arrangement of colorful, delicately tweezed flower blossoms that look almost too good to eat.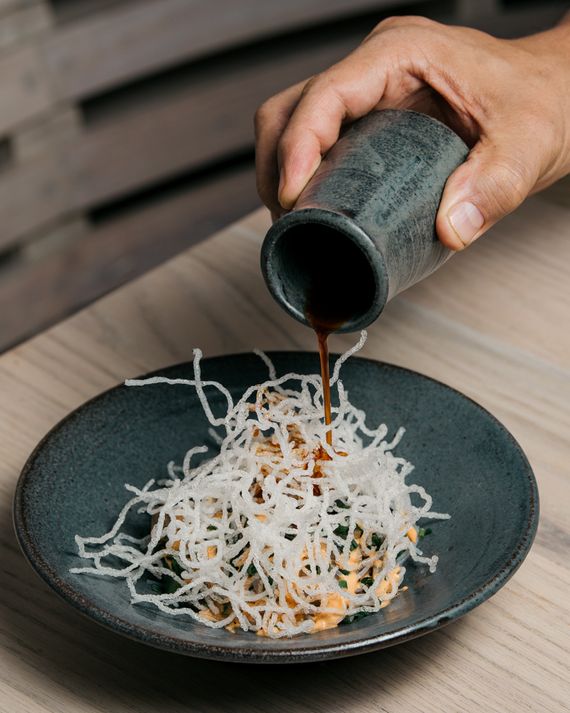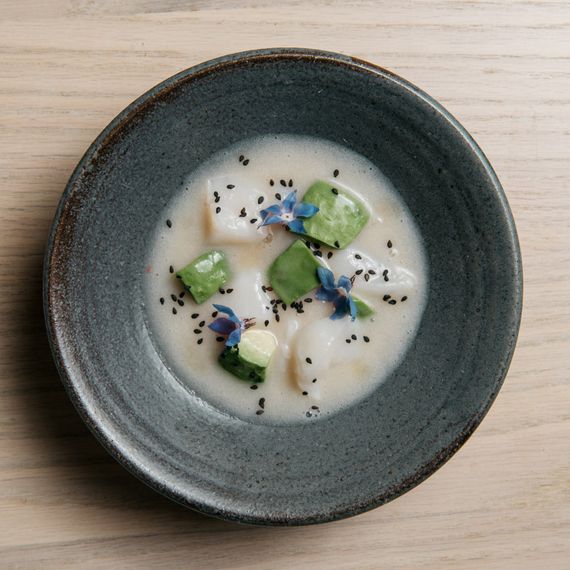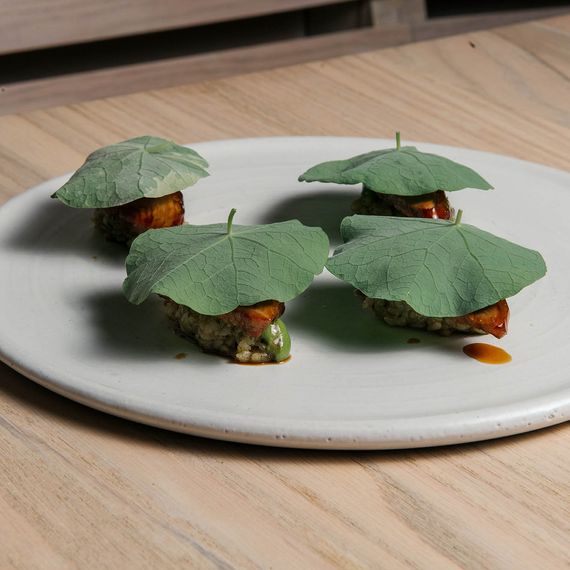 This was another one of the dishes at Llama-San that caused me to pine a little for the olden days when the pace of a fine dinner tended to be slower and more contemplative (but not, in the fashionable bromakase tradition, too pricey or too slow), although I soon snapped out of my funk thanks to several inspired rice-based dishes, my favorite being a luxurious combination of grilled lobster, sushi rice, and chunks of grilled beef heart rolled in a smoky Peruvian ají panca paste. This was followed by a fat, seaweed-flecked nori (stuffed with a melting mash of braised chicken thighs and poured with a lustrous hollandaise-style ají amarillo sauce) and Ramirez's elegant ode to the Japanese pork katsu, which is made here with a tender fillet of Iberico pork fried in a dusting of panko crumbs and laid out just like in the katsu parlors of Tokyo, on a traditional silver wire-mesh tray with a side of pickled cucumbers.
Were there any Nikkei delicacies I wouldn't order again at this inspired little neighborhood joint when I return, furtively, for a spoonful of ceviche or two and a sip of cacao-infused Japanese whiskey at the bar? Probably not, although the relatively straightforward Wagyu short rib seemed a little prosaic compared with the other inventive fusion creations (it's served with maybe a little too much tasteless quinoa), and so do the three relatively modest desserts, the best of which is a kind of semifreddo flavored with a satsuma-orange granita and lots of tiny sliced gooseberries. There's plenty to like about the cocktail menu (for maximum effect, try the Nikkei gin martini spiked with sake and a nori pisco rinse), however, and the diverse, well-curated wine-and-spirits list, which contains numerous sakes, 16 varieties of pisco brandy from Peru, and a very drinkable sparkling rosé from the Canary Islands, of all places.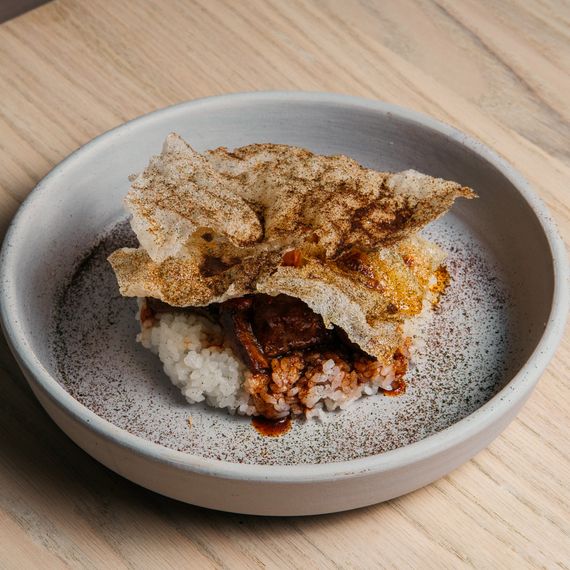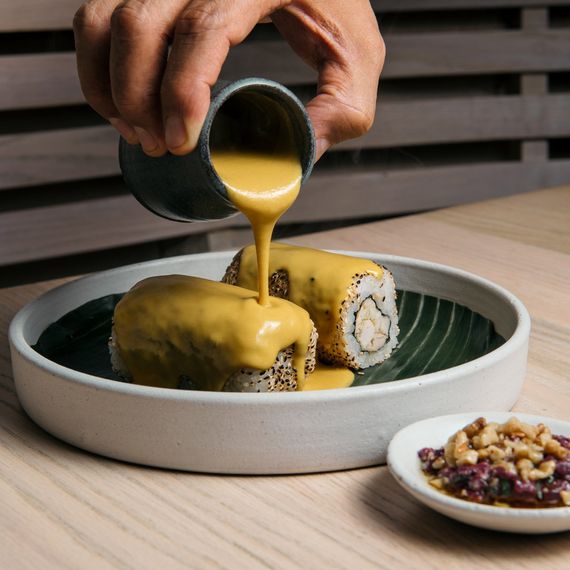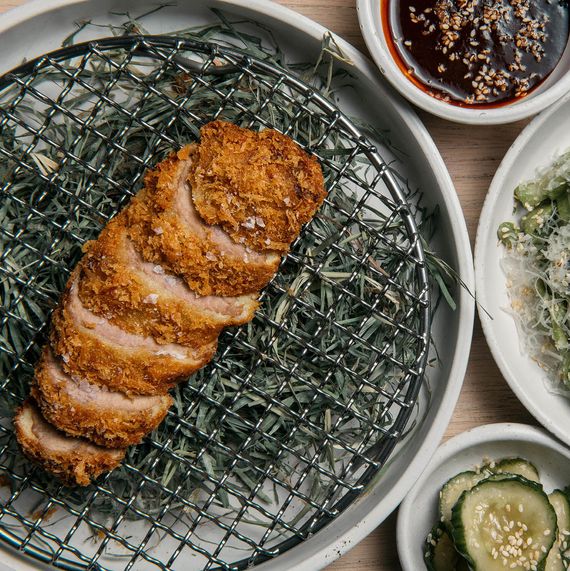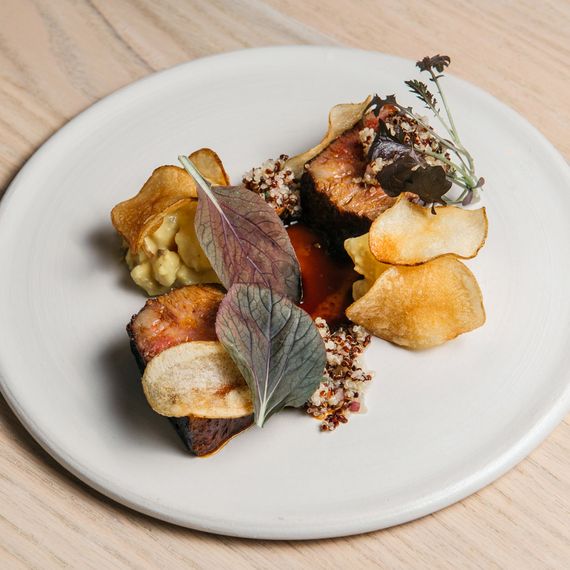 Llama-San | 88 (out of 100)* | Impressive
359 Sixth Ave., nr. Washington Pl.; 646-490-4422; llamasannyc.com
Open: Dinner nightly.
Prices: Dishes, $22 to $36.
Ideal Meal: Any or all of the three ceviches, tofu with shrimp or aged-duck nigiri, chicken-thigh nori and/or Iberico-pork katsu, orange semifreddo.
Note: The bar can be a little noisy, and so can the windowless, bunker-like space in the back, so angle for a table in the middle of the room.
Scratchpad: Ambitious and accomplished cooking in a casual space adds up to an "impressive" 88 on our 100-point rating scale.
*The rating scale of 0 to 100 reflects our editors' appraisals of all the tangible and intangible factors that make a restaurant or bar great — or terrible — regardless of price. See The Thousand Best for 999 more great places to eat and drink.