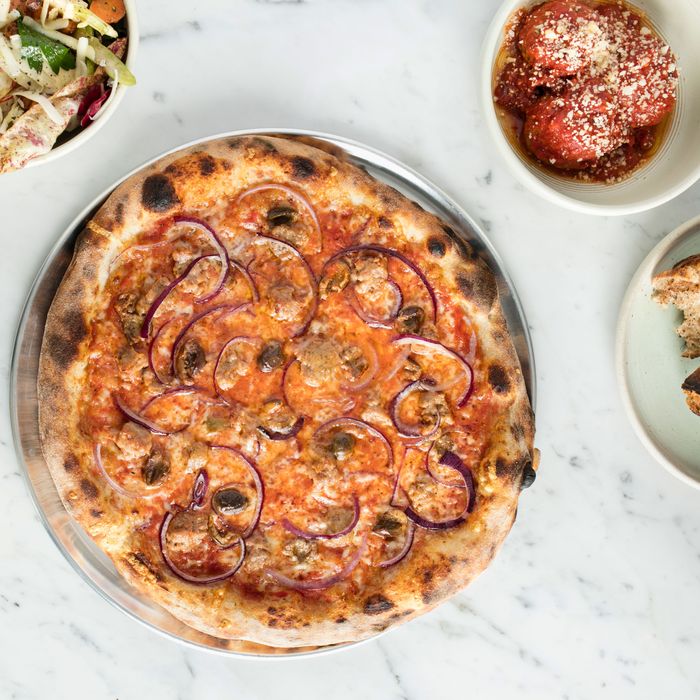 San Giuseppe with sausage, olives, onions, provolone, and tomatoes.
Photo: Melissa Hom
Last week, Mike Fadem and Joey Scalabrino were capping off a run of making meatballs at their soon-to-open restaurant, Leo. They'd been testing and tweaking their pork and beef version, which Fadem felt they'd finally nailed and which Scalabrino was understandably a little tired of eating. Seasoned with parsley, Parmigiana, pecorino, and reduced tomato sauce, they're roasted and then cooked in tomato sauce. They'd been gearing up to open the space (inspecting bread, dealing with rogue pizza dough), which they'll do this Wednesday, starting with the takeout counter and followed a couple weeks later by the restaurant proper.
Fadem is an owner, with Marie Tribouilloy and Variety's Gavin Compton, of Bushwick's Ops, a restaurant where the low key, unassuming charm has made it a big hit. It's the sort of place that, as Grub has noted before, seemingly everyone you like happens to really like. (One friend who moved to Los Angeles requested we ask the owners to expand there.) While Leo won't be an Ops sequel, they do share DNA: Namely, the wine and pizza (genes). While Tribouilloy isn't involved here, Compton is and he helped build out and design the space.
Here, Fadem and Scalabrino — who collaborated on the menu — are doubling down on squares. Those are the focus of the takeout café, run by Ops's first employee Thomas Traudt. The squares won't be in the style of those made at nouveau slice joints, or Ops. Instead, they're taking their cues from southeastern Italy, places like Abruzzo.
"There's all these bakeries there that are basically the inspiration for kind of what we're doing over here," Fadem says. Baked in big rectangular sheet pans, they're thinner than the Roman pizza you may have had in recent years and, more distinctly, they have an oily crust. "It's a little crispy and kind of similar to a lot of places' grandma pies, but just not topped the same."
At Leo, the square menu will be in flux except for the vegan tomato, marinara, and a margherita. The rest will be regularly changing specials, and some will be versions of the round pizzas served in the restaurant (more on those soon). You'll be able to get one topped with meatballs, cut up into more pizza-appropriate sizes, and other squares that are more produce heavy.
Along with pizza, they'll serve morning pastries, to-go salads out of a fridge otherwise stocked with sodas and beers, and sandwiches. During breakfast, sandwiches come on little square buns they've lifted from bakeries in Copenhagen, and they'll do a version of the standard cheese and butter made with East Hill Creamery's Silver Lake alpine cheese. Others will include a Meat Hook ham and Dijon mustard (a classic of school-lunch cuisine); frittata with aioli and seasonal vegetables; and a vegan one made with marinated vegetables.
The pastries, to start, will include a sweet and a savory scone, as well as a spelt-bran muffin they're still working on. More pastries will come down the road, and Scalabrino emphasizes they're not doing anything too standard issue. "Stuff really like the baked goods that Saltie used to have, which I really liked and which were very in between sweet and savory," he says. The scones, for one, are made with buckwheat flour, and the savory one is olive and fennel with bay leaf.
For all those keeping track of '90s nostalgia, or who simply miss the heady days of sun-dried tomatoes, they'll also serve pressed sandwiches. "Some might call them paninis," Fadem jokes. While Scalabrino adds the caveat that are no marks on the sandwiches — "ours are not so panini" — they're motivated by a fondness for the sandwich.
Like the square pizza, the pressed sandwiches will rotate. There'll be a version of Ops's Rojo pizza, with sliced mortadella and pickled-pepper relish. Others include versions of a cheese and potato, like crumbled potato and bleu cheese; a cheese and vegetable; or a vegan one with broccoli rabe and pureed cranberry beans. For dessert, there'll also be a couple soft serve flavors, one always being vegan.
The kitchen is open. They'll display pastries in a custom case that Fadem is hyped about and pull espresso from a La Marzocco. While the space was still being finished last week, they've outfitted it with a Yamaha sound system and vintage lights they'd bought in Missouri. "Everywhere in London had these and I really liked them," Fadem says. Customers can sit at an L-shaped counter, with some window-facing seats, or a small communal table.
Once the actual restaurant opens, the café will also double as a place to have a drink. Connected through a hallway, the counter-service dining room will seat 70 people. Checks start at the kiosk, but there'll be staff roaming the room, and anyone can fetch wine from one of the big fridges. Fadem hopes the space will function more like a bar, where people don't feel restricted to their seats.
On this side, they'll serve mostly round pizzas with a bonus square. The pies are baked in a electric Pizza Master, a Swedish make also used by the recently opened F&F Pizzeria and Norm's. "I guess the initial idea with the pizza here was to try to make a really cool sourdough, New York style pizza," Fadem says. "I wanted it to be kind of like we were making Ops, but not Neapolitan."
The menu isn't finalized, and Fadem is, as pizza geeks are wont to do, stressing out over the basic pie. "I'm sick of — I feel like margheritas are for Neapolitan pizza, and that's it," he admits. So it may end up being more of a New York-style cheese, but other pies are set. There's a simple marinara and a more maximalist San Giuseppe with sausage, olives, onions, provolone, and tomatoes. The clam pizza comes with a bechamel, chili flakes, oregano, and lemon, while a couple of the rounds may also be served as squares. One is the shaved mushrooms with a Vermont cheese called Pawlet, which they love for how it melts, and the other features crumbled potatoes, pesto as sauce, and fresh greens.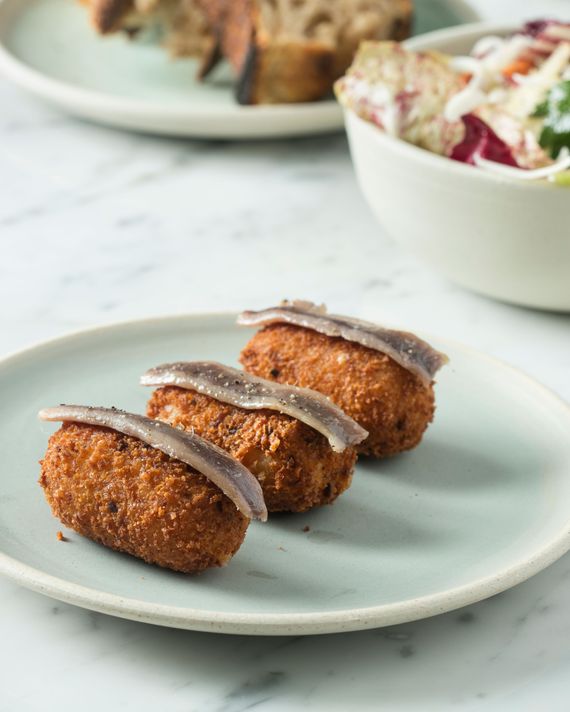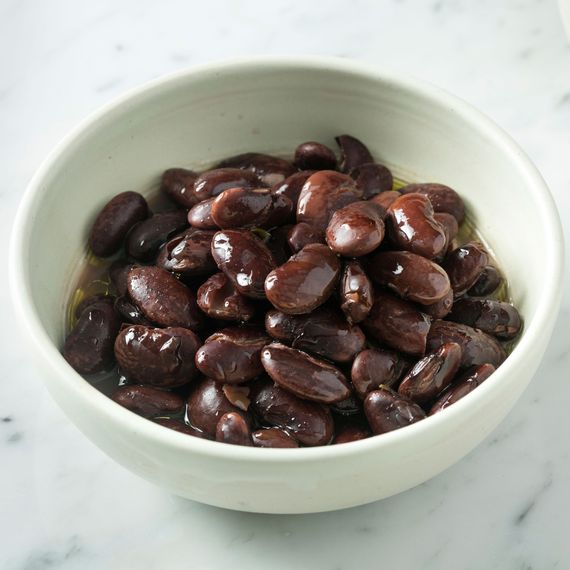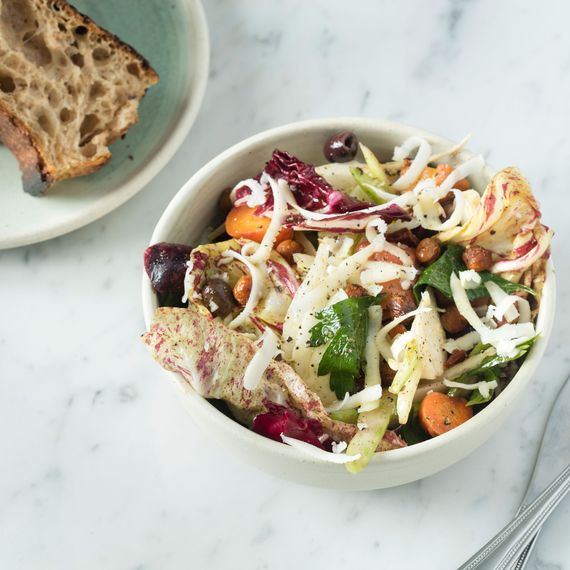 With the larger kitchen here, they're able to go longer with the menu than Fadem and Tribouilloy are at Ops. That means some proper entrees, including meatballs with a side of bread and a vegetarian lasagna with kale ragu. For the lasagna, they're using an Italian pasta made from corn flour. "The noodle can exist with all the other stuff and be the same deliciousness, you know," Fadem says.
Some of the appetizers will be similar in spirit to the ones at Ops. There's the bread plate — which will evolve as they'll start baking more loaves (Danish rye with various fold-ins) — marinated greens, and a bean dish that'll change depending on what beans they're into. Along with a pair of salads, one vegan and the other chopped, they're serving potato croquettes topped with anchovies. As for the desserts, they're starting off with a tiramisu inspired by Flavio in Rome and made by Scalabrino with homemade lady fingers. To help with the desserts, they've also brought on former Superiority Burger cook Darcy Spence, who contributed to sweets there with with items like a griddled rye cake with caraway sugar.
To drink, there's beer, straightforward cocktails like Negronis and spritzes for which they tapped their friend Steven Reker, and lots of wine. To help with the wine, Fadem and Scalabrino also brought on Sierra Echegray, who's been working at the Four Horsemen around the corner. "We just like the same things, but she definitely has her own vision of wine," Fadem says of Echegray, who'll also manage the restaurant. The wine will be as good as at Ops, but with even less pretense. "We're trying to keep it, like, really not too servicey. Just a little more simple and really casual."
Leo, 318 Grand St., at Havemeyer St.; 718-384-6531