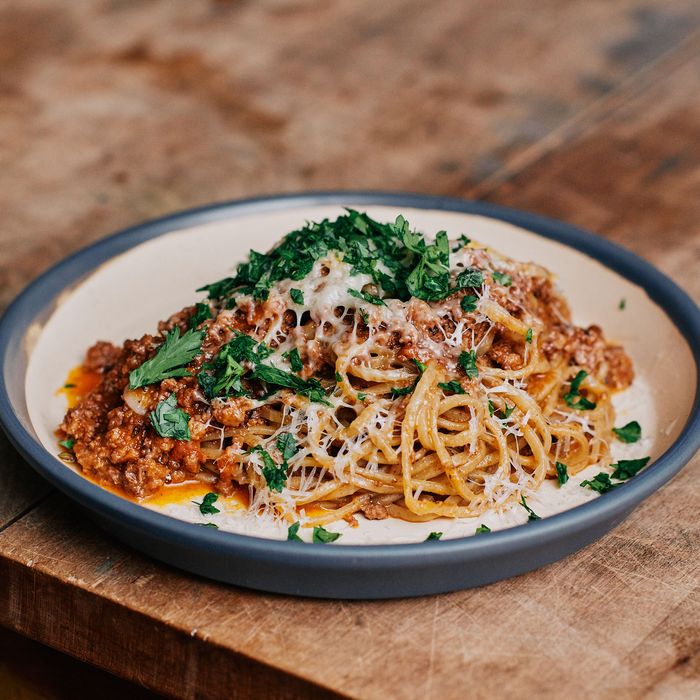 Lamb bolognese ramen spaghetti.
Photo: Christian Rodriguez
At Diner by the Izakaya, the new restaurant in the Ridgewood venue Nowadays, the lamb Bolognese is pretty much traditional — save for one important ingredient: the noodles. Here, they aren't spaghetti slicked with sauce, or thick bucatini, or even fresh paradelle. Instead, they're springy ramen noodles, topped with parmigiano, melting at the touch of the meat sauce, and torn cilantro rather than nonaromatic leaves of basil. It's a nicely rich plate of meat sauce, the reddish oil pooling on the bottom, and all the ingredients cooked down. Made by former Ramen Shack owner Keizo Shimamoto, the ramen noodles are firmer than what you'd otherwise get and take particularly well to the sauce.
"We use a big wavy noodle. The waviness of the noodle absorbs the sauce more than the straight noodle. We just really like the way it came out," says Yudai Kanamaya. He and his business partner Keisuke Kasagi run Japanese spots — the Izakaya in the East Village and the collaborative Izakaya Samurice, a Canal Street Market stall — but Kanamya in particular really likes Italian food. "I always had an interest in casual Italian dining. My favorite Italian is always Gaia, it still serves the best pasta for $15," Kanamaya says. Along with six noodle dishes here, others are served, like a Hokkaido-style jingisukan marinated lamb don that could be a good substitute for a shawarma plate, three different burgers, and a few appetizers, including fish and chips.
The idea for the lamb Bolognese came from Munetake Ogata, who Kanamaya calls "a legendary chef with lamb barbecue" from Hokkaido. (Ogata is currently back in Japan diving for sea urchin, but when he returns next month, the trio will get to work on a lamb barbecue restaurant.) Cooked for three hours, it's made with tomatoes, onions, carrots, celery, garlic, pepper, herbs, and some bacon for good measure. "It's based on what we eat in Hokkaido," he says, adding that they're particular about the origin of the meat. "The lamb from upstate, to me, was too clean and tasted almost like beef. It was not interesting," he says, adding that they use New Zealand lamb. "Because that's the lamb we use in Hokkaido."
Kanamya admits that when it comes to pasta, he's spaghetti or bust. "I'm not a big fan of the other kinds of pasta," he says. He got his taste for it back home in Japan — "Spaghetti was a big thing" — and says he missed the casual spaghetti places where he used to eat. The dish is one of three they're calling ramen spaghetti — "We invented this category" — and Kanamaya admits it also is a product of frustrations over pricing for pasta versus ramen, even when the broth for the latter can take hours on end to prepare.
As a dish, the lamb Bolognese seems like it could belong to Yōshoku, a genre of Japanified Western dishes like hamburg steak and spaghetti Naporitan. But really it's very contemporary, a Japanese-Italian dish, served at a Queens venue that hosts all-night raves, at a place inspired by Japan's famiresu, or family restaurants. It's also in keeping with current developments in ramen technology. Kanamaya & Co. aren't the only ones talking about their interest in Italian food.
Kiyoyuki Miyashita thought up the tomato ramen he serves at E.A.K. Ramen after consulting in Rome, and in New York you'll find other versions of tomato ramen — which has reportedly become a thing in Japan in recent years — with Italian touches like basil and Parmesan. Or look at the noodles being served at this year's biggest ramen opening: the mazemen specialist Niche, which describes its dishes as "Japanese pasta" and also pulls inspiration from Italy. (In his review of Niche, New York Times critic Pete Wells noted mazemen in Japan made with anchovies, salami, olives, and tomato.) All of this has Grub imagining the possibilities: chicken Parmesan mazemen? Italian combo ramen? Bring on the noodle fusion.