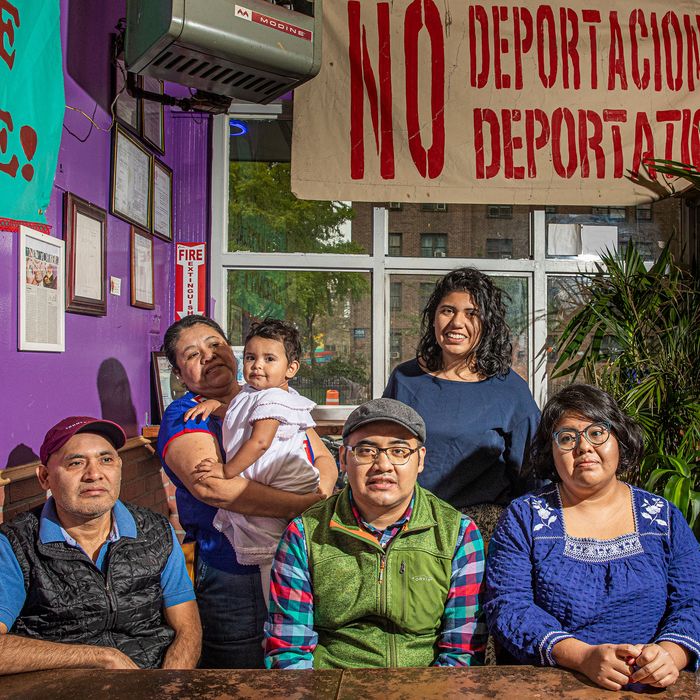 From left, Antonio Saavedra, Natalia Mendez (holding her granddaughter, Lila Saavedra), and the Saavedra children, Marco, Carolina, and Yajaira.
Photo: David Williams
Marco Saavedra has been preparing for November 7, 2019, for the past seven years. Instead of taking the subway from Washington Heights to his family's Bronx restaurant, La Morada, he'll head to 26 Federal Plaza in Manhattan, where he will have his final hearing to gain asylum and stay in the U.S. An outspoken immigration activist, he's applying for political asylum in the country he has lived in for nearly his entire life. The hearing is the culmination of his unapologetic activism, which has taken him from political offices to a deportation center to La Morada. Opened in 2009, the restaurant has become a destination for Oaxacan cooking and a hub for community organizing. "We've done fundraisers, open mics, opened this up as a safe space for everybody," Saavedra, 29, says. "As undocumented people, we felt so persecuted for so long that we kind of had to extend that hospitality elsewhere."
Marco's parents, Natalia Mendez and Antonio Saavedra, were raised by sustenance farmers in the tiny Mexican town of San Miguel Ahuehuetitlán, Oaxaca, where they only spoke their indigneous language until adulthood. As droughts hit Southern Mexico in the 1980s and early '90s, New York saw a wave of new immigrants arriving in the city — Mendez and Saavedra among them. The pair crossed the border and settled in Washington Heights in 1992, and the next year Antonio brought over 3-year-old Marco and his 4-year-old older sister, Yajaira. An artist and poet, Marco has worked at La Morada since October 2013. He takes care of bills and is the quietly gracious host; his sister Yajaira does their social media and community outreach. (Their younger sister Carolina, who was born in New York, was the restaurant's sous-chef but now works at Dan Barber's Stone Barns farm and educational center. She still comes in to work on weekends and helps with catering gigs.)
If the restaurant is a family affair, so is their activism. They are outspoken about their indigenous heritage and immigration status, which necessarily shape the restaurant. The dining room's purple walls are decorated with photos from protests and pro-immigrant, anti-deportation signs reading "RESISTE," "CARAVANA MIGRANTE ADELANTE," and "NO DEPORTACIONES." They've hosted events for groups like South Bronx Unite, which opposed Fresh Direct's move into the neighborhood, anti-gentrification collective Take Back the Bronx, and BronxArtSpace.
"It's just part of who we are and what the restaurant industry in New York is about," Marco says. But Marco's future at the restaurant depends on the outcome of his asylum case.
Growing up, Marco says he kept his family's immigration status a secret from everyone — his friends, people at church — while working hard in school and not bringing attention to himself.
He attended Deerfield Academy through the Prep for Prep program, which offers students of color in New York City financial aid to attend private schools, and financial aid got him to Kenyon College. As a sophomore in 2009, he was unexpectedly changed by a Greyhound-bus ride. "Officers boarded the bus and removed two migrant workers," recalls the Reverend Karl Stevens, who was then the chaplin at Kenyon and remains close with Marco. "He was in the exact same position they were, but unsuspected. I think he had a lot of guilt about that moment, which is what led to the way he made a stand later on."
That event pushed Marco to, as he puts it, come out as undocumented, and his convictions solidified amid the groundswell of undocumented-student activism during the Obama years. After graduating in 2011, Marco become a leader in the National Immigrant Youth Alliance, a collective, led by undocumented youth, behind some of this decade's most radical and attention-grabbing actions. He was arrested for the first time in September 2011, during a protest in Charlotte, North Carolina. (The DNC was scheduled to come to North Carolina the following year, and he and his fellow activists wanted to highlight the Obama administration's record number of deportations.) The experience led them to think bigger. "The idea started to hatch, why not try to turn ourselves into one detention center and try to get everyone being processed as a group?" he says.
On July 11, 2012, Marco and his fellow NIYA member Viridiana Martinez gained access to Florida's Broward Transitional Center by being detained there (they did so on purpose). Marco and Claudio Rojas, an inmate who was their man on the inside, interviewed hundreds of men detained there and sent what they learned to NIYA activists on the outside, resulting in the release of 70 people. (The action was the subject of a documentary, The Infiltrators, that won two awards at Sundance this year.) He was released after three weeks at Broward, and the next summer Marco participated in an even bolder act: He "self-deported" to Mexico.
Once there, he and eight other Dreamers — dressed in graduation caps and gowns — approached U.S. border officials and demanded asylum, in an effort to bring attention to the plight of deportees. The group, which came to be known as the Dream 9, was detained at an ICE facility in Eloy, Arizona. Two weeks later, they were let back into the country to plead their case in court. Their action was radical, risky, and attention-grabbing, and it divided immigration reformers: While dozens protested outside the facility in support of the Dream 9, others, including the former president of the American Immigration Lawyers Association, criticized their protest as taking "attention away from the big issue."
Marco's parents had pinned their hopes on their children, and the decision did not initially sit well with them. "We felt anguished and nervous," Natalia says. "We said, 'If you really love us, you won't go.'"
Only 14.5 percent of asylum requests from Mexico were approved last year, and if Marco is sent back to Mexico, his life could be on the line. Activists and journalists are in particular danger there, and homicide rates have risen every year since 2015. "It's just so hard to get asylum from Mexico. At the same time, it's worth a shot if you could present a strong case for political persecution," Marco says. "We're so accustomed to losing: losing in the courts, losing folks to deportation, losing votes on the congressional floor. But if we could mount a strong enough case to grant me asylum, it would help the other folks from the Dream 9."
Earlier in October, during the late-afternoon lull, the comfortably spaced tables were occupied by a few customers while Natalia served two of her more special specialties: huaxmole, made with the garlicky seeds of the guaje pod fruit, and mole blanco, a Mixteca speciality that Marco says is called the "wedding mole" and maybe the rarest of Oaxaca's moles. "My mind and her spirit are still very strong, but my mind sometimes gets very exhausted because there are so many injustices," she says of the case. His older sister was in and out that day as well, and she spoke with admiration of her brother's effort. "I want to say that it is an act of love and bravery and courage and sacrifice," she said. "Just understanding that people deserve an opportunity to survive and just wishing that someone did the same thing when we were smaller and we were crossing and when my parents came here."
"It's a very bold way to operate, and they've never put their own safety before their beliefs," says Alyshia Gálvez, an anthropologist and professor at the New School who studies Mexican immigration to New York and has organized support for Marco's hearing. (The restaurant also hosted her book party.) "They all are taking risks because they know that really, what they're fighting for is more than just their family or the restaurant."
Marco is represented in the case by Bryan Johnson, a Long Island immigration attorney who has taken it on pro bono. "The thing about this case and Marco is that there are not going to be a lot of people who are that prominent and that bold, I would say, in their activism," he says. "He's a very rare type of activist where he's so aggressive in his beliefs and actions and pursuing his pro-migrant, pro–human rights beliefs, and that puts him in great danger if he was removed to a country like Mexico."
In the days leading up to the hearing, Marco and supporters will make a final effort to bring publicity to his case, including making banners at the restaurant on November 3 and a screening of The Infiltrators at the New School on November 6. "This is one last push to get people educated but also energized," Marco said on Sunday, speaking at an informational session that was attended by his parents, friends from Deerfield and Kenyon, supporters, and members of various activist groups there to offer help and insight. At the end, two videographers from Manifested Mind Films recorded attendees sharing how they know Marco and, in their words, "why it is important that he should stay."
Marco's case is complicated by the fact that it's been 26 years since he lived in Mexico, so to prove fear of political persecution, his team is connecting his situation to the experiences of activists there. With the help of others including Gálvez, he has been building his case through supporting materials, readings, and letters of support and expert reports. "According to the current way that asylum is operating, it's very difficult for Marco to make his case," Gálvez says. "And that's the part that breaks my heart, because it's hard to imagine someone who has more support than him."
Should Marco not be granted asylum, he can appeal to the Board of Immigration Appeals and, if he loses there, the Second Circuit. Years could go by. "The best-case scenario is winning November 7, putting this to rest, and helping other people in this situation," he says. "I really want to be hopeful, but I know that hope has to be substantive. I'm trying to prepare as best as possible."
Winning would be a victory for activists, and Marco knows his family needs him. His father has been crippled by diabetes, while his mother suffers feet problems from working endless hours. He says his parents can't go back to the 90-hour weeks they worked before he joined La Morada. And the family must also reckon with real estate — their lease runs out in the summer of 2020. "Right after my court date, I feel like it's what I need to prioritize," Marco says. "At this ten-year mark, we wouldn't want to restart from the bottom." The family doesn't just want La Morada to persist. They dream of going bigger: buying their own space one day, somewhere with enough room for their own art gallery. "I like to quote Eduardo Galeano when he says, 'They took a lot of us, they even took our fear,'" Yajaira says. "That's exactly how I feel."
*A version of this article appears in the October 28, 2019, issue of New York Magazine. Subscribe Now!