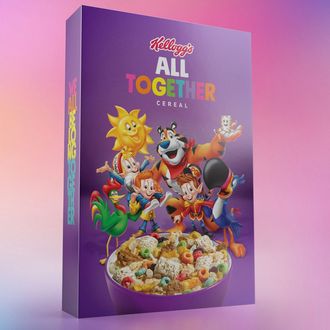 A cereal box.
Photo: PRNewsfoto/Kellogg Company
Cereal for a cause? Kellogg's has announced a new limited-time cereal mix called All Together, created in recognition of the anti-bullying awareness campaign, Spirit Day. The company is also donating $50,000 to GLAAD for its anti-bullying and advocacy work, which is of course a nice gesture, although the company could, duh, donate more, given it had revenues of over $13 billion in 2018.
In any event, the larger "All Together" box contains six miniature cereal boxes, though unfortunately it is not exactly a Russian doll of breakfast carbs. It contains hits including Corn Flakes, Froot Loops, Frosted Flakes, Frosted Mini-Wheats, and Rice Krispies. And because Kellogg believes deeply in inclusivity, there's also Raisin Bran.