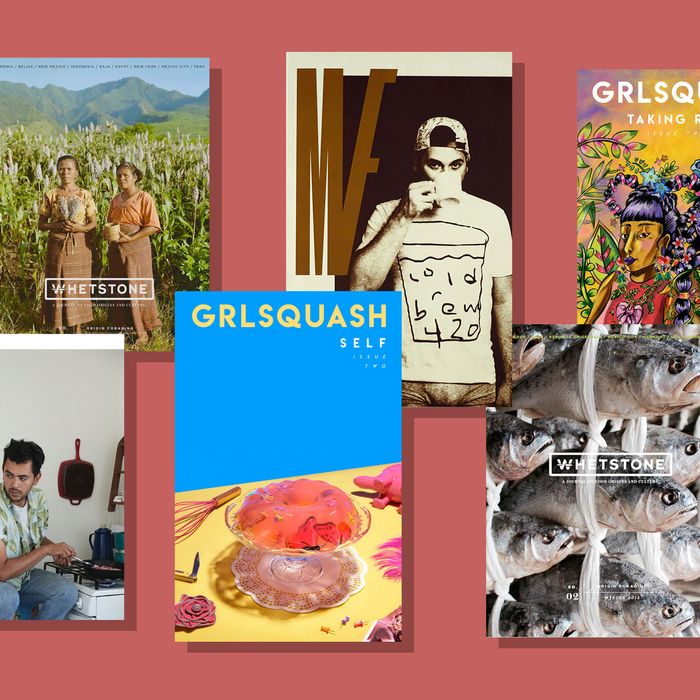 No more Thanksgiving issues.
Illustration: Grub Street; Images courtesy of the publications
If you can't possibly stomach another Thanksgiving guide or best–of–New Orleans list, consider breaking that cycle by forgoing traditional food media altogether. In the past decade, a handful of independent food magazines have appeared with one goal in mind: To tell the stories mainstream food publications generally don't, whether that be food and travel from a native perspective or by publishing writers who don't have the connections to get bylines at big-name outlets, in ways that are enlightening, touching, and sometimes funny. Grub spoke with the founders of three such publications about what drove them to launch their publications, how they fund them, and why they believe what they're doing is so radically different from the status quo.
Founders: Former sommelier Stephen Satterfield and chef Melissa Shi
Subject: An anti-aspirational, anti-imperialist look at food and travel
Stephen Satterfield estimates that when the fifth issue of his quarterly magazine, Whetstone, arrives next month, his small team will have written about 60 regions around the world, most of them unheard of by most people, like Likotuden, Indonesia; Cajamarca, Peru; and Qa'en, Iran.
"It's a black dude and a Chinese lady running Whetstone," Satterfield says over the phone from Atlanta. "And we're all the things that everyone says that they want and that they clamor for."
Satterfield and Shi were inspired to create Whetstone — started with about $10,000 — in an effort to cover foodways from a native perspective. The magazine features colorful, often full-page shots of faraway places like Marrakech's massive olive market, hidden behind a pair of towering wooden doors; Peruvians harvesting the same salt flats once prized by Incans; and Muslim cuisine cooked in the heart of the Indian state of Gujurat.
"I think that what matters more and what hasn't changed in our industry, but started to, is that ownership and power is very white and very male," Satterfield says. "The diversity that people see when they engage with Whetstone is pretty effortless because it reflects the community that I'm already a part of. I'm a black man, and most of my friends are people of color."
Unlike most scrappy self-published 'zines, Whetstone has been an emerging media company since day one. In addition to the magazine, Satterfield hosts a podcast, created in partnership with iHeart Radio, called Point of Origin, and the company also produces Whetstone Dispatches, a video series that's featured such subjects as Amish pickle makers in Michigan and the kampot-pepper producers of Cambodia.
"I cannot tell you," Satterfield says, "how many people I have tried to encourage to join me on this journey." He adds, "I want to try to get as many other traditionally marginalized and excluded voices to think about their own enterprises as possible."
Founders: Madison Trapkin and Jess Graham
Subject: A food and art publication for the woke-millennial set
Madison Trapkin always aspired to write for major food magazines. As an undergraduate, she studied anthropology and then moved to Boston to attend graduate school, earning a master's degree in gastronomy. But, living in Boston, Trapkin felt too far removed from New York–centric food outlets.
So she decided to start her own publication, founding Grlsquash — a biannual magazine for and by womxn — in 2018. "I found that being a publisher," Trapkin says, "and being the editor-in-chief is way more rewarding than it is to see my name on that page."
In addition to recipes and essays about grocery shopping as a way of coping with your parents' divorce, the magazine features poetry, comic strips, and in issue two, which also raised funds for a Boston-based rape-crisis hotline, a disturbing and delightful collection of photos inspired by lyrics from female rappers, like an actual brain sitting atop a candlestick as a tribute to Nicki Minaj's verse in "Monster."
The contributors to Grlsquash are a mix of new talent and more-established names such as photographer Whitney Ott and chef Jerelle Guy, of Chocolate for Basil.
"I wanted to be representative in terms of skill levels, because that's one thing this sort of niche, more underground food publication world has to offer — there's no pretense around it," Trapkin says. "And you don't have to come to it with a master's degree or a huge laundry list of news clips or places where you've been published."
Founders: Mac Malikowski and Ben Tousley
Subject: A sometimes-NSFW look at queer life and food culture.
Launched in 2015, Mouthfeel takes a NSFW approach to covering gay life and food culture. "It was really easy to kind of pull from my history growing up listening to punk and hardcore music and doing this DIY culture and applying it to a food magazine," says Mouthfeel co-founder Mac Malikowski. "We've just been building on this same idea of supporting truly underground culture."
For example, the recent Mexico City issue included a profile of El Diablo, a chef and pornographer, and artist Fabian Chairez in drag at a popular local bar. Then there was the story about Disco Dining Club, a pricey underground dinner theater inspired by the "excess, debauchery, and hedonism" of disco music, and a story about photographer Roman Udalov and his anti-food-porn series Black Früt. Between all that, collages of gay porn juxtaposed with food items like Spam and cherry pie. "We have to balance how much of a food magazine we want to be versus how much of a kind of a sexy culture magazine we want to be," Malikowski says.
Through Tousley, who has worked as a designer with Grizzly Bear, the New York Times Magazine, and composer Steve Reich, Mouthfeel looks like a more risqué, food-focused take on V Magazine. Issues have become collectors' items, with every run selling out since publication, and Malikowski and Tousley count Frank Ocean, R.E.M.'s Michael Stipe, and i-d among the fans of this magazine they produce in addition to their day jobs.
Accordingly, the duo has seen fit to expand, launching a marijuana magazine this month called Buds. "We're never going to make a good chunk of money off Mouthfeel," Malikowski admits. "But that feels much more punk and much more authentic to me. I just like the chaos of working in independent publishing."