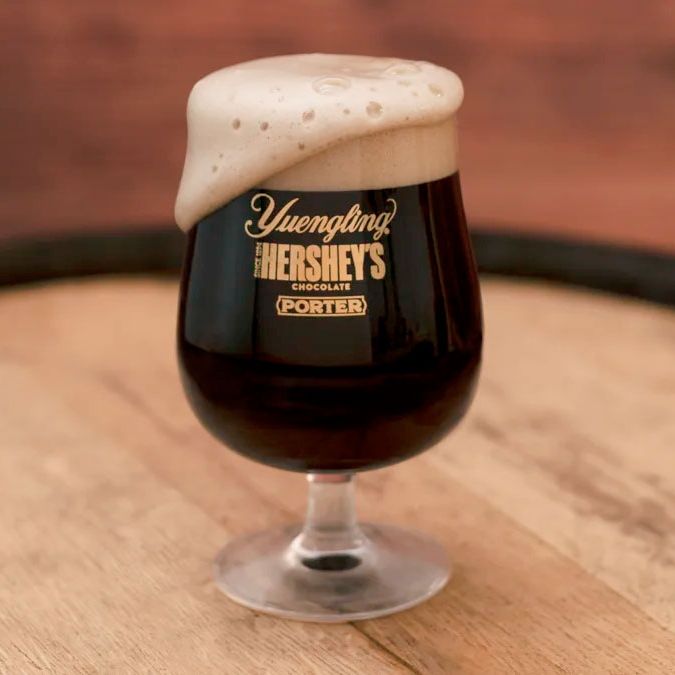 Someone give Gritty a glass.
Photo: Yuengling
There was a time when Americans thought, No one can out-Pennsylvania that legend who got buried with not one but two cheesesteaks. Maybe, maybe not. But people are certainly trying, including the family behind Yuengling, which has teamed up with fellow Pennsylvania company Hershey's on its very first collaborative beer. Called the Yuengling Hershey's Chocolate Porter, it's their dark-brewed porter made extra chocolatey with Hershey's cocoa, syrup, and nibs.
The beer will be available by mid-October as a draft beer in restaurants and bars in Connecticut, Delaware, Indiana, Kentucky, Maryland, Massachusetts, New Jersey, New York, Ohio, Rhose Island, Virginia, Washington, D.C., and West Virginia. Yuengling vice president Jen Yuengling tells USA Today that they're excited, in part, because Hershey's is another "iconic, Pennsylvania-based brand that shares the same values as we do." (Yuengling owner Dick Yuengling's values include not liking unions, and, as he told Eric Trump in 2016, "Our guys are behind your father.")
Anyway, Grub has a few suggestions for other extremely Pennsylvania beers: a cheesesteak lager, a pilsner brewed with Joel Embiid's tears from after Kawhi Leonard knocked the 76ers out of the playoffs last year, and a gose made with some Rocky memorabilia. These are all free.