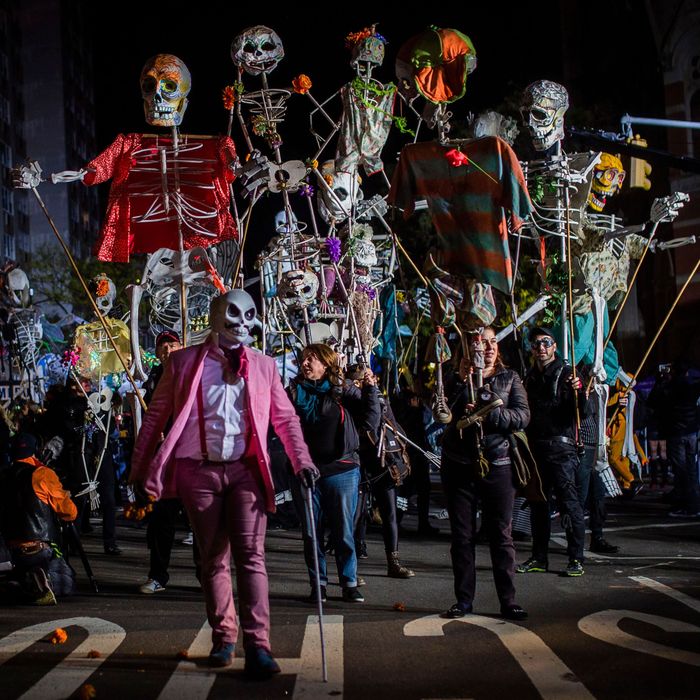 Definitely, definitely, definitely go to the Halloween Parade.
Photo: Andres Kudacki/AP/Shutterstock
The Halloween kickoff officially begins this weekend and runs through Thursday, which means a week of dance parties, pumpkin carving, scary-movie screenings, and parades throughout the city, plus a few food fairs marking the end of food-fest season. Grub Street has compiled a well-rounded list of activities that are family-friendly, laid-back, or sure to make for a killer night. Here's how to spend Halloween 2019 in New York City.
Evening Cocktail & Craft: Pumpkin Carving
Where: Queens Botanical Garden
When: October 24, 6 p.m.
Tonight, the Queens Botanical Garden is hosting a cocktails-and-carving event where adults of drinking age are welcome to imbibe drinks and pumpkin beers while creating their own jack-o'-lanterns. Even better, no need to bring your own pumpkin: Everything will be ready to go. Grab $30 tickets here.
Halloween Massacre
Where: Brooklyn Bazaar
When: October 25, 10 p.m.
Greenpoint venue Brooklyn Bazaar will close its doors at the end of November following a rent hike, but it's not dead just yet. Tomorrow, the Greenpoint Avenue spot will host a one-size-fits-all Halloween shindig featuring three dance parties, each with a separate theme. There'll be the Black Parade for emo and pop-punk fans, Nevermind for '90s grunge diehards, and Feel Good for fans of indie electronic acts like the Knife and Mstrkrft. Come in costume for a chance to win cash prizes, and bring a bag to fill with candy and other goodies. Tickets start at $20.
Season 10 Closing Party
Where: Hester Street Fair
When: October 26, 11 a.m.
Before you hit the party circuit, spend the day bidding adieu to the Hester Street Fair, which will close out its 10th year on Saturday with a little party. There'll be live music from Brazilian musician Mari Mac Dowell and reggae expert Zebra Blood, an Exquisite Corpse collaging area, and enough apple cider to put you off the stuff for the rest of the fall.
Halloween Haunted Walk + Fair
Where: The Nethermead at Prospect Park
When: October 26, 12 p.m.
This weekend, grab the family and head to Prospect Park's aptly named Nethermead for a bevy of Halloween activities, including a haunted walk with zombies and ghouls through Lookout Hill, best for kids ages 7 to 12. For the littler ones, there'll be activities, candy, and, because this is still Prospect Park, food trucks! Afterward, take a haunted ride on the park's carousel and drop by again on Sunday for an afternoon of scary tales with master storyteller Tammy Hall.
Halloween Celebration
Where: The American Museum of Natural History
When: October 26, 2 p.m.
On Saturday, the Upper West Side's crown jewel will close at 1 p.m. to make way for kids in costumes and their families. Drop by for an afternoon of live music, trick-or-treating, crafts, circus performers, magic, a bubble show, and a chance to meet cultural icons like Curious George and Clifford the Big Red Dog. Find tickets here.
Halloween Season Finale
Where: Queens Night Market
When: October 26, 5 p.m.
By far, the scariest thing happening this weekend will be the loss of the Queens Night Market until next year. On Saturday, the beloved food fest will bring the most diverse collection of vendors together one last time for its finale. Guests aren't required to show up in costume, but seeing as there'll be live music at the nearby New York Hall of Science, it'd be kind of rude not to, right?
Nightfall
Where: Green-Wood Cemetery
When: October 26, 8 p.m.
Yes, you can spend Halloween in a cemetery this year if you really want to go full-bore. The Green-Wood Historic Fund will host its annual Nightfall event, which involves walking along candlelit paths in the cemetery and taking in a series of performances curated by local arts groups, including the Moth, Pioneer Works, and Rooftop Films. This year's theme: Lovesick. So expect a lot of heartbreak. Grab $85 tickets here.
Halloween at Threes
Where: Threes Brewing
When: October 26, 9 p.m.
Should you find yourself in Gowanus this weekend, Threes Brewing will be hosting a shindig with all the beer and meats you could want. There will be music, dancing, drink specials, tarot-card readings, a costume contest with a bar tab as the top prize, and a vintage-burger-menu special from in-house restaurant the Meat Hook. Another hot tip: On Halloween night itself, Threes will host two showings of the classic film Nosferatu with a live score. Find tickets for the latter here.
Hot Girl Halloween
Where: The Standard, East Village
When: October 26, 10 p.m.
You could check into either location of the Standard Hotel on Friday and have a Halloween-themed event to go to every night through actual Halloween. If that sounds like a bit much, we recommend this free party taking place at the East Village location's queer space NO BAR, where 10 percent of the proceeds from the bar will go to fight climate change and revelers are encouraged to wear no-waste, recyclable costumes. Check out the full list of Standard events here.
Elsewhere Halloween
Where: Elsewhere
When: October 26, 10 p.m.
There are a lot of Halloween dance parties to choose from, but Elsewhere on the Bushwick-Ridgewood border is definitely at or near the top of that list. On Saturday, two of the massive venue's rooms will be transformed into dance floors with a focus on house, techno, and electronic from DJs Mella Dee, Kyle Hall, Elle Dee, Hannah Wants, Goonroom and MAE ULTRA. Grab the final round of tickets here before this party sells out.
Halloween Pumpkin Flotilla
Where: Charles A. Dana Discovery Center at Central Park
When: October 30, 4 p.m.
On the kid-friendly front, the Central Park Conservancy will host its annual pumpkin flotilla on Wednesday evening with enough activities to tucker the whole family out. There'll be a pumpkin patch, scary stories, crafts, pumpkin carving, a costume parade, and the flotilla featuring dozens of carved pumpkins set afloat across the Harlem Meer. (See all the rules for submitting your own creation here.) The event is free.
Village Halloween Parade
Where: Sixth Avenue at Spring Street
When: October 31, 7 p.m.
There are a few parades you must witness as a New Yorker, and one of them is the annual Halloween parade, now celebrating its 46th year. It's perhaps New York's greatest testament to weirdos, plus there are soooo many dogs in costumes. This year, the parade will be led by Zohra, the Giant Spider (a puppet the size of several human beings), and will feature a ticketed themed-costume section where folks are being asked to dress up as "wild things." If you just want to watch, simply line up along Sixth Avenue from Spring Street to 16th Street and take in the show. And what a show it will be.
Halloween at the Whitney
Where: Whitney Museum of American Art 
When: October 31, 7:30 p.m.
Mix culture with revelry at the Whitney next Thursday at its annual Halloween party. Not only will there be a cash bar, dancing, and crafting for adults, but guests will be able to wander through some of the crowdless galleries and enjoy entertainment from Bushwick's House of Yes. (This year's theme: Surreal Pop Circus.) Score two tickets and one year of museum membership for $90 here.
A Scarytale in Brooklyn
Where: Sunday in Brooklyn
When: October 31, 8 p.m.
In the shadow of the Williamsburg Bridge, the folks at brunch hot spot Sunday in Brooklyn plan on hosting a party for the ages on Halloween night. For $95, guests are invited to snack and celebrate (using their three drink tickets in the process). There will also be face painting, costume prizes, giveaways, and pizza from Domino's at the end of the night. Grab tickets via Resy.
Spooky Fruity
Where: Lemon's at the Wythe Hotel
When: October 31, 8 p.m.
The theme at the Wythe Hotel's newish rooftop bar this year will be "fruit." That means spiked fruit punch and a request that guests show up in fruit costumes (there'll even be a prize for the best one). We say channel Fruit of the Loom ads from the '90s. Tickets are $5 in advance or $10 at the door.